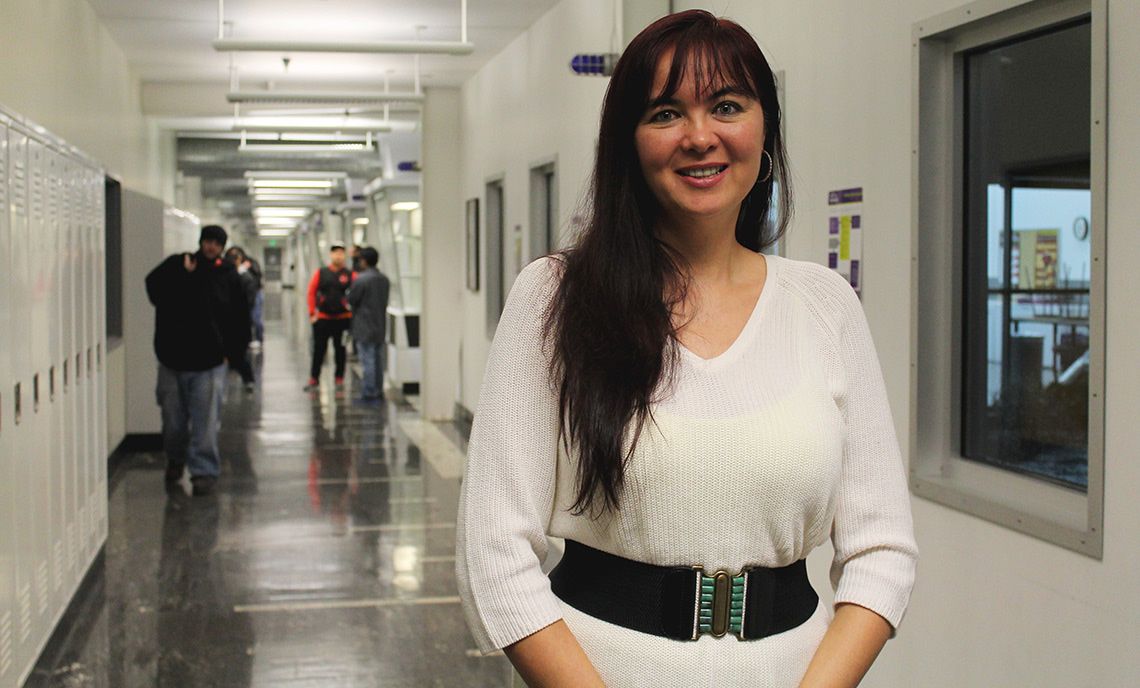 Composites Graduate Shares Success Story
December 1, 2014
Albina Moore feels like her life is starting anew.
With two college degrees from her home country of Russia and after a career as an international airline flight attendant, Moore desired a career in the aerospace industry. Clover Park Technical College's Advanced Composites Program prepared Moore for the career she wished for. When she graduated Winter Quarter 2014, she was already working as a composite technician at Boeing, the world's largest aerospace company.
"No matter the situation, if you have a goal you can achieve it," Moore said.
Moore returned to CPTC's South Hill Campus Nov. 21 to speak to the first and second quarter students of the Advanced Composites Program about the job search process and to give an insider's perspective into the field.
When Moore moved to the U.S. 14 years ago she applied for dozens of jobs with Boeing. She was watching the news one evening when she learned about schools offering education in the aerospace industry and enrolled at Clover Park Technical College.
While she was a student she met with Student Navigator Les Sessoms, who gave Moore interview tips, provided assistance with her resume and organized business tours.
"She asked questions, she participated in class and she was engaged," Sessoms said. "I see those as characteristics for her success."
Moore has degrees in Russian language and literature, and communications. Growing up during a difficult economic and political era in Russia, Moore was always fascinated by aerospace and dreamed of traveling the world. Her hands-on learning at Clover Park Technical College prepared Moore for her first position in manufacturing. She is dedicated and focused in her position and acquired the nickname "triple checker" because she triple checks all materials she fabricates and assembles.
"CPTC played a big role in me believing in myself," Moore said. "When I interviewed at Boeing, I felt that I wasn't just representing myself but also Clover Park Technical College."
Moore has been at Boeing for eight months and is already looking ahead. She plans to pursue a Bachelor of Applied Science in Manufacturing Operations degree from Clover Park Technical College to help propel her into management.
"The value of bringing alumni back to campus is the communication of what they observed at that company, what they're experiencing and hopefully it translates into a winning formula for other students," Sessoms said.
Clover Park Technical College's Advanced Composite Manufacturing Certificate Program is designed to prepare students to fabricate, assemble and repair composite materials for a variety of industries, including aviation, automotive, marine and recreation.
CPTC alumni are encouraged to share their story at http://www.cptc.edu/foundation/share.
Share This Story