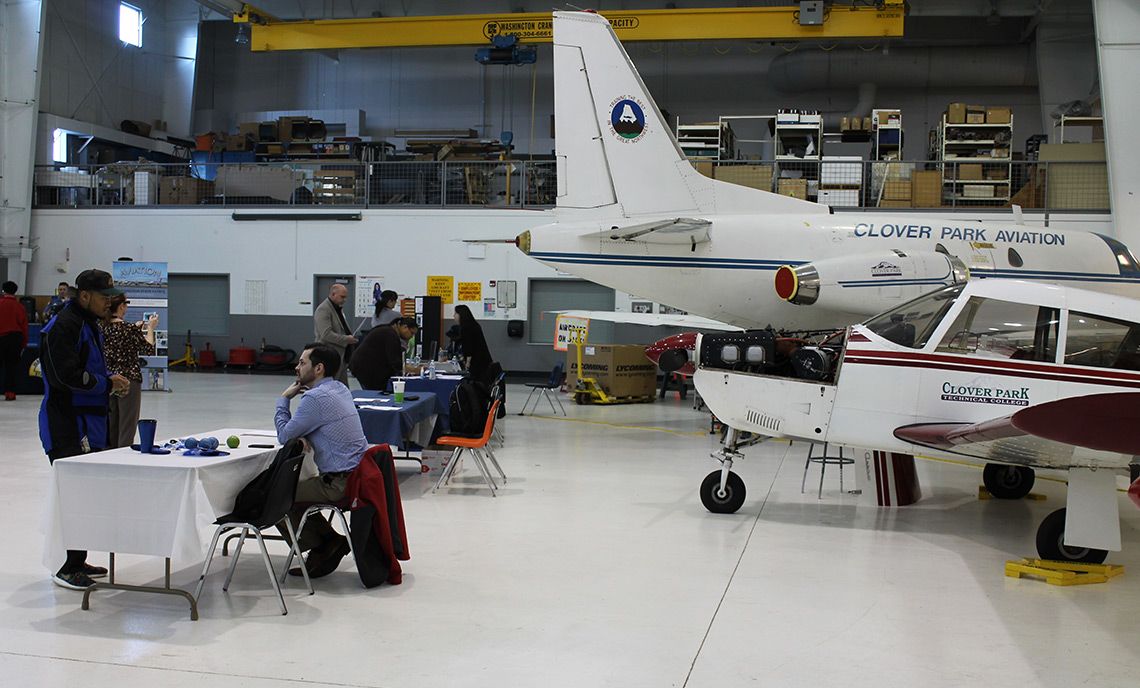 Preparing Students for Careers
February 23, 2016
After a friend of Chanelle Johnson's completed the Advanced Composites Manufacturing Certificate, Johnson enrolled in the two-quarter program.
Now two months into her first quarter, Johnson is thinking about what comes after she earns her certificate. The Aviation and Aerospace Technology Career Fair at Clover Park Technical College's South Hill Campus on Feb. 18 helped Johnson learn more about the industry.
"I'm not well-versed in who actually works with composites and where I should go after I'm done," she said. "I wanted to see who was here at the career fair to get an idea of what's out there."
Johnson was one of 74 students who had the chance to network with and meet 12 employers from the aviation and aerospace industry. Five students left the career fair with interviews to prepare for.
Before the fair, Jason Holden didn't know the Washington State Patrol has an aviation division. But after visiting WSP's booth, Holden knows what they require for their pilots.
"It sounds like it might be a possibility," he said.
Holden retired from the Air Force after 21 years of service with thousands of hours flying on an air crew, but none as a pilot. He enrolled in CPTC's Professional Pilot Program after he heard from other students enrolled in the program.
Holden is now up to 170 flight hours, having earned his Instrument Pilot Certificate and is working toward his Commercial Pilot Certificate.
Students and CPTC alumni have an opportunity to network with on-site companies at the 2016 Spring Career/Job Fair on March 2 from 11 a.m. to 2 p.m. at the McGavick Event Center on the Lakewood Campus.
The Career Center is hosting job fair prep and resume workshops. For more information, or to register, visit http://www.cptc.edu/spring-career-fair.