2021 Holiday House Delights
December 10, 2021
by Jean Borst
2021 Holiday House makes season brighter for student families
For 35 years, Clover Park Technical College has provided gifts and holiday cheer for thousands of students and their children.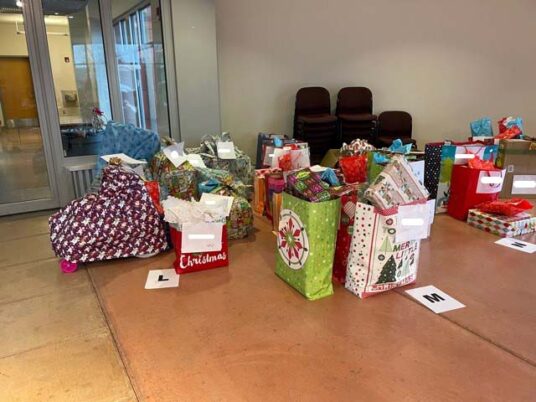 COVID-19 safety measures didn't dampen holiday spirits at this year's Clover Park Technical College Holiday House. On Dec. 7, gifts were distributed to 48 student families, including 107 children.
The annual tradition began in 1986 when two CPTC employees provided food for 25 student families. Since then, the event has grown significantly, thanks to Holiday House organizers and the generosity of faculty, staff, students and community members.
Each year, departments, classes and individuals from across the campus and community partners adopt a CPTC student parent in need and purchase wished-for gifts and grocery store gift cards for their family. Proceeds from a basket raffle held in the fall and donations made to the Clover Park Technical College Foundation ensure there are gifts for any families that aren't adopted.
To date, Holiday House has provided gifts for more than 4,100 children and generated more than $260,000 in donations to support student families.
Far more than a heartwarming tradition
While grants, loans and scholarships help students with school and living expenses, Holiday House eases the financial and emotional strain student parents are feeling this time of year.
"December is one of the highest withdrawal months at the college," said Holiday House co-chair Cherie Steele, executive assistant to CPTC President Dr. Joyce Loveday. "Students must choose between going to school or getting a job to buy gifts for their kids."
To be eligible to participate, student parents must attend CPTC full-time (taking at least 12 credits during fall quarter) and receive some form of financial aid. When they submit their application, they are asked to provide information about their children's ages, sizes and interests so adopters know just the right items to purchase.
Spreading cheer post-pandemic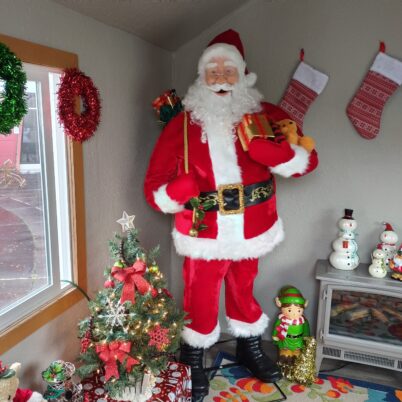 COVID-19 has posed some challenges for Holiday House. Pre-pandemic, Santa was on hand in Building 23 on the Lakewood campus to distribute gifts, visit with little ones and pose for pictures. Students, faculty and staff and their children were invited to partake in holiday treats and activities. Last year's event was cancelled entirely.
This year, committee members pivoted to provide a safe and festive experience. Gifts were delivered to each family's car by Holiday Helpers. A "tiny house" constructed by students from CPTC's Construction Technology program was set up on the campus rotunda and adorned with a chimney, blow-up Santa, lights and a decorated tree so kiddos and their families could still pose for a holiday photo.
"I am overwhelmed and wish I could show you how much this has helped my children and me," wrote one thankful student-parent afterwards. "I cried tears (of happiness) all the way home. You are definitely a blessing."
Years of magical moments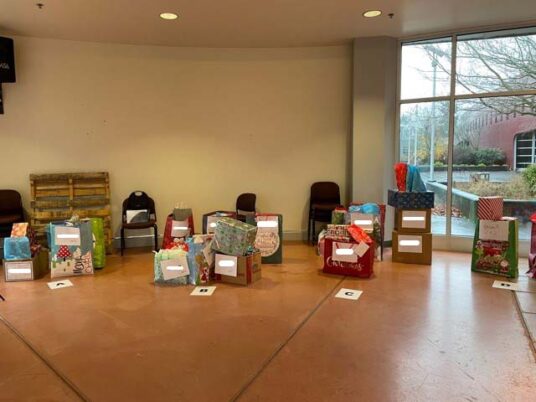 Holiday House has yielded so many special moments over the years, Steele said, from the overwhelming response from faculty and staff to the beaming faces of appreciative parents. It's especially heartening when students who were once Holiday House adoptees reach out to donate money, adopt families or volunteer to help with the event.
One memory will stay with Steele forever and still makes her emotional. In the days before student emails, it was sometimes difficult to get the word out to adopted families. One year, a student attending the South Hill campus—the father of two sets of young twins—hadn't picked up his family's gifts. "When I called to tell him, he burst into tears," Steele said. "He had no idea his family had been adopted. He was so grateful."
To learn more about Holiday House, or to donate or contribute to future events, click here to visit the CPTC Foundation's website.
Many thanks to this year's Holiday House co-chairs Cherie Steele and Cindy Overton, committee members Dustin Annis, Megan Davis, Lisa Fortson, Sarah Harris, Marla Hike, Sheli Sledge, Amy Timmons, and the many unsung heroes among the faculty and staff who contributed thousands of dollars to make the holidays special for our students.
More CPTC News