$5K scholarship helps aspiring chef spread happiness through food
November 3, 2022
CPTC Culinary Arts student Jacob Romero is taking his skills to the next level thanks to the Dave Henderson Scholarship, named for the beloved and ever-smiling former Mariners outfielder.
By Jean Borst
When Rick Rizzs visited Jacob Romero's Bethel High School classroom last year, he expected the longtime broadcaster and "voice of the Seattle Mariners" to talk about careers and working with the Ms organization. Turns out, Rizzs wasn't there to talk baseball. He was part of a surprise classroom takeover.
Rizzs shared a little about Toys For Kids, a nonprofit he founded with former Mariner Dave "Hendu" Henderson that provides toys and more to homeless and disadvantaged children. He also mentioned the Dave Henderson Scholarship, which was created in honor of the late centerfielder to recognize outstanding high school seniors across Washington state — including a certain student who was sitting in the classroom.
That's when Romero heard his name called and suddenly found himself holding a jumbo cardboard check for $5,000 that would help him realize his dream of becoming a chef.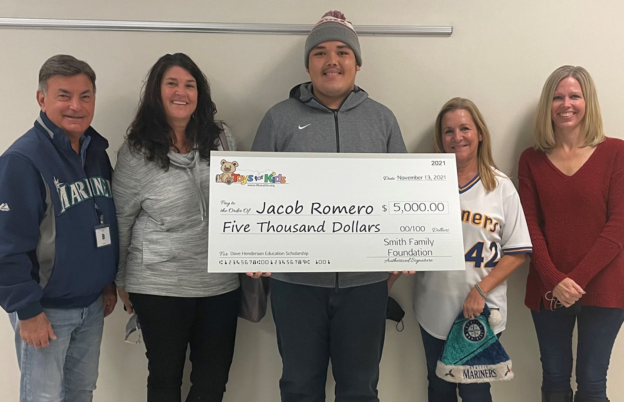 "I was in absolute shock," said Romero, who was one of eight recipients of the 2021 scholarship. "It meant so much to me to have the funds to help get me through the Culinary Arts program at Clover Park Technical College."
Romero began his studies at CPTC this fall.
A reason to smile
Romero was selected for the scholarship in part based on his essay that answered the question, "How does continuing your education make you smile every day?" It was an easy ask for the upbeat teen.
"Food has been my passion for as long as I can remember," Romero said. "And I've always wanted to have a career where I can make people happy."
Growing up in a household influenced by his family's Mexican, Korean and American roots, Romero has always been surrounded by an array food – and the joy it brings. He sees it firsthand through his father, a line cook for Mama Stortini's Restaurant and Bar.
"My father always has the biggest smile on his face when he makes food for me and my brother at home," Romero said. "He loves watching us eat what he makes."
Helping dreams happen
"When I met Jacob, what stood out was that he knew exactly what he wanted to do," said Heather Jones, Executive Director of Toys for Kids, which administers the scholarship. "He wanted to go to Clover Park Technical College and be a chef. He wanted to follow in his dad's footsteps."
Romero's passion, paired with his infectious positivity, is what the Dave Henderson Scholarship is all about. Before he passed away suddenly in 2015, Henderson had always talked about funding an education scholarship for kids. After his death, the Toys For Kids board made that happen.
"We found out from Dave's wife that he had been paying for kids' education out of his own pocket," Jones said. "That's just the kind of person he was."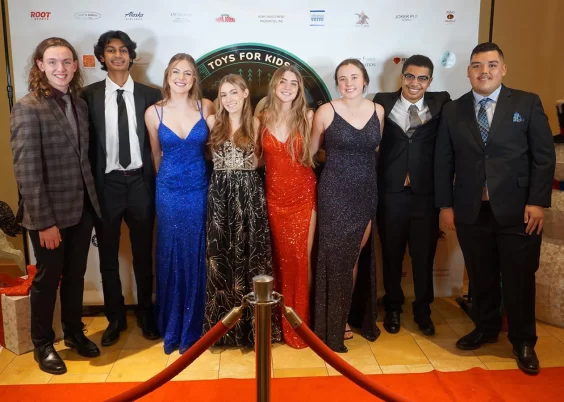 In addition to surprising scholarship winners in front of their classmates and teachers, students are also honored at TFK's annual gala and given a gift certificate to buy formal wear for the event that can repurposed for their school proms. Even after all the celebratory hoopla, the connection between scholarship winners and the nonprofit doesn't end.
"We consider each scholarship recipient a part of the Toys For Kids Family," Jones said. "We invite them back each year to our annual gala, some still volunteer with us, and Rick and other board members make a point to stay in touch with them."
CPTC was an easy choice
Clover Park Technical College and its Culinary Arts program had been on Romero's radar for a while. He got his first taste of the Lakewood campus during a 6th grade field trip. In high school, Romero learned a lot about the CPTC program while attending culinary arts classes through the Pierce County Skills Center (PCSC). Another big plus? The campus's proximity to home – and Dad's cooking.
CPTC's fast-paced Culinary Arts program offers everything from classes in cooking skills, regional cuisine and restaurant management to real-world experience in the Rainier Room, the college's upscale public dining facility. Romero looks forward to honing his craft, learning tricks of the trade and taking his cooking chops to the next level.
"I would really like to better understand the complexity of flavor combinations, like fruit and chocolate, so that anything I make now I can make better," he said.
Learn more CPTC's Culinary Arts program here.
More CPTC News