Ready for liftoff: Career Launch connects students to meaningful jobs
February 21, 2022
State program provides students on-the-job experience with a living wage, and funding to enhance classroom instruction.
By Jean Borst
Things were going great for Spenser Dorsey. He had a bachelor's degree from Central Washington University. He and his wife had a happy, active 2-year-old at home. And he was making good pay in a sales position.
Then COVID hit and Dorsey was out of a job. Unemployment benefits would help temporarily, but he needed another source of income and wanted a meaningful job.
Dorsey loved to work on cars as a hobby, and he knew his keen mechanical skills could be put to good use. The pandemic made him realize the appeal of a high-demand trade career.
"I knew working as a tradesman would provide job security for me and my family, but I also knew it was something I'd enjoy doing," he said.
Dorsey enrolled in the Heating & Air Conditioning/ Refrigeration Service Technician (HVAC) program at Clover Park Technical College (CPTC). Because the program is a state-endorsed a Career Launch program, he was able to begin a paid workforce-learning position at Sunset Air in Lacey during his final quarter at CPTC — just as his unemployment benefits ran out.
"Learning the basics in this field is essential, and my instructors at CPTC did an awesome job of providing that foundation," Dorsey said. "But completing the program wouldn't have been possible without Career Launch."
Strong links between students and employers
Career Launch is part of the Career Connect Washington, a program created by Gov. Jay Inslee in 2017 and funded during the 2019 Washington State Legislative session. The program prepares young adults ages 16-30 for careers by combining on-the-job experience with classroom instruction.
Career Launch provides endorsements that enable students to get paid career experience while still in school, and subsequent funding opportunities to help schools develop or expand programs, boost enrollment or purchase equipment. The program has made possible significant enhancements at CPTC that are better preparing students for jobs in industries that need workers now and in the future.
Following a rigorous approval process, CPTC's HVAC/Refrigeration program was endorsed as a Career Launch program in 2019 by the Washington State Board of Community and Technical Colleges (SBCTC). The endorsement enables fourth-quarter HVAC/Refrigeration students to complete their training working for CPTC employer partners while making a livable wage. A subsequent grant of $200,000 enabled the college to expand the program's lab capacity and modernize equipment.
"The endorsement and subsequent funding not only helped us grow the program, but also helped better connect our students with our employer partners," said Dr. Claire Korschinowski, CPTC Dean of Instruction. "We would never have the capabilities otherwise to make that kind of investment in equipment, expansion and faculty training."
Funds cover critical equipment for Roofing Apprenticeship Program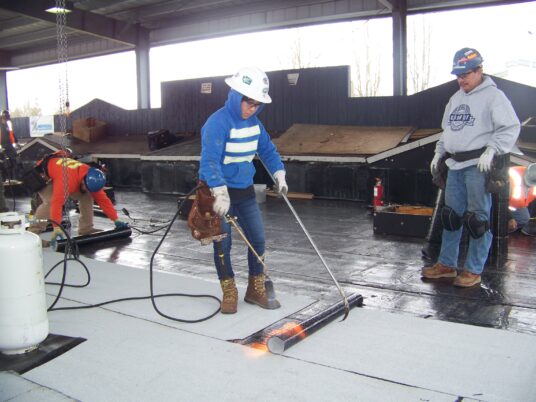 As a state-registered apprenticeship program, the Pierce County Roofers Apprenticeship Program was also eligible for Career Launch funding. For more than a decade, CPTC has partnered with Pierce County Roofers, providing classroom and lab space, instruction and other resources. A $70,000 Career Launch grant made possible the purchase of an alternative welding device, bonding machine, forklift and storage container to protect and organize tools and equipment.
"The grant provided a really big boost for the program," said Michelle Barre, CPTC Director of Workforce Development. "The only way we can effectively train students for these in-demand jobs it to have the most up-to-date equipment that will be used in the workforce."
"Career Launch funding made a direct and immediate impact on the training we provide," said Racheal Geyer, Director for the Pierce County Roofers Joint Apprenticeship Program, who was instrumental in determining what should be purchased. "We improved hands-on training to more effectively expand the apprentices' experiences."
Everyone wins
The benefits of the Career Launch program are huge—for students, employers and the economy.
With ever-increasing demand for highly skilled and trained workers, Career Launch is a direct pathway from college into the workplace.
Students earn money while completing their studies, lowering the potential for student debt and increasing their chances of graduating.
Students are trained on the newest technology, saving their future employers thousands of dollars in retraining costs.
"Career Launch gives our students the foundational classroom education they need and real-world experience that comes with a livable wage," Korschinowski said. "It won't stop here. CPTC is looking at other programs to move forward through Career Launch."
More CPTC News