Clover Park Technical College makes switch to ctcLink
May 20, 2022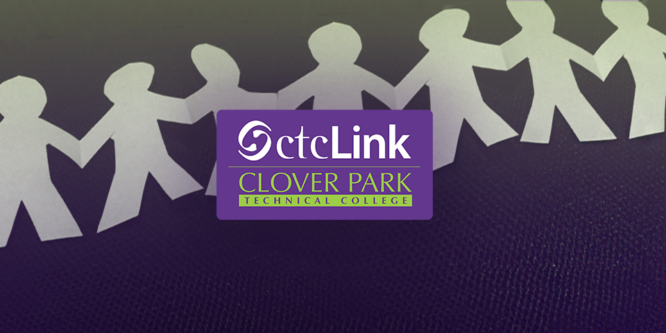 By Jean Borst 
CPTC's new online system will give students, faculty and staff anytime/anywhere access to classes, registration, financial aid, administrative processes and more.
 The '80s were cool and everything, but technology from the era is definitely a thing of the past.
At Clover Park Technical College, an assortment of clunky systems put in place more than 35 years ago has now gone the route of the Sony Walkman and floppy disks. As of late April, CPTC is using a new centralized online system called ctcLink that gives students, staff and faculty access to all their personal information and other college accounts—anytime, from anywhere.
Big change, big benefits
Implementation of ctcLink is part of a statewide project to replace outmoded systems with a streamlined, current and connected alternative. (Think VHS player vs. Netflix.) CPTC was part of the last group in the state to make the switch to ctcLink. All 34 Washington state community and technical colleges are now connected through the information system, which serves as a single source of accurate, real-time data and common reporting tools.
With ctcLink, students, faculty and staff have a modern and standardized way to manage nearly everything online, from enrolling in classes and managing courses to processing payroll and more.
Benefits of ctcLink include:
24/7 access to a self-service online hub where students can register for classes, handle financial aid, pay tuition and fees, add, drop or swap classes, contact an advisor or instructor, and more.
A single ID and record that follows students and faculty wherever they go within the Washington community and technical college system.
Faculty tools to view classes, print class rosters, send messages to students and assign grades.
Consolidated payroll processing and a full suite of online HR tools and services.
Standardized processes to manage and share state and federal reports; payroll, purchasing and employee records; recruitment tools and benefits administration.
Training and support key to success
To prepare for the ctcLink implementation and allow staff ample time to get comfortable in the new system, most CPTC offices were closed April 18-May 6. (Students still had online access to services.) Employees started using the system April 25, and students began activating their ctcLink accounts on May 3.
A variety of resources are available to help students, faculty and staff access and get comfortable in the new system, including:
Tutorials and other tools available via a dedicated ctcLink page on the CPTC website.
In-person tutorials to assist with account setup.
On-demand support via Zoom.
In late May, additional assistance will be offered to students registering for classes for the first time in the new system.
Dedicated team behind the scenes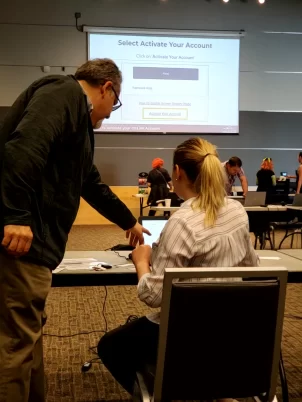 "With ctcLink, we changed business processes in every area, and every area of the college was affected," said Brian Lee, CPTC Chief Information Officer and ctcLink Project Manager. "This was far more than a data project. It was a people project."
For more than two years, a work group of 50 CPTC employees met regularly to plan and coordinate activities associated with the ctcLink implementation and help manage the change process. The team included individuals from across the campus designated as subject matter experts (SMEs). These were the folks in the know who worked to document the processes that would convert to the new system and ensure the data that needed to move from the old legacy system to ctcLink was clean and compatible. In the six to eight months leading up to the implementation, there were more than 200 types of data conversions and five iterations of system testing. And it all happened while project team members did their regular daily jobs serving students.
Subject matter expert Lisa Wolcott, CPTC Interim VP for Finance and Administration, described the progression succinctly. "Stress, fix, patience, success," she said. "Then you start all over again."
While challenging, the process paid off. When the final conversion took place, more than 99.9 of data converted to the new system.
"That's a really high-quality data move, and it happened because people worked exceptionally hard," Lee said. "When the system went live, we didn't have to worry about bad data and could focus on getting people trained and comfortable using the new system."
Focused support will continue
For CPTC employees in particular, the transition to ctcLink ushers in a whole new way of doing things. "On April 25, it was like everyone on campus started a brand new job," Lee said. "We never lost sight of that."
In addition to initial training and help to get employees up and running on the new system, staffing has been beefed up to meet the need for ongoing assistance. Direct support will continue for several months. Eventually, ctcLink assistance will merge with the college's overall IT support.
Lee described the ctcLink project as "a huge engine rolling very slowly forward," and he expects it to take 6 to 10 months for the system to stabilize. "We all need patience and grace through this transition," he said. "The new system is a big change, and it will take time for everyone to become proficient. We're here to help."
Visit the CPTC website for more ctcLink information and resources.
More CPTC News