Clover Park Technical College to launch part-time LPN-RN Transition Program
May 2, 2023
By Jean Borst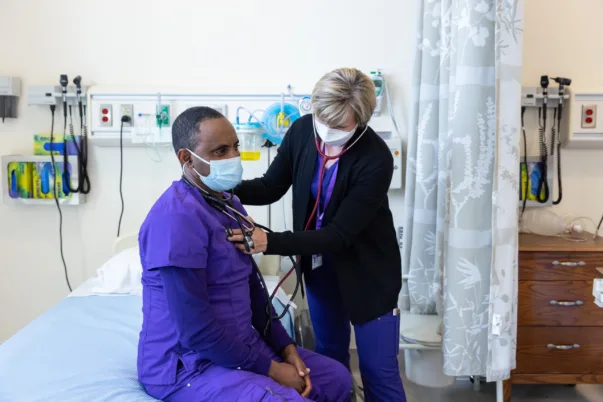 Beginning fall quarter 2023, Clover Park Technical College will offer a new pathway for licensed practical nurses who want to continue their education without giving up their jobs.
The part-time LPN-RN Transition Program will be specifically tailored for working LPNs. The program offers weekend and evening classes and is designed to be completed in five quarters.
Program graduates will be eligible to take the National Council Licensure Examination for Registered Nurses (NCLEX-RN). Once they pass the exam, they will officially be an RN and ready to provide more direct patient care, have more career advancement opportunities and earn a higher salary.
The program's first cohort of 24 students will launch fall quarter of 2023 and a second one will begin spring quarter 2024. Eligible applicants will be accepted to the fall cohort on a first-come, first-served basis beginning July 5. Applications for spring quarter will be accepted beginning Dec. 4.
Leveling the playing field
Working LPNs already have a wealth of nursing knowledge and experience. The LPN to RN Transition Program will build off that skillset and offer a practical way to gain the required skills and exam preparation they need.
The pathway also bypasses some of the barriers associated with traditional nursing programs, including their highly competitive admission processes. Traditional RN programs are also full time, take longer to complete and come with a much higher price tag.
"People shouldn't be penalized because they can't go to or get into a traditional nursing program," said Tiffany Smith-Fromm, CPTC Nursing Program Dean of Instruction. "This option levels the playing field."
Template for success
Working from a highly successful template she built while she was Director of Nursing and a tenured faculty member at Pierce College, Smith-Fromm and CPTC Nursing Program faculty created program curriculum based on input from industry and union partners and with the needs of students in mind.
"We're working really hard to meet students where they are individually and ensure they are successful," she said. Student success is critical as the need for registered nurses continues to soar. "Our hope is that graduating 48 nurses every year will help."
A popular option returns
The LPN-RN Transition Program will fill a gap left when the college discontinued its full-time LPN-to-RN program in 2019. News of its fall launch has already created a positive buzz, especially among former CPTC nursing students.
"A lot of people have visited the campus or called to learn more about the program," Smith-Fromm said. "They've been waiting for this, and they're eager to come back to CPTC."
Smith-Fromm is equally excited about the bridge program. She's even thinking of returning to the classroom as an instructor.
"It's a great program, and we're stoked to be offering it," she said. "I think it will be wildly popular."
In addition to the new LPN to RN Transition Program, CPTC will also launch a new three-quarter Practical Nursing Certificate beginning this fall. The college also offers a one-quarter Nursing Assistant Certificate and a six-quarter Associate in Pre-Nursing Degree that prepares students to transfer to four-year programs.
Learn more about CPTC Nursing programs.
Did you know? According to data compiled by the Washington Center for Nursing, Pierce County has the highest concentration of active licensed LPNs in the state.
More CPTC News