College Spark Foundation Executive Director Visits CPTC
October 20, 2021
On Thursday, October 14, 2021, Dr. Warren Brown, Executive Director of the College Spark Foundation, personally delivered the fourth Guided Pathways Early Adopter Cohort check. This is the fourth $100,000 disbursement of a five-year, $500,000 award to the College.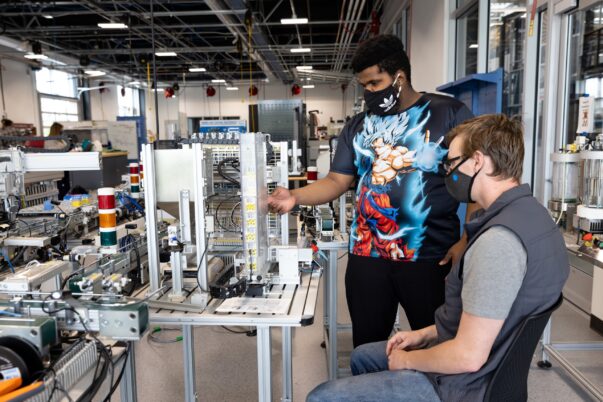 Dr. Thomas Broxson, Vice President for Instruction, Dr. Scott Latiolais, Vice President for Student Success, Samantha Dana, Associate Vice President for Institutional Effectiveness, and Dean Kelly, Dean of Student Success, joined Dr. Joyce Loveday, President, to thank and update Dr. Brown on the important work occurring under the Guided Pathways initiative at Clover Park Technical College.
CPTC has participated in Guided Pathways with support from the College Spark Foundation since 2018.
CPTC's Guided Pathways achievements
"This work has really made a difference for our students," President Loveday noted, with broad agreement from the other college leaders assembled. Guided Pathways is a nation-wide initiative, which has led CPTC to redesign its programs, embed general education courses in professional-technical pathways, and deepen its professional development and leadership development infrastructure for faculty and staff.
This dedicated work has resulted in increases in college-level math and English pass rates in students' first year, including a narrowing of the equity gap between white and African-American students, and a pre-pandemic increase in annual retention rates. For more information on CPTC's Guided Pathways plans and accomplishments, visit cptc.edu/pathways.
College Spark Foundation's next steps
The visit was also an opportunity to reflect on the pandemic's impact on career and technical education. Dr. Brown said of the partnership, "Investments in policies that support our institutions are essential to a diverse and vibrant community. College Spark is proud to partner with Clover Park Technical College because they have deep roots in their community, they specialize in career-oriented programs that can get people back to work quickly, and they have a track record of adapting to changing circumstances."
Dr. Brown remarked that the Foundation and the College have been longstanding partners, with over $1.1 million in grant funding awarded to CPTC since the College Spark Foundation first funded CPTC's inclusion in the Achieving the Dream network. As leaders, conveners, and partners in the movement to make Washington's community and technical colleges more equitable and promote greater student success, the Foundation has recently adopted a new mission focused on dismantling racism in the education system.
This work aligns with both the State Board for Community and Technical College's emphasis in its Guided Pathways implementation on Equity and CPTC's Equity focus in recent years including reviewing data, scaling support for the work in resources and training, and enacting research-based best practices to improve outcomes.
Clover Park is grateful for the College Spark Foundation's support, leadership, and partnership and is excited to continue improving its equitable outcomes as it educates tomorrow's workforce.
About Clover Park Technical College
As a vital member of Washington's higher-education system, Clover Park Technical College offers more than forty programs in aerospace, advanced manufacturing, health sciences, human services, business, hospitality, science, technology, engineering, transportation, and trades.
Learn how to get started by visiting our virtual Program Expo on Wednesday, October 27 from 3-5 p.m. More information is available at www.cptc.edu/expo.
About the College Spark Foundation
College Spark began supporting access to higher education in 1978 by managing student loan programs. In 2004, College Spark reorganized as an education grant maker and since then we have committed more than $70 million to college readiness and degree completion programs throughout Washington state.
For more information, visit collegespark.org.
More CPTC News