CPTC celebrates grand opening of MOSAIC Center
October 3, 2022
MOSAIC Center is an intentional, inclusive space for CPTC community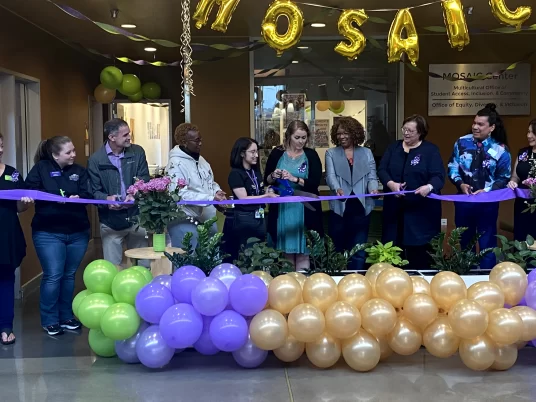 Since Iesha Valencia's January 2022 arrival as CPTC's first Associate Vice President for Equity, Diversity and Inclusion (EDI), a crucial focus of her team's work has been the development and opening of the new Multicultural Office of Student Access, Inclusion and Community (MOSAIC) Center.
On Wednesday, September 28, 2022, this work came to an exciting culmination. The MOSAIC Center celebrated its grand opening with a ribbon-cutting ceremony and comments from Valencia, Dr. Joyce Loveday (President), MOSAIC Navigator Shawnee Montaldi, EDI Administrative Assistant Sheli Sledge, and Manager of Student Diversity Programs Luke Ruiz. Located in CPTC's McGavick Student Center in Building 23, the MOSAIC Center is designed to be a space where students of diverse, racial, ethnic and gender backgrounds can gather and connect.
"The MOSAIC Center is an intentional and inclusive space," Valencia said. "When students enter the door, they will find a space that honors multiple identities and lived experiences and immediately communicates that we were thinking of them when we created it."
A place to belong
"The MOSAIC Center offers a warm and welcoming space for our students, whether it's to hang out, study, catch up with friends, meet other students or reserve space for meetings, events or programs," said Ruiz.
"I grew up with Oasis Youth Center and am going to age out of it soon. I wanted to find places to grow up into that have a QTPOC space," said Skylar Tre Robinson, a first-quarter student in the Digital Entertainment Design and Production Program and grand opening attendee. They hope the MOSAIC Center will be a wellspring of community partnerships and resources and shared their excitement about "having a place to find like communities."
The Center's most notable feature is the large physical lounge where the CPTC community can gather, engage and learn. Additional features include:
Social justice art and cultural imagery.
Comfortable couches, desks and stackable furniture to meet multiple gathering needs.
A television and computers.
Campus and community resource referrals and support.
A library of multicultural and diverse books available to check out.
Dedicated on-site staff, including Ruiz, available to provide information and resources, help get you connected to a student community on campus, as well as space reservation assistance.
Peer mentorship. Starting this fall, an on-site student team will greet visitors and answer questions.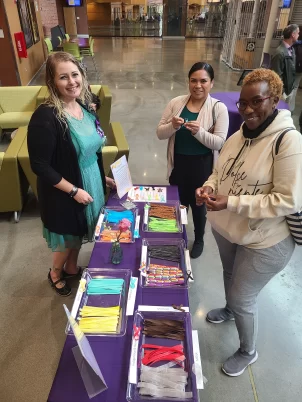 While the grand opening celebration was held this week, the MOSAIC Center has been working since its soft opening last spring to become a hub for culturally relevant and meaningful gatherings. It has hosted an in-person workshop on eliminating racism and the virtual Students of Color Conference, designed to help students lead in a diverse community. The connections Ruiz made during those meetings helped pave the path to the center's first official in-person event, a Juneteenth celebration organized and hosted by CPTC's SOCA (Students of Color Association).
Student-led effort
The drive to create a multicultural space for students was powered by student voices. In 2016, a student leadership team started a movement to create a place where students would feel welcome, have a sense of belonging, meet with peers who share a similar identity, and learn about other identities and cultures. A year later, the CPTC Associated Student Government and the Student Budget Committee approved a physical space and allocated financial support. After initial delays related to budget constraints and organizational restructuring, the MOSAIC Center was constructed in the Student Center in 2021 and moved from the Student Life umbrella to the Office of Equity, Diversity and Inclusion.
A strong partnership between Student Life and the MOSAIC Center remains. "There are many opportunities for collaboration to create the best programs that benefit all CPTC students," said Jessica Wallack, CPTC Director of Student Life.
The grand opening marks the kick-off of big plans to come. The MOSAIC Center will support students interested in creating new identity-based affinity groups and student clubs and organizations through Associated Student Government. Ruiz is eager to see the next round of initiatives come to life with events such as Exploring Roads to Liberation, the first antiracism education series; National Coming Out Day in October; and a partnership with Bon Sucre Bistro to honor Día de los Muertos.
More CPTC News