CPTC Class of 2022 Celebrates Commencement
June 17, 2022
CPTC commencement celebrates resilient class of 2022 at Tacoma Dome 
More than 380 students from the college's two campuses were honored during the Annual Commencement Ceremony June 16.
By Jean Borst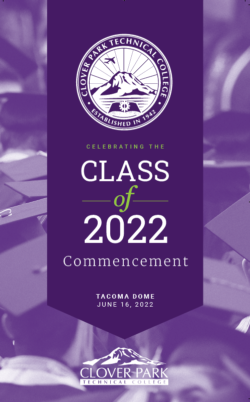 Graduation is a time of celebration. But the Clover Park Technical College class of 2022 deserves a huge tip of the mortar board and an extra helping of pomp and circumstance.
After more than two years of coping with the COVID-19 pandemic, CPTC was ready and eager to recognize students' accomplishments at the college's 2022 Annual Commencement Ceremony at the Tacoma Dome on June 16.  It marked the first time since 2019 that graduates were honored at an in-person ceremony. It was also CPTC's first big in-the-flesh event in nearly 3 years.
"Any time a student earns a degree, it's important to celebrate their achievement," said CPTC President Dr. Joyce Loveday. "But the level of determination and persistence that this class has demonstrated is extraordinary. Culminating their experience with a traditional, in-person commencement event was a special part of their CPTC journey."
Students take center stage
"We really wanted to give our graduates an elevated experience this year," said Jessica Wallack, CPTC Director of Student Life. "These students enrolled during a pandemic, had only online or hybrid classes and had to learn to adapt to new technologies. The grit and dedication they demonstrated was remarkable, and we wanted to make sure they knew how proud we are of their achievements."
Here are highlights from this year's commencement:
Human Services program student Shelly Kirk-Selvester kicked off the festivities with her rendition of the National Anthem. Kirk-Selvester is also a 2020 graduate of CPTC's Health Unit Coordinator program.
Student speaker Ture Sandin offered inspiration and advice for grads as they start the next chapter in their lives. Sandin is a 2022 graduate of CPTC's Network Operations and Systems Security (NOSS) program and a member of Phi Theta Kappa Honor Society and SALUTE Veterans National Honor Society. He also served six years with the U.S. Army as a Satellite Communications Operator Maintainer.
Sandin shared a story from his military training days about an obstacle course exercise designed to test participants' resolve in a challenging environment. As he and his fellow soldiers shimmied through concrete piping, water began filling the cramped space. Perseverance and some creative problem-solving helped Sandin find his way out of a difficult situation.
"There will be times in your life when you feel trapped or bogged down with physical or emotional baggage," Sandin told his fellow graduates. "Instead of pulling away from the pain, embrace it and rise above it."
CPTC contracted with MarchingOrder, a pioneer in the graduation event industry, to personalize the student experience during this year's ceremony. When each graduate crossed the stage, their prerecorded name was announced, and their name and degree were displayed on the big screen.
1000 Words Events was on hand to snap photos throughout the commencement celebration. Graduates can download photos at no cost.
For grads or family members who were unable to attend the ceremony in person, the commencement was live-streamed on the CPTC website.
Good to be back

CPTC's traditional commencement celebrations were shelved the last two years due to statewide COVID restrictions. But a global pandemic didn't stop the college from honoring 2020 and 2021 graduates in style. Both years, hundreds of students took part in drive-through celebrations on the Lakewood campus amid cowbell-clanging, sign-waving faculty and staff. It was an inspired pivot during a trying time, but there's nothing that can replace the proud walk across a stage in a cap and gown, with loved ones in attendance to cheer on your accomplishments.  
"The drive-through events were spectacular, and a great way to celebrate our students amid the pandemic," Wallack said. "But this year, the entire CPTC community was thrilled to be back at the Tacoma Dome to honor these resilient students with a well-deserved big event."
Find candid photos of Commencement activities across social media using the hashtag #cptc2022. Graduates and their families are invited to download images from https://1000wordsevents.com.
More CPTC News