CPTC collaborates with the Strategic Data Project, an initiative of the Center for Education Policy at Harvard University
August 19, 2021
by Jean Borst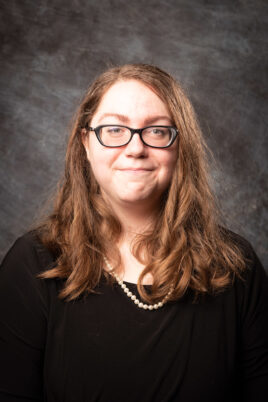 Clover Park Technical College's (CPTC) Associate Vice President for Institutional Effectiveness Samantha Dana and Dr. Claire Korschinowski, Dean of Instruction, will participate as fellows in the Strategic Data Project for Postsecondary Career and Technical Education (SDP-CTE), sponsored by the ECMC Foundation. This initiative from the Center for Education Policy Research at Harvard University builds on CPTC's adoption of Guided Pathways practices and is aimed at helping more students succeed.
Through a grant from the ECMC Foundation, the Strategic Data Project, an initiative of the Center for Education Policy at Harvard University, has launched a fellowship program to support postsecondary institutions that serve career and technical education (CTE) students.
The SDP-CTE Fellowship will build the capacity of institutions including Clover Park to use evidence to meet the diverse needs of postsecondary CTE students. In its first year, the fellowship program partnered with eight institutions of higher education across seven states to build the capacity of existing analytic staff through SDP's year-long training program. Now in its second year, the SDP-CTE Fellowship will guide fellows including Korschinowski and Dana to use data to support institutional decision-making.
SDP-ECMCF Fellows will pursue analytic projects addressing a unique challenge facing their organization – from evaluating student and workforce demands to analyzing certification completion rates – to identify potential barriers to student success.
Clover Park President Joyce Loveday is enthusiastic about the acceptance of not one, but two fellows. "CPTC plans to use this opportunity to understand how changes made by faculty have impacted student progress and completion in programs participating in Guided Pathways initiatives," she said.
"The results from this project would serve as one of the first pieces of evidence of effectiveness of Guided Pathways at CPTC, which first launched this initiative in 2018. The evidence gathered from assessment of the leading and lagging indicators will help fuel discussions and implementation of Guided Pathways," said ECMCF Fellow Dana.
ECMCF Fellow Korschinowski explained her goals for the fellowship: "In 2019, the Washington State Legislature invested $32.1 million in community and technical colleges to implement Guided Pathways principles and practices. As an early adopter college, Clover Park asked its many professional technical faculty to redesign their programs to meet the initiative outcomes. The SDP fellowship places us in the position to examine program redesigns and the impact on student achievement."
To learn more about the Strategic Data Project for Postsecondary Career and Technical Education fellowship, visit https://sdp.cepr.harvard.edu/fellowship-cte.
To speak with Adrienne Murphy or Miriam Greenberg, or to inquire about the Strategic Data Project for Postsecondary Career and Technical Education fellowship, please contact Lindsay Blauvelt at lindsay_blauvelt@gse.harvard.edu.
About the Strategic Data Project: Harvard's Strategic Data Project (SDP) works with education agencies to find and train data leaders to uncover trends, measure solutions, and effectively communicate evidence to stakeholders. SDP's network of system leaders, fellows, and faculty come together to share how to best use data to make a difference in the lives of students. SDP Fellows are driving data-informed change in over 145 school systems and organizations. Learn more at harvard.edu.
About the Center for Education Policy Research at Harvard University: The Center for Education Policy Research at Harvard University seeks to transform education through quality research and evidence. CEPR and its partners believe all students will learn and thrive when education leaders make decisions using facts and findings, rather than untested assumptions. Learn more at cepr.harvard.edu.
About ECMC Foundation: ECMC Foundation is a Los Angeles-based, nationally focused foundation with a mission is to inspire and to facilitate improvements that affect educational outcomes—especially among underserved populations—through evidence-based innovation. It is one of several affiliates under the ECMC Group enterprise based in Minneapolis. ECMC Foundation makes investments in two focus areas: College Success and Career Readiness; and uses a spectrum of funding structures, including strategic grantmaking and program-related investments, to invest in both nonprofit and for-profit ventures. Working with grantees, partners and peers, ECMC Foundation's vision is for all learners to unlock their fullest potential. Learn more about ECMC Foundation by visiting www.ecmcfoundation.org and ECMC Group by visiting www.ecmcgroup.org.
Read more about Harvard's Strategic Data Project 2021-2022 Cohort.
More CPTC News