CPTC Foundation Celebrates Nakahara Family Gift
July 15, 2022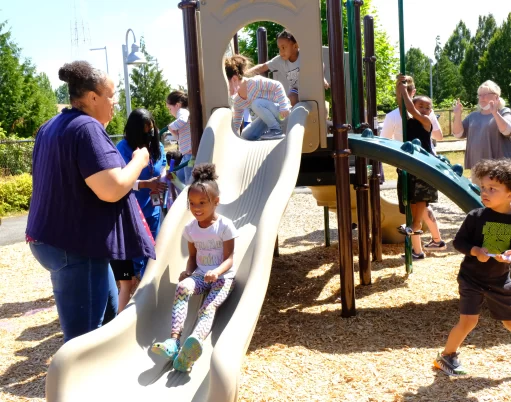 On a recent sunny morning, children of the Hayes Child Development Center at Clover Park Technical College (CPTC) enjoyed popsicles, painting, and playtime on a new addition to their outdoor space. Thanks to a generous donation by the Nakahara family, the youngest members of the CPTC community received a new playset in April 2022.
"Ronald and Hisako Nakahara, longtime residents of Lakewood, generously remembered Clover Park Technical College in their estate planning, providing funding to support student families in June of 2021," said Janet Holm, Executive Director of the CPTC Foundation. "They were passionate about creating opportunities for students pursuing careers in technical education."
Their daughter, Cynthia Nakahara, worked closely with the CPTC Foundation to identify a fitting memorial for her parents that would also benefit students and their families. A new outdoor playset was sorely needed by the Hayes Center, as the previous structure was over 15 years old. Nakahara and Holm reached out to Hayes Center staff, where the experts in early child development selected a playset to fostergross motor skills, exploration, and cooperation.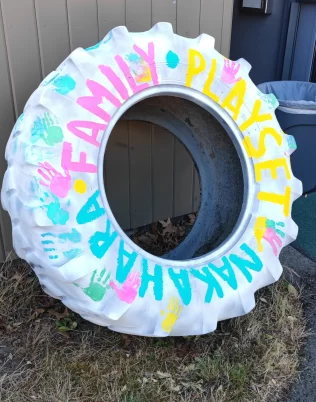 The Nakahara Family Playset was dedicated on Wednesday, July 13, 2022. In attendance were Hayes Center children, families, and staff, along with campus leaders and CPTC Foundation Board of Directors President, Joe Lydic.
"While unable to be here today, [Cynthia] Nakahara sent the following message to share with you," said Lydic. "'I'm so glad my parents were able to give the youngest members of the CPTC community a place to learn and imagine and grow. I so wish my mom and dad could see the new playset…it would have made them very happy. I can almost hear them laughing as they watch the children experience the joy of play!'"
The CPTC Foundation is grateful to the Nakahara family for funding this new addition to the Hayes Child Development Center, which is a critical resource for student families at CPTC. Students know that their children are safe, healthy, and learning while they are working on their own goals.
Established in 1992, the Clover Park Technical College Foundation is a 501(c) (3) non-profit organization dedicated to the needs of CPTC students and programs. The Foundation provides three key funding resources to the CPTC community: scholarships, emergency assistance, and emerging needs/program support.  For more information, visit www.cptc.edu/foundation.
More CPTC News