CPTC Nets Prestigious Beacon Award for Innovative Math Instruction Approach
December 10, 2021
by Jean Borst
New math placement process and co-requisite courses with built-in support pave a practical path to graduation and careers.
"When a student walks out our doors one math requirement shy of a completed degree, it's heartbreaking," said Clover Park Technical College (CPTC) Dean for Instruction Dr. Chris Chen Mahoney.
Completing college-level math in their first year at CPTC is a direct indicator a student will graduate in their chosen program. But for many students, barriers have kept them from passing or even taking required math classes.
Today, those barriers are falling thanks to CPTC's new approach to math instruction. Students are placed in math classes that make sense for them and given the support they need to succeed. The college is also sidelining the burdensome math remediation pathway, which is particularly challenging for students balancing life, work and school and eager to start meaningful careers.
The new model is making a difference. Students who started at CPTC in 2018–19 were twice as likely to pass college-level math in their first year compared with those who started in 2015–16. That number only slightly declined for students who started school during the COVID-19 pandemic. Pass rates for African-American and multi-racial students have increased dramatically.
In recognition of CPTC's innovative approach and impressive outcomes, the college recently received the 20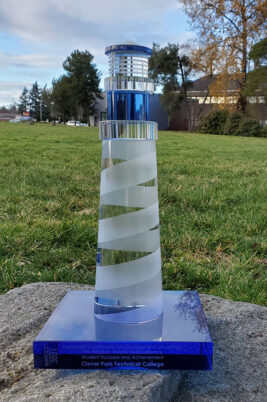 21 Beacon Award for Excellent in Student Achievement and Success from the Northwest Commission on Colleges and Universities. Clover Park Technical College was the only mid-size NWCCU institution (2,000-6,000 students) to receive the prestigious award.
"The recognition is just incredible," Mahoney said. "It really acknowledges the hard work of our faculty and the resiliency of our students."
A multi-pronged approach
Math has long been an obstacle to student success. Data showed very few CPTC students were taking or finishing college-level math. The number of underserved students not meeting math requirements was startling.
"We realized there was not one single solution that could solve all these problems," Mahoney said. "We needed to take a multi-pronged approach."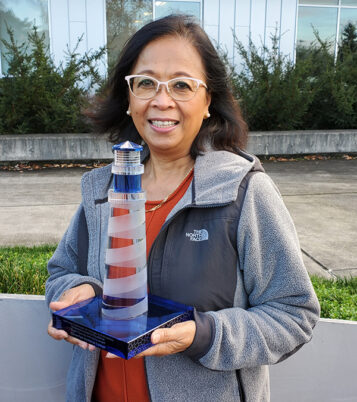 With support from the College Spark Foundation, Mahoney and math faculty Dion Alexander, Laverta Schmeling, Loreta Sandoval, Tula Mollas, and Douglas Stultz got to work to unpack the problem and create a solution to help students succeed. Their approach is a key part of CPTC's Guided Pathways initiative, which groups courses together to streamline the process for students to select and complete their degrees and begin their careers. The new math model includes three key elements:
• A self-directed self-placement process
• A co-requisite teaching model that pairs prerequisite classes with college-level classes
• Math courses embedded in professional-technical program pathways
A more customized placement process
Clover Park's math placement test, a third-party assessment used by many colleges, proved to be an inaccurate gauge, leaving students struggling in higher-level classes or bogged down by multiple remedial classes. The testing process was particularly demoralizing for first-generation students already carrying a lot of doubt about school.
In its place, an untimed, mobile-friendly "confidence survey" asks students to review various math problems and rate their level of familiarity and comfort. They then discuss their results with an advisor to assess which level of math they are most likely to achieve success.
"Direct self-placement has been a big success," Mahoney said. "And it's not just data telling us that. We're getting a lot of positive feedback from students."
Co-requisite math classes connect to college-level courses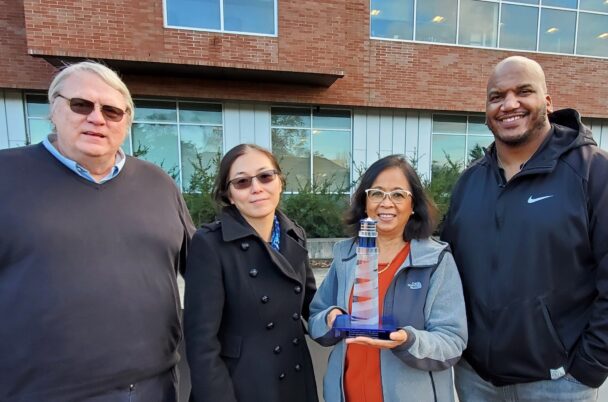 The new co-requisite solution allows students to go directly into college-level math courses that provide just-in-time supplemental instruction. Students watch video lectures remotely and work on practice questions in the classroom, using practical applications to understand specific concepts. Students receive additional support when they need it—day and night—during class and in-person and online through the CPTC Tutoring Center.
"Overall, it's been a great experience so far," said Dion Alexander, who teaches co-requisite statistics launched in the fall of 2021. "We're getting students to those college-level concepts much faster. They don't need to know everything. What they do need to know is how important concepts relate to the field they are going into."
"I see how the additional math support helps students succeed," said Hafsia Chaieb, an embedded tutor in the co-requisite statistics class and peer tutor in the Tutoring Center. "When people receive positive feedback and understand concepts that confused them at first, it only builds their confidence. There's no such thing as too much support."
"I'm so glad there was a co-requisite available for the statistics class," said Sarah Miller, a CPTC student pursuing a Network Operations and Systems Security degree. "I needed a refresher and a fast-track class so that I could start my program next quarter." The full-time student and busy mom also appreciated the hybrid structure. "The video lectures gave me more time in class to ask questions and get help with assignments."
Simplifying professional-technical pathways
The third prong of the team's restructuring efforts is focused on slotting math requirements into professional-technical pathways. For example, many students enrolled in programs within the School of Health and Human Development are required to take three math classes to meet graduation requirements. Now they can take one co-requisite class that combines the requirements and offers support and supplemental instruction if they need it.
A work in progress
Student outcomes are trending in the right direction, but there's more work to do. The primary focus is to fine-tune the new model and develop co-requisite classes for remaining transferable math classes. The college will eventually move to a fully co-requisite model where every math class has the option of supplemental support.
"It's all still a work in progress," Alexander said. "It's true we're seeing positive results. We made the right changes to make that happen. But we still have a long way to go to make sure every student succeeds."
More CPTC News