CPTC student receives Walgreens Pharmacy Technician Certification Scholarship
March 16, 2022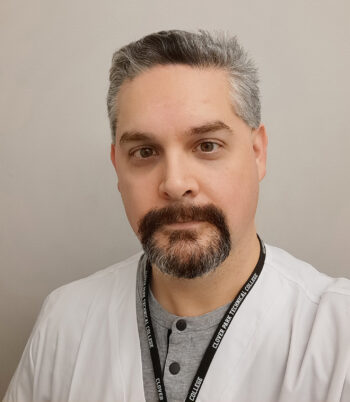 By Jean Borst
Clover Park Technical College student Remy Strawhacker is one step closer to his pharmacy career, thanks to a big boost from Walgreens.
Strawhacker is one of only 25 students in the U.S. selected to receive the Phi Theta Kappa Walgreens Pharmacy Technician Certificate Scholarship for fall 2021. The $250 award arrived just in time to cover the cost of his Pharmacy Technician Certification Board exam fee.
"Remy is so deserving of this scholarship," said CPTC Pharmacy Technician program instructor Trisha Autry. "He is an outstanding student who always helps his fellow classmates. He will excel at whatever he puts his mind to."
The scholarship, presented twice a year in fall and spring, recognizes Phi Theta Kappa members enrolled in allied health or pharmacy technician programs. To be eligible, students must plan to take their pharmacy technician certification exam the academic term following receipt of the award, show financial need, and demonstrate academic rigor and defined career goals.
"I feel like I won the lottery," said Strawhacker, who completed his pharmacy tech internship at a Walgreens store in Bremerton, Washington. "Walgreens has been such a big part of my education and training. I feel so fortunate and grateful to receive this scholarship."
Program ensures students are career-ready
Pharmacy technicians play a vital role in the health care arena. They order and stock medications, prepare intravenous drugs, process prescriptions, prepare billing and more. And as more pharmacists move into clinical settings, pharmacy technicians are taking on more and more responsibility. Clover Park Technical College ensures they're prepared.
The CPTC Pharmacy Technician program offers hands-on classroom and lab training in addition to three months of on-the-job training. The demanding curriculum and practical experience prepare students for careers in a retail or hospital setting, medical clinic, compounding pharmacy, nursing home or long-term care facility. The program follows guidelines of the American Society of Health-System Pharmacists (ASHP) and the Accreditation Council for Pharmacy Education (ACPE). Clover Park offers a Pharmacy Technician Associate of Applied Technology degree as well as an ASHP/ACPE accredited certificate.
"The CPTC program came highly recommended by all the Kitsap County pharmacists I talked with, and they were right," Strawhacker said. "All my instructors have all worked in the field and provided tons of hands-on classroom learning and real-world examples of how things work."
More plans ahead
Now that he has passed his national certification exam, Strawhacker plans to work at as a pharmacy tech while he pursues his education to become a pharmacist. He hopes Walgreens will continue to be in his future.
"My goal is to work in the manufacturing of generic pharmaceutical products, hopefully for the Walgreens brand," he said. "I want to help people find the corner of happy and healthy."
Learn more about the CPTC Pharmacy Technician program.
Did you know? Washington state requires pharmacy technician grads to obtain national certification and a state license to work in the field. Passing the Pharmacy Technician Certification Board exam provides both. When national certification is awarded in Washington, it is also recognized in several other states. That's a huge benefit for individuals who may need to relocate, such as military spouses. 
More CPTC News