CPTC students join 2023 All-Washington Academic Team
April 3, 2023
Students are recognized for their academic achievement and community and college involvement.
By Jean Borst
Clover Park Technical College (CPTC) is pleased to announce that students Laurel Behrend, Melissa Gitchel-Compton and Petrina Sweet have been named to the 2023 All-Washington Academic Team. The three are among 75 students who will be celebrated on April 27 at an award ceremony hosted by South Puget Sound Community College in Olympia attended by Gov. Jay Inslee.
Now in its 27th year, the All-Washington Academic Team recognizes students from community and technical colleges across the state. The program honors individuals who have demonstrated a commitment to success in the classroom and their communities.
"We celebrate Laurel, Melissa and Petrina and their commitment to excellence," said Dr. Joyce Loveday, Clover Park Technical College President. "These outstanding high achievers are among our state's finest college students."
Laurel Behrend, Nondestructive Testing program
Laurel Behrend was studying at a four-year university and on her way to a health care career when she discovered she wanted a different track. Her summers in eastern Washington doing manual work for a paper mill and a dam made her realize she preferred being in an industrial setting.
Behrend's father helped pinpoint her path. He told her about nondestructive testing, a process used at the paper mill he worked for that is used to check for problems with the mill's systems without causing any damage.
"It sounded like a career that would play to my strengths," Behrend said. "I've always liked to fix things, and this would give me a chance to do something that would help keep people safe."
For Behrend, NDT became both a career pathway and a passion. She is student representative on the board of directors of the Pacific Northwest Section of the American Society of Nondestructive Testing and serves on a CPTC advisory committee dedicated to improving the college's NDT program for future students. When she graduates later this month, Behrend will start her career with The Merrick Group, where she'll travel to nuclear facilities across the U.S. to test plant components for flaws.
"I'm honored to be selected for the All-Washington Academic Team and to represent my field," Behrend said. "Nondestructive testing is a career that is often overlooked."
Melissa Gitchel-Compton, Surgical Technology program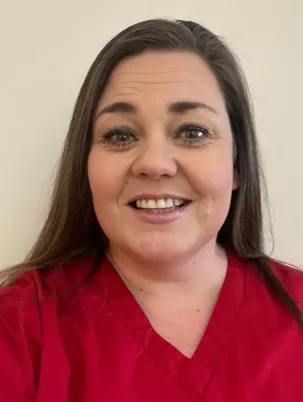 Growing up in the foster-care system wasn't always easy for Melissa Gitchel-Compton. She never had a family she was close to or role models in her life when she was young. Finishing high school and pursuing something more didn't seem important.
"I never imagined becoming someone with a career," she said. "But when I became a mom, I realized I needed to set a positive example for my children and find out what I truly wanted in life."
Gitchel-Compton got her GED and went to school to become a medical assistant. She loved her job, but her dream was to work in surgery. When she graduates with honors from the CPTC Surgical Technology program later this year, she plans to fulfill that dream as a hospital surgical technician. Gitchel-Compton also hopes to advocate for others in her profession across the state.
She'll also make time for another passion she and her family share – helping people with disabilities. It's something that hits close to home. Gitchel-Compton is legal guardian of a sibling with autism and Down syndrome.
Balancing full-time school and work, volunteering in the community and keeping up with her kids' busy schedules is a lot. Being selected for this year's All-Washington Academic Team is a reminder that it's all worth the effort.
"This award means so much," she said. "I'm excited to be a positive role model for my children. This shows them that I'm working hard to achieve my dream, and shows that they can do it, too."
Petrina Sweet, Nursing program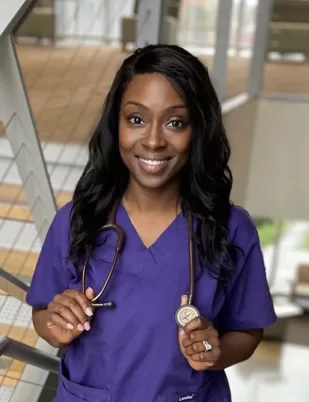 Petrina Sweet always wanted to be a nurse, and the military was the best route to make that happen. When the army nursing program was discontinued, she opted for a health care administrative role as a Medical Service Corps officer. But Sweet never let go of her dream, and her experience as a soldier living with sickle cell anemia inspired her to make it a reality.
"There's so much misunderstanding and judgement around the disease," Sweet said. "It helped me realize I wanted to care for the vulnerable with compassion, grace and patience."
After Sweet retired early from the military and her husband was stationed at Joint Base Lewis McChord (JBLM), she knew the time was right to hone in on her aspirations. Highly competitive nursing programs at local four-year universities left her discouraged, until the wife of a general at JBLM told her about the LPN-RN Transition program at CPTC.
Since graduating from the program in December 2022, Sweet has been caring for residents in a senior living community. When she and her husband return to the Washington D.C. area soon, she'll enter an accelerated Bachelor of Science in Nursing program at The George Washington University with the aim of becoming a neonatal intensive care unit nurse.
"It's only because of Clover Park Technical College that I've gotten so far," Sweet said. "The instructors are consummate nursing professionals. I gleaned so much knowledge."
Her selection to the All-Washington Academic Team is the icing on the cake. "I'm very proud," she said. "Receiving this honor makes me feel seen and validated."
The All-Washington Academic Team program is sponsored by the State Board for Community and Technical Colleges, Washington Association of Community and Technical Colleges, Washington State Association of College Trustees and Phi Theta Kappa Honor Society.
More CPTC News