Dental care on wheels
November 4, 2022
CPTC hosts free Community Mobile Dental Clinic, Nov. 18, 2022
By Jean Borst
Dental health is the window to overall health and wellness. But for many people, cost and lack of access to dental treatment often prevent them from getting care. To meet the needs of CPTC students and the community, including those with disabilities, the Clover Park Technical College (CPTC) Dental Assistant Program offers free dental mobile clinics on the college's Lakewood campus.
"Our students and community members are in need of dental procedures and treatment, especially urgent care," said Hannah Precour, CPTC Dental Assistant instructor. "The Community Mobile Dental Clinic provides a free and easy way for people to get the care they need."
The next mobile dental clinic will be held 8 am to 2 pm, Nov. 18, 2022, in the CPTC building 14 parking lot.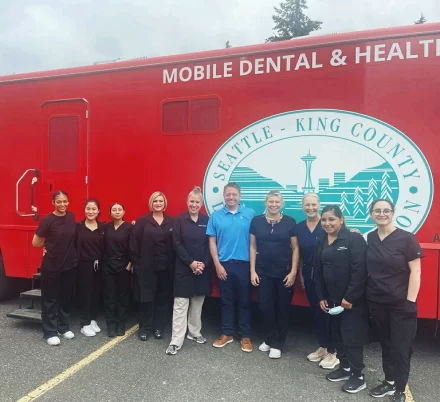 Making smiles happen
Services provided at the event include oral exams, X-rays, fillings and extractions provided by dentists, dental hygienists and CPTC dental assistant students. Patients are seen on a first-come, first-served basis.
"People who attend the clinics are so positive and thankful that these services are available," Precour said. "They especially appreciate the high level of customer service and compassion they receive during their visit."
The team expects to serve up to 30 people during the November event. Anyone who isn't seen will receive information about other local clinics. At future mobile clinics, Precour hopes to offer free dental hygiene services, including cleanings. In the meantime, resources information will be provided for other clinics in the area that offer those services.
More free care on the horizon
CPTC plans to host mobile dental events quarterly through 2023. Beyond that, the college hopes to offer a permanent dental clinic housed on the Lakewood campus.
Community Mobile Dental Clinics are made possible by a partnership with Medical Teams International and grant funding from Pierce County.
Check the CPTC Events Calendar for information and to add the mobile dental clinic to your calendar.
What: Community Mobile Dental Clinic
When: 8 am to 2 pm, November 18, 2022
Where: CPTC Lakewood campus (building 14 parking lot)
Services are provided at no cost, and no insurance is required.
More CPTC News