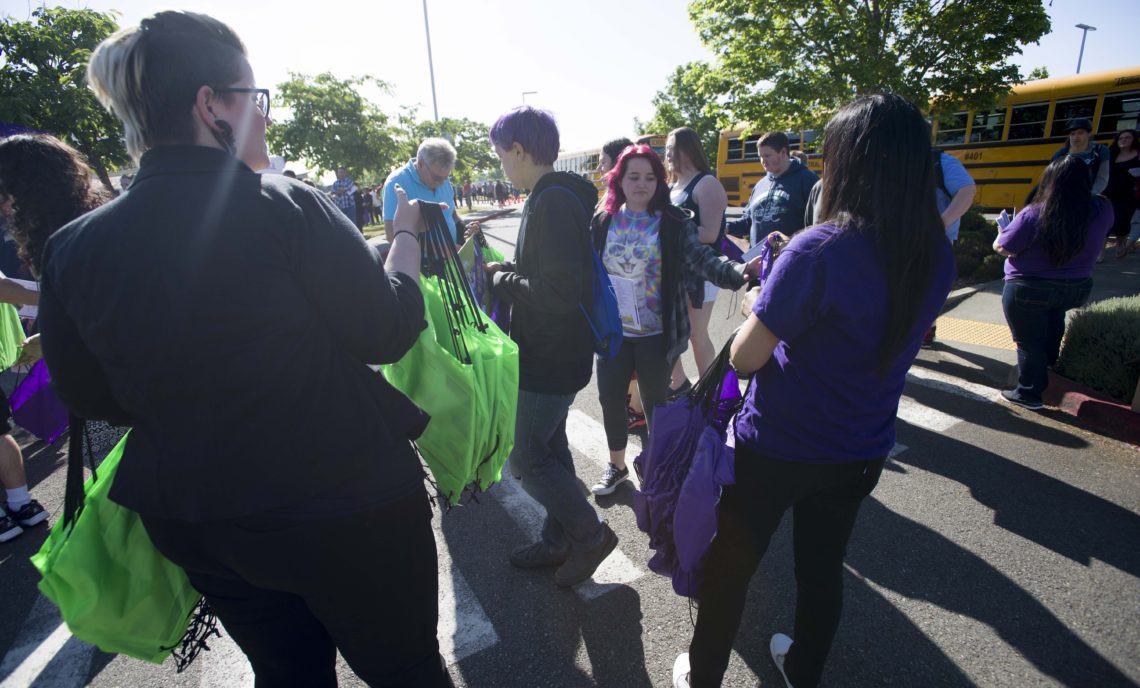 Students pin down their future at Clover Park Technical College
May 17, 2016
Choosing a career field can be a daunting decision for young adults. Often those enrolled in universities still aren't sure what their future holds upon graduation.
Clover Park Technical College sought to make future planning easier for those who attended their 2016 Career Conference at their Lakewood campus May 12.
"People who come here are passionate and focused because they know what they want," said Janet Holm, CPTC outreach coordinator. "When people graduate here, they know where they're going."
Anyone was welcome to attend the event, but it was geared toward the more than 3,000 middle and high school students who registered to learn more about their technical degree options.
Prospective students weren't just provided pamphlets and information, but also got a chance to picture themselves in their pathway of interest with hands-on workshops, displays and demonstrations.
"It's essentially our college open house," Holm said. "Because technical education is so hands-on, we wanted to show our community what we offer."
Cassandra Schwenn, a junior at the Washington Youth Academy, said the career conference helped her solidify her decision to get a technical degree in fabrication.
"Being able to talk to someone in the field helped me a lot," Schwenn said. "I learned where to go, what to do — it led me in a great direction."
Over 40 programs CPTC offers, at both its Lakewood and South Hill campuses, were on display. This included pathways in science, technology, engineering, math, aerospace, automotive, cosmetology, dental, healthcare and more.
Workshops like the Surgical Technology program's were a big hit.
Prospective students donned surgical outfits, including vests, hairnets and masks, for a "selfie." They also got to try their hand on the operating table as they learned about how they could be the right-hand to a surgeon with a surgical technology degree.
"We have had a lot of students interested in this program — the kids love it," said Sara Hinkle, a surgical technology student who helped run the workshop. "I wanted a degree where I could get to work right away. This program is fast, hands-on and there's a very high hiring rate."
Other popular booths included Boeing's manufacturing booth, where students got to make their own dog tags; Cosmetology's open house, where students got glitter tattoos and practiced foiling hair; and the automotive program's open garage and car show.
"This event made me more interested in becoming a cosmetologist," said Sabina Duran, a freshman at Elma High School. "I got to see what it's all about — not just talk about it. Now I'm going to take classes to prepare me."
Students like Duran and Schwenn didn't just learn more about their passion, but that high wages can await many who graduate with a technical degree.
"A lot of students and parents don't realize a technical degree can lead to a high-paying in-demand and fulfilling career," Holm said. "For example, Washington State ranks No. 1 for STEM (Science, Technology, Engineering and Math) jobs."
Not only does Washington have the most STEM jobs, but new recruits are in hot demand and CPTC helps fill the need for skilled technicians.
"We consider manufacturing as a part of STEM, and CPTC has many of the programs that we look for when seeking new employees," said Nadine Rosendin, Boeing workforce development specialist. "In the next five years, there will be a big skills gap in manufacturing, and events like this promote it as a viable career option."
Rosendin said Boeing will even pay for their employees to go back to school.
"Many technical graduates start as manufactures, then we pay for them to become engineers," Rosendin said.
Not only are many technical degree graduates in demand, but they may be a great option for students where finances are a barrier.
"Often students don't know that a technical degree may be a better investment," Holm said. "The cost is lower, they graduate faster and can get right in the workforce with a high-paying career."
Even though CPTC is a more affordable option, the event included a game of "Financial Aid BINGO" to inform students on financial aid and scholarship options.
Even parents loved the event.
"This event gives them all a chance to find something they like," said Lori Eddie, a parent of a student at Bethel Middle School. "There are so many opportunities, so many things for them to choose from."
And that's what Holm said the event was all about.
"We started this event because we wanted kids to know they have choices for their education and career," Holm said. "A lot of students only hear about four-year options, but they might not see themselves at a four-year college. There's no right or wrong way to get your education."
For those who couldn't make it to the event, more information about CPTC's programs, information sessions and meeting with an advisor, visit cptc.edu.