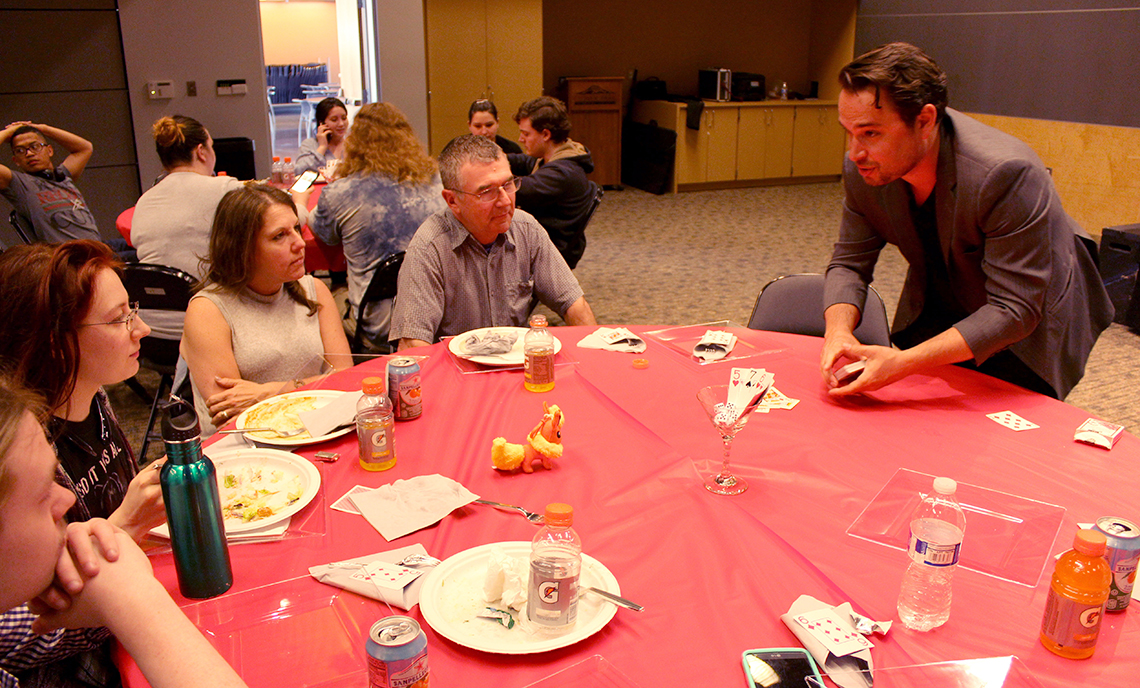 A Night of Magic, Mind Reading, and Comedy
May 18, 2018
Amber Christian enrolled in the Interior Design program at Clover Park Technical College because she wanted to have fun with art and prepare for professional career opportunities.
"So far I'm having a lot of fun," Christian said.
But outside of the classroom, CPTC's Associated Student Government also provides fun programs for students and their families. Christian was one of nearly 50 people who turned out for Dinner and Entertainment with Nate Jester the Magician on campus May 15.
Two days after Mother's Day, Christian thought it would be a great event to invite her mom to join her for a catered dinner and professional entertainment from the Seattle-based magician.
Jester, who was making his third college visit this month as well as his third-ever stop at CPTC, promised a night of magic, mind reading and comedy. Jester has been doing magic for 25 years, and his act has been seen on "America's Got Talent" and local television shows. For his audience at CPTC, he wanted to make it a fun and engaging evening.
"Anytime is a good time to have some comedy," he said.
His audience was definitely engaged, and fun was had.
Jester roamed from table to table during the first half of the evening, performing illusions and magic tricks to individual audiences. He stopped at Christian's table as she was sitting next to Elizabeth Kvamme. Jester put a pair of small toy bunnies in their palms and asked them to close their hands. When they opened them, they were surprised to see the two bunnies had multiplied into many bunnies.
"I am amazed," said Kvamme, who attended as the guest of her brother, Tim Kvamme, a student in the Architectural Engineering Design program. "How in the world did he just do that? That went against all science and physics."
Kvamme was skeptical at first in attending a magic show, but in support of her brother she decided to give it a shot and was glad she did.
"I am definitely wowed," she said.
Jester spent the second half of the act on stage performing what he called illusions and experiments. He engaged various members of the all-ages audience and impressed them with things such as mind reading and card tricks.
Jester hopes for his audience to be in the moment and to not focus on trying to figure out how he does his tricks or illusions. When he took a $20 bill from an audience member who had written his initials on the bill, the audience was in awe when that signed $20 bill ended up inside a lime located inside a container sitting on a table with audience members.
Even after the show, audience members were debating theories of how Jester pulled that $20 out of an uncut lime inside an unopened container in plain sight of the audience.
"I don't know if that was my favorite trick or the most terrifying," said Riley Scott, a student in the Computer Networking & Information Systems Security program.
Students have another opportunity for fun on campus with ASG's annual Spring Fest on May 24.