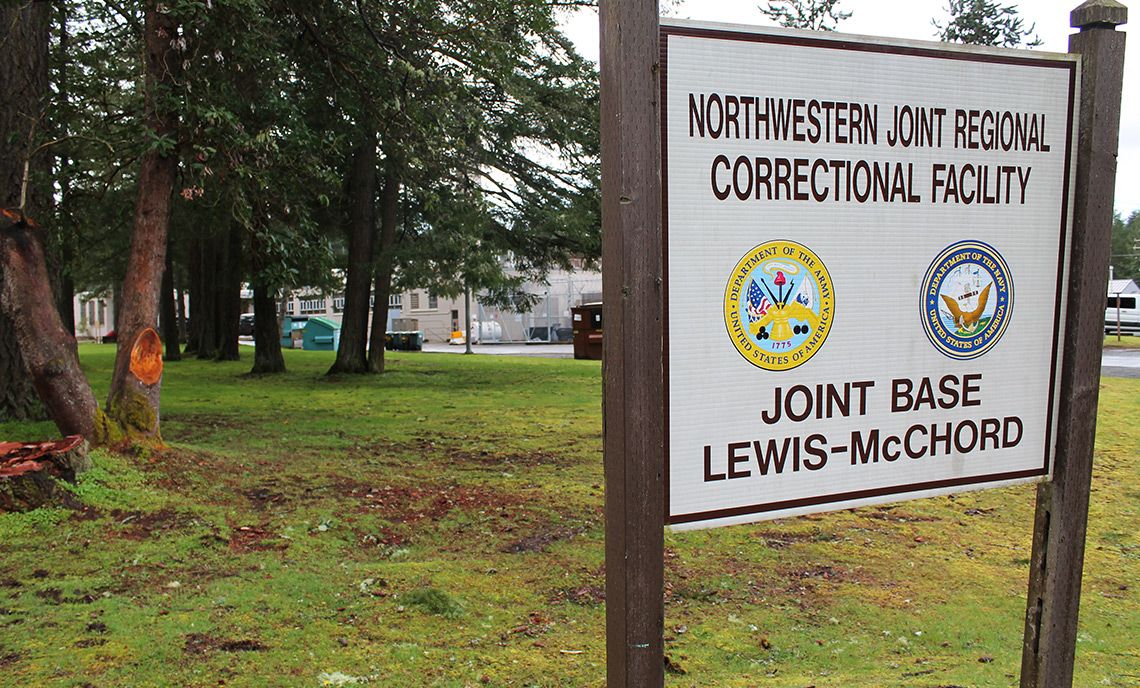 An Innovative Partnership
April 12, 2016
A spirit of innovation is the result of a partnership between Clover Park Technical College (CPTC) and the Northwestern Joint Regional Correctional Facility (NWJRCF) on Joint Base Lewis-McChord in Washington state.
The technical college located in Lakewood is in its second five-year contract with the medium-security military correctional facility, providing vocational training to prisoners.
Through hands-on nurturing programs like horticulture and landscaping, carpentry, barbering and small engine repair taught by CPTC instructors, the college provides prisoners with job-ready skills and higher education certificates.
The unprecedented program is changing lives.
"It's not just a block of training or a skill set; it's much more profound," said CPTC President Dr. Lonnie L. Howard. "It's about helping to recapture that pride in American craftsmanship."
All four vocational programs require hands-on learning, allowing the students to see the results of their labor. The skills acquired provide prisoners with jobs within the facility, and makes the facility safer.
The NWJRCF was built in 1955 and houses prisoners who have been convicted by a court martial, serving 1-10 year sentences.
CPTC was awarded its first five-year, $1.3 million contract with the correctional facility in August 2010. It had started by offering carpentry, barbering, horticulture and landscaping, and culinary arts, but due to lack of a separate cooking facility, was not able to maintain the culinary program.
At the conclusion of the first five-year contract, 53 prisoners successfully completed programs with 704 certificates awarded. Along with vocational and educational programs, the facility also provides prisoners with counseling and faith-based programs. A 2013 RAND Corporation study showed education and vocational training in prisons led to a 43 percent reduction in recidivism, and employment after release was 13 percent higher than those who had not participated in educational programs.
"It's all about reducing future victims, so we're giving them the skills they need to be productive on the outside," said Lt. Col. Stephen T. Newman, 508th Military Police Detention Battalion Commander and NWJRCF Facility Commander.
The new contract for $1.67 million over five years started in January of this year, and introduces a small engine repair program to the education opportunities.
"The contract allows us to stay on the cutting edge," said Mabel Edmonds, special assistant to the president and vice president for student learning at CPTC. "Instructors are continuously looking at their curriculum, adding what needs to be added to equip their students with what they need."
Students complete a minimum of 1,100 hours in the barbering program upon completion. Carpentry is a yearlong program, along with horticulture and landscaping, with options to continue. Students who are in a program for an extended period of time have opportunities to become student helpers/assistants with leadership responsibilities.
Prisoners are rehabilitated by learning skills applicable inside and outside the prison walls, preparing them for a new start to life upon release.
"It's really neat to see the transformation that happens here," said Lt. Col. Newman. "Prison is never a great place to be, but you can see them leaving the facility and the change some of them have made after completing these programs."
The correctional facility staff will never tire of hearing success stories from former prisoners/students of the vocational programs. They recently heard from a barbering student who returned to his home state upon release, earned his barbering license and is now employed.
"The skills he learned set him up on a different path which is what it's all about," said Lt. Col. Newman.
The end goal is to lay out paths for the prisoners. Equipped with credentials, former prisoners can choose to continue their education to enhance what they've learned, find employment, or they may decide to go into business for themselves.
The programs also benefit the surrounding community. The horticulture and landscaping program initially started with one raised garden bed, and has since expanded into a multi-acre farm with three greenhouses producing 365 days a year.
Last year the correctional facility set a personal record of more than 9,000 pounds of vegetables donated to a local food bank. The output has resulted in partnerships with other local non-profits.
The enthusiasm as a result of the program has spread throughout the facility. Nearly every week someone is in the director's office with an innovative idea they'd like to try with the programs.
"We have a mission here to transform lives, and helping to bring a great redemptive value to society," said Dr. Howard.
Clover Park Technical College offers more than 40 programs in aerospace, advanced manufacturing, health sciences, human services, business, hospitality, science, technology, engineering, transportation and trades. The college has two campuses: a main campus in Lakewood and an aviation center at the South Hill Campus in Puyallup.