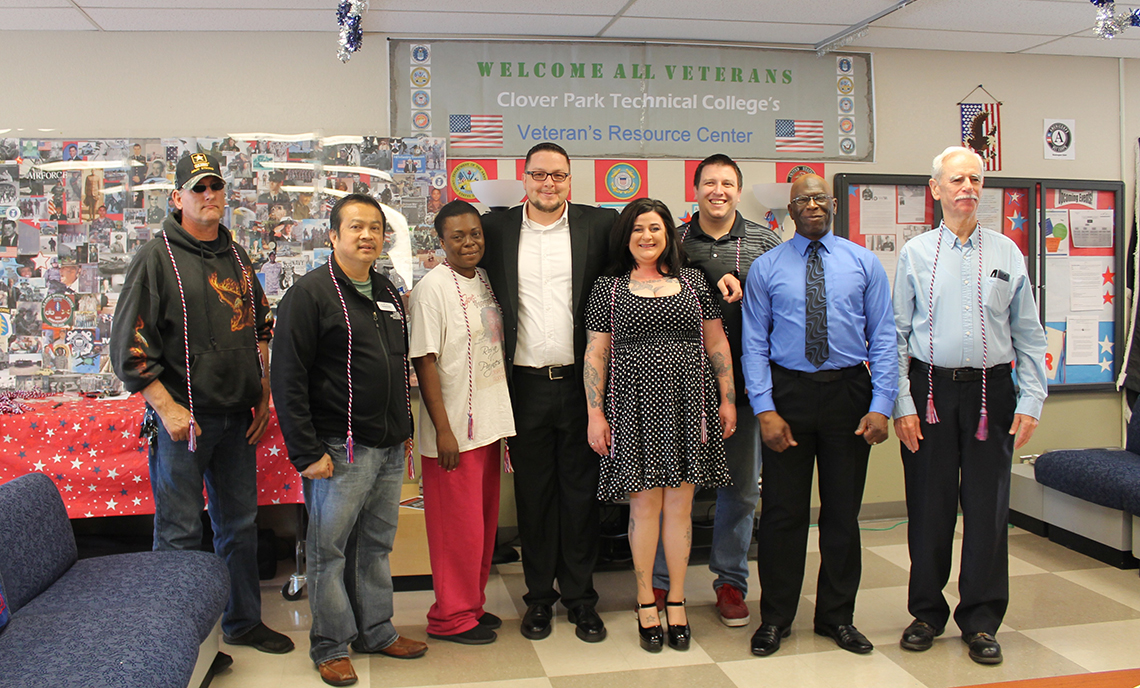 Annual Honor Cord Ceremony Recognizes Graduating Veterans
June 6, 2018
The Clover Park Technical College Veterans Resource Center opened its doors Tuesday to recognize graduating veterans with its annual Veteran Honor Cord Ceremony.
Featuring celebratory food and cake and as part of an Open House event to showcase the resources available at the VRC, the Honor Cord Ceremony awarded veterans who are set to graduate this month with a commemorative coin and cord to wear at the college's commencement ceremony.
"Annually we have what we have an Honor Cord Ceremony for those veterans who have successfully completed their program and are getting ready to get out into the economy and do great things," CPTC veteran navigator Notrip Ticey III said to open the event.
Washington State Department of Veteran Affairs Regional Coordinator provided a brief keynote address. A veteran and CPTC alum, as well as a former CPTC veteran navigator, Durnen highlighted the achievement of the graduating students in reaching this point and encouraged everyone to persevere.
"What you are achieving today is one milestone toward something greater," Durnen said. "Be strong with that and push forward. Pursue what you want to do. This is your time, your education, your life. Make the best of it. Don't step back. Keep pushing forward."
Following Durnen's message, the graduating veterans in attendance received their honor cords. With the quarter still winding out, several students were unable to attend and receive their cords. However, all other graduating veteran students are invited to pick up their honor cord prior to graduation in the Veterans Resource Center in Building 2.