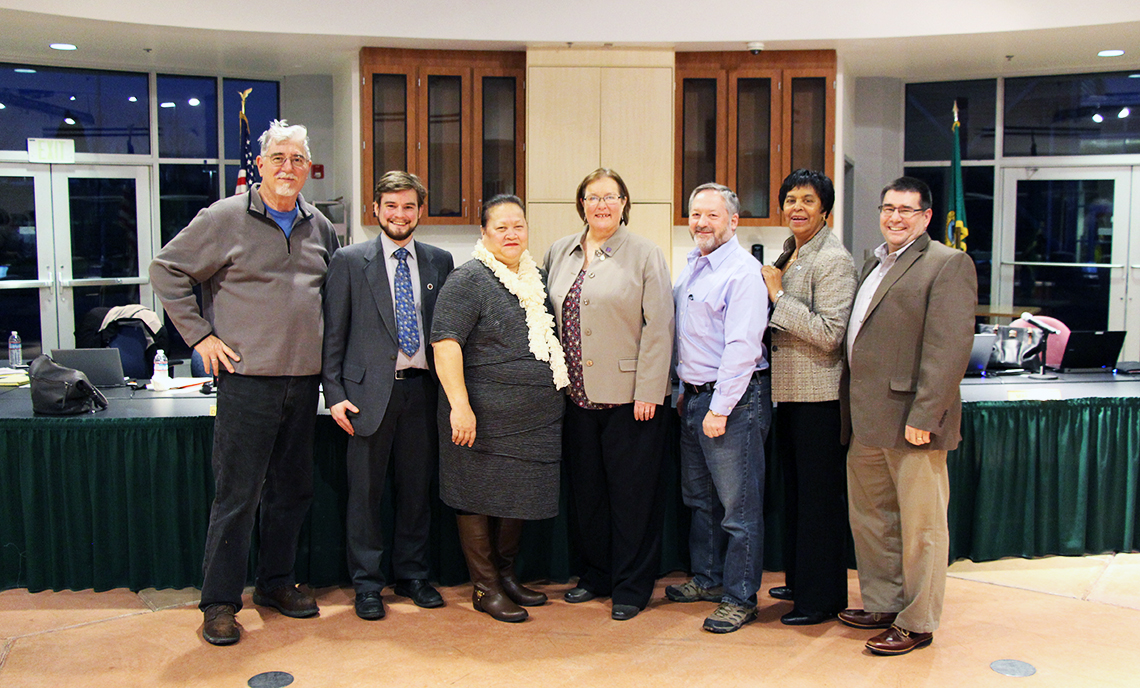 Board of Trustees Appoints Dr. Loveday President
January 11, 2017
After a brief executive session at the conclusion of its Jan. 11 meeting, the Clover Park Technical College Board of Trustees unanimously voted to approve a contract appointing interim president Dr. Joyce Loveday as the permanent president.
Loveday stepped into the role of interim president on June 1, 2016, following the departure of Dr. Lonnie Howard. She has worked at CPTC since 2002 and was previously vice president for student learning.
"I'm honored to be selected to serve as the next president of Clover Park Technical College," Loveday said. "CPTC is an exceptional college, providing students with the knowledge and skills needed to succeed in industry. Our faculty and staff are among the best in the nation, and they work diligently to support the success of our students. It's a privilege to be at a college with such positive, dedicated staff."
Loveday earned her Bachelor of Arts from Wheaton College, her Master of Business Administration from Idaho State University and her Doctorate of Philosophy in Education from Oregon State University with an emphasis in Community College Leadership. She has worked in higher education since 1991, when she joined ITT Technical Institute as a faculty member. She later relocated to Washington to be a dean at ITT Tech before coming to CPTC in 2002 as dean for business and computer technology.
"I want to congratulate Dr. Loveday; she's been a great interim president," CPTC Board of Trustees chair Bruce Lachney said. "She's been here at the institution for many years, and she has such a deep institutional knowledge and a breadth of understanding of the challenges facing us. We're more than happy to have her and very pleased that she wants to be here."
Lachney praised Loveday's contributions leading the college since taking over as interim president in June. He also highlighted her role in shepherding the school through the credentialing process last year, saying that experience "really convinced the board that we had the right person."
In her time at CPTC, Loveday has also served as assistant to the president and associate vice president for instruction. She's actively engaged in the Lakewood community as past president of Clover Park Rotary, a participant with Lakewood's Promise and a board member for the Lakewood Area Support Alliance.
"I love Clover Park and the community we serve, and I look forward to our continued work together in the years ahead," Loveday said.