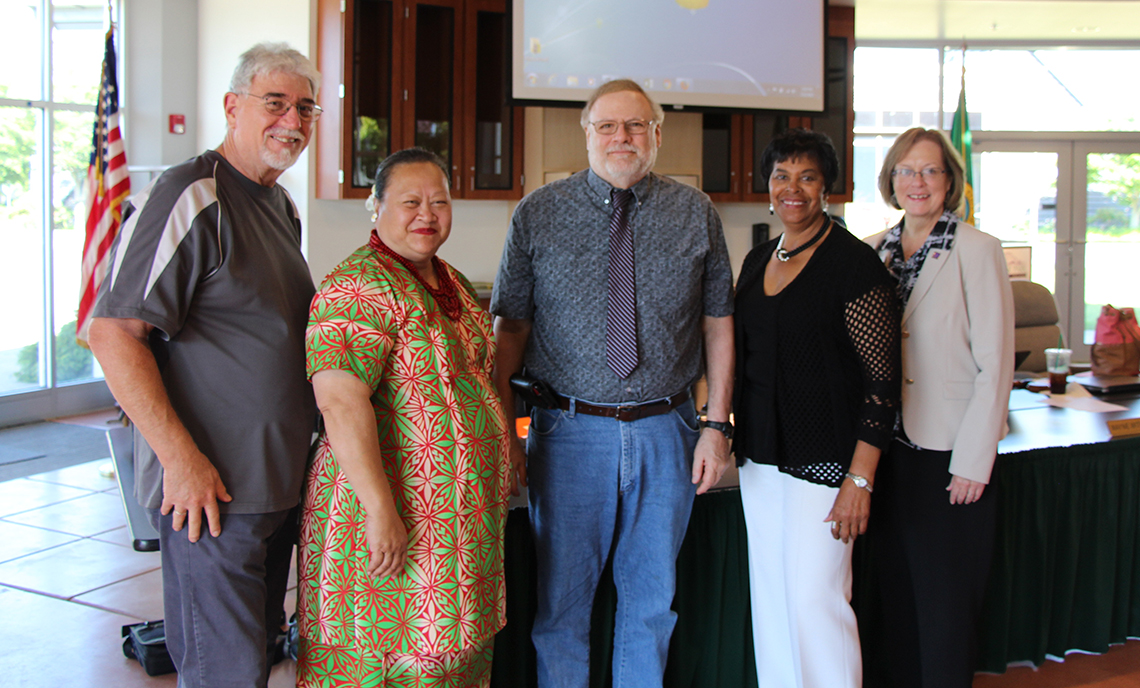 Board of Trustees Awards Tenure to NDT Instructor
July 21, 2017
The Clover Park Technical College Board of Trustees capped its July meeting by awarding tenure to CPTC Nondestructive Testing instructor Charles Musson.
Musson has worked in nondestructive testing since 1976. He began his time in the aerospace industry with stints at National Airmotive Corporation in Oakland, California, and Lockheed Missiles and Space Company in Sunnyvale, California, in the late 1970s and early '80s. He spent 10 years at Aerojet Corporation in Folson, California, before moving to Washington to work for Boeing in 1990.
Musson remained at Boeing until 2014, at which point he began teaching at CPTC's South Hill Campus. His job duties throughout his professional career included a broad spectrum of responsibilities from Level I and II inspections in Magnetic Particle Testing, Liquid Penetrant Testing, Eddy Current Testing, Ultrasonic Inspection and Radiographic Inspection. At Boeing, he worked with Level III evaluations in both film radiography and digital radiography.
"Nondestructive Testing has made such a profound impact on my life, both financially and personally, as I even met my wife at work 36 years ago," Musson said. "In the end, I wanted to help others reap the same benefits from this amazing career field. Clover Park Technical College has given me both the opportunity and the much-needed tools to realize this vision. I'm very grateful."
The July 12 announcement concludes a three-year tenure process that includes quarterly teaching observations, regular course evaluations, self-assessments and professional development.
For more information about the Nondestructive Testing program, visit www.cptc.edu/programs/ndt.