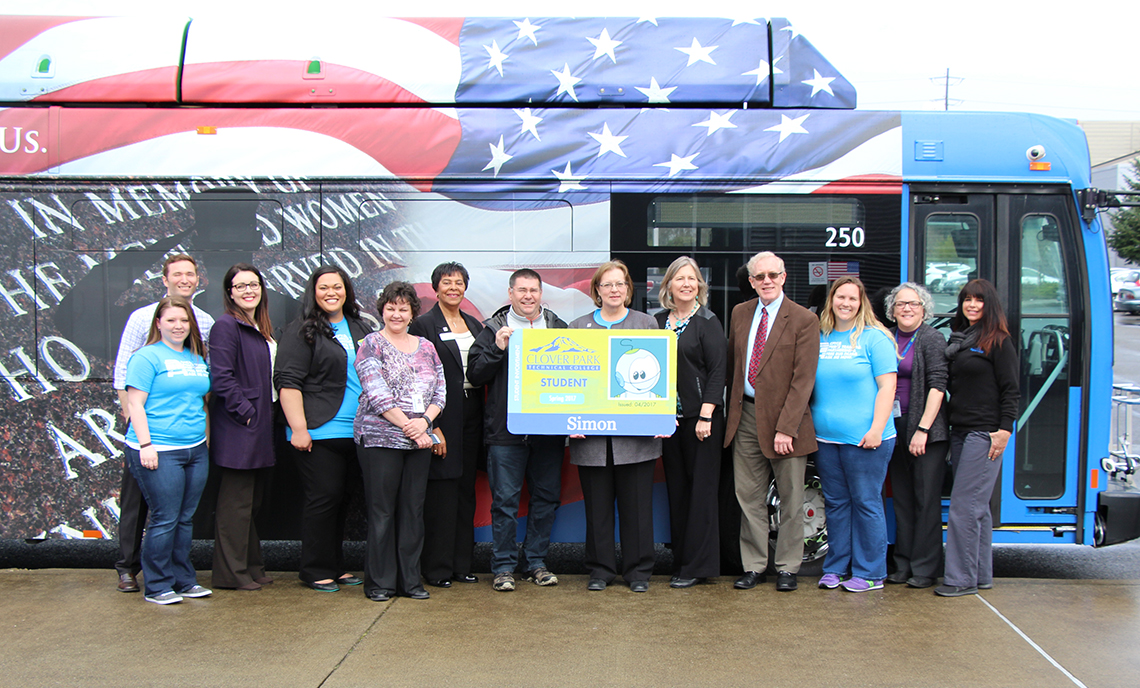 Bus Pass Partnership Unveiled at Kickoff Ceremony
April 13, 2017
Clover Park Technical College and Pierce Transit officially unveiled the Community & Technical College Student Bus Pass Program at a kickoff ceremony Wednesday afternoon at the CPTC Student Leadership & Service Center.
A brief ceremony featured comments from CPTC President Dr. Joyce Loveday, Associated Student Government President Annie Mafi, Pierce Transit CEO Sue Dreier and CPTC Trustee Mary Moss. At the conclusion of the ceremony, Mafi and Loveday unveiled a giant student identification card bearing the bus pass decal that will now be available to all CPTC students.
"I've been very impressed at the responsiveness of Pierce Transit to the needs brought forward by our Associated Student Government and the creativity and flexibility to make it work by April," Loveday said. "To implement something new, it can take a lot of change and processes, and everyone jumped in and made this work very quickly."
With Mafi at the helm, the CPTC ASG sought to overcome the transportation barrier for students during the 2016-17 academic year. That led to a pilot program starting in January that allowed students to purchase monthly bus passes at a significant discount. But the ASG continued to push for more, and Pierce Transit took notice.
"This year, members of student council attended Pierce Transit board meetings on behalf of our students," Mafi said. "We were thrilled when Pierce Transit took notice of our efforts and identified CPTC as a candidate to pilot the first community and technical college bus pass program within Pierce County, giving all current students unlimited access to Pierce Transit. We're so thankful for the opportunity to pilot this program, as it has already demonstrated great results for our students."
In the first days, the program has seen several hundred students pick up their verification sticker bus pass for their student ID. Verification stickers are available in the Student Leadership & Service Center during Spring Quarter Monday through Thursday from 9:30 a.m. – 6 p.m. and Friday from 10 a.m. – 5 p.m.
"This partnership is a tremendous example of what happens when students advocate for students," Loveday said. "They participated in transit-sponsored open forums and board meetings to provide input and express concerns about route changes and access to our campuses. I'm so incredibly proud of the amazing work that our students have done to ensure that all students have a way to get to campus and fulfill their dreams of an education."
Dreier echoed those sentiments.
"I especially want to thank Clover Park Technical College and the Associated Student Government organization," Dreier said. "You really did a lot of the work, coming to our board and letting us know what you needed so we could create a scope that would address the needs of many. The benefits of this partnership are many, and it is my sincere hope that anyone who needs to get transportation to get to school, and even those who have their own cars, use our local bus system to attend college. Also, this bus pass will allow students to do everything they need to do – attend events, purchase groceries or make it to medical appointments."
CPTC is the first two-year college in Pierce County to form a partnership of this kind with Pierce Transit. According to a student engagement survey in 2015, 86 percent of CPTC students live within 20 miles of campus in areas almost entirely covered by Pierce Transit's service.
"This is a step in the right direction," Moss said. "Our students are our future leaders, and we want them to be successful. So thank you for partnering with Clover Park Technical College and thank you for taking that step toward advancing our students' success."
Following the ceremony, representatives from CPTC, student leadership and Pierce Transit posed for photos with the large sample student ID in front of and on a Pierce Transit bus. Attendees also had an opportunity to enjoy commemorative cake that, before being cut, featured the image of a bus.
"We hope Clover Park Technical College can serve as a model to other community and technical colleges within Pierce County, so they too will be able to implement and benefit from this great program," Mafi said.
For more information about the CPTC/Pierce Transit partnership, click here.