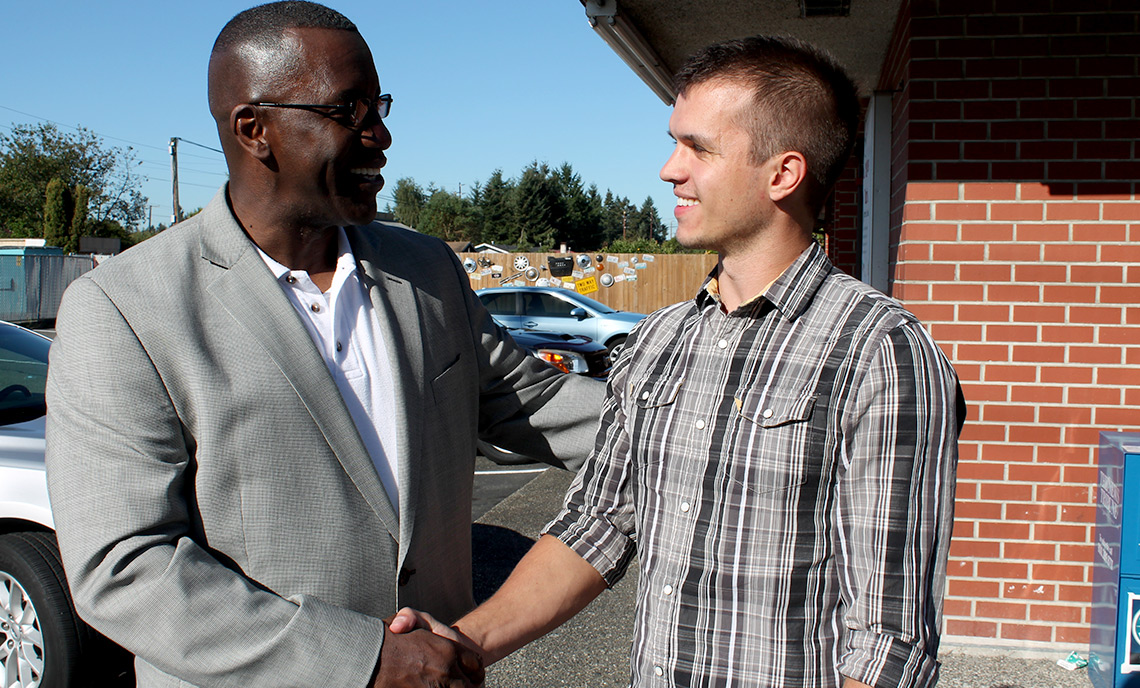 Congratulations to the Fall Quarter President's Scholarship Recipients
September 8, 2014
Congratulations to Clover Park Technical College Fall Quarter President's Scholarship recipients Daniel Lukyanov and Walker Mattson.
CPTC President Dr. Lonnie L. Howard met with each student individually Sept. 5.
Lukyanov received the President's BASMO Scholarship. He recently finished the Aviation Maintenance Technician Program and moves on to be a part of the first cohort of students in CPTC's new Bachelor of Applied Science in Manufacturing Operations Program.
"I feel like it will open more opportunities for me in the field," he said.
Lukyanov wants to pursue a career in aviation or manufacturing and hopes to be a manufacturing manager at a local company like Boeing. Lukyanov is also preparing for another life milestone in welcoming the birth of his daughter, who was due the day he met with Dr. Howard.
Mattson received the President's Scholarship and is preparing for his final quarter in the Computer Information Technology Program this fall. Through the program Mattson discovered his passion for mobile application development.
"I found a passion I didn't expect," he said. "This has been a life-changing experience for me."
As a teaching assistant in the program Mattson tutors students and is also an active members in Club OOPS (Object Oriented Programming Students). Once he completes his degree at CPTC Mattson intends to pursue a bachelor's degree in software engineering through Western Governors University.
Scholarships at CPTC are awarded quarterly and vary in award amounts and eligibility. For more information, visit www.cptc.edu/president/scholarship.
Share This Story