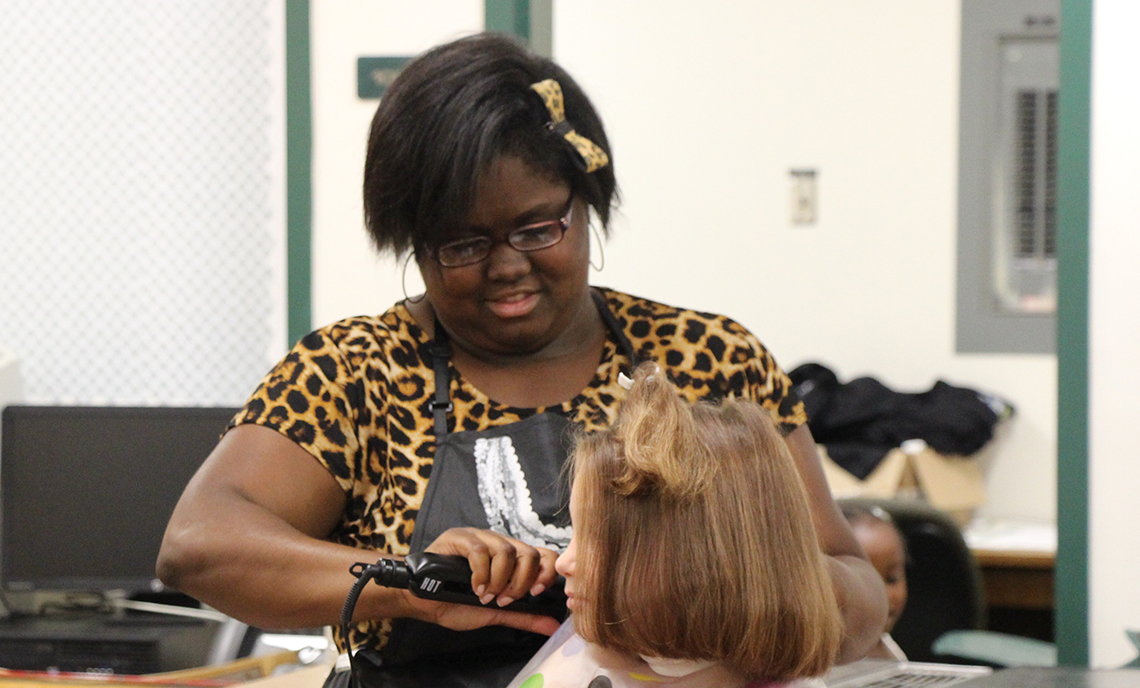 Cosmetology Program Helps Local Students "Get Ready to Learn"
August 11, 2017
Sometimes a new haircut can make all the difference for a kid heading into a new school year. The Clover Park Technical College Cosmetology program helped make that possible for more than 100 local students, as CPTC students and alumni volunteered their services at the Caring for Kids Get Ready to Learn fair Saturday, Aug. 5, at Clover Park High School.
The annual fair has been going on for more than 20 years, providing school supplies, clothing and more to students and families from Steilacoom, University Place and Clover Park School Districts who qualify for free or reduced lunch at school. The CPTC students, faculty and alumni have participated by providing free haircuts at the event for the past decade.
"CPTC's alumni and present students help me help these kids get haircuts every year, and for that I am truly grateful," said Jill Folk, past president and current board member of Caring for Kids. "Without the fabulous instructors and the commitment the program has made over the years to always come back to help these kids, it just wouldn't work."
Beginning at 9 a.m. Saturday, the event lasted four hours and provided back to school supplies for nearly 1,500 local students. During that time, 16 CPTC volunteers – including five alumni – completed 107 haircuts.
"It's very rewarding to be part of this event," CPTC Cosmetology instructor Connie Lind said. "It is so awesome to see the transition from when the kids sit down in the chair to get their haircut to when they look in the mirror and see the final result with a big smile on their faces. It doesn't get any better than that!"
Caring for Kids has been involved in the Lakewood community for more than 40 years, and the first Get Ready to Learn event was 23 years ago. That event actually took place at CPTC's Rainier Room. That CPTC involvement continues each year with the haircut partnership. And the experience benefits the CPTC students as well, with the alumni willing to give back with tips and guidance.
"It helps give them a ton of hands-on experience," Folk said. "On top of that, they can watch the alumni who have been licensed for many years, especially the barbers, and learn new tricks for cutting hair. "The barbers always take time to teach the Cosmetology students, and it is a beautiful thing to see."
Share This Story