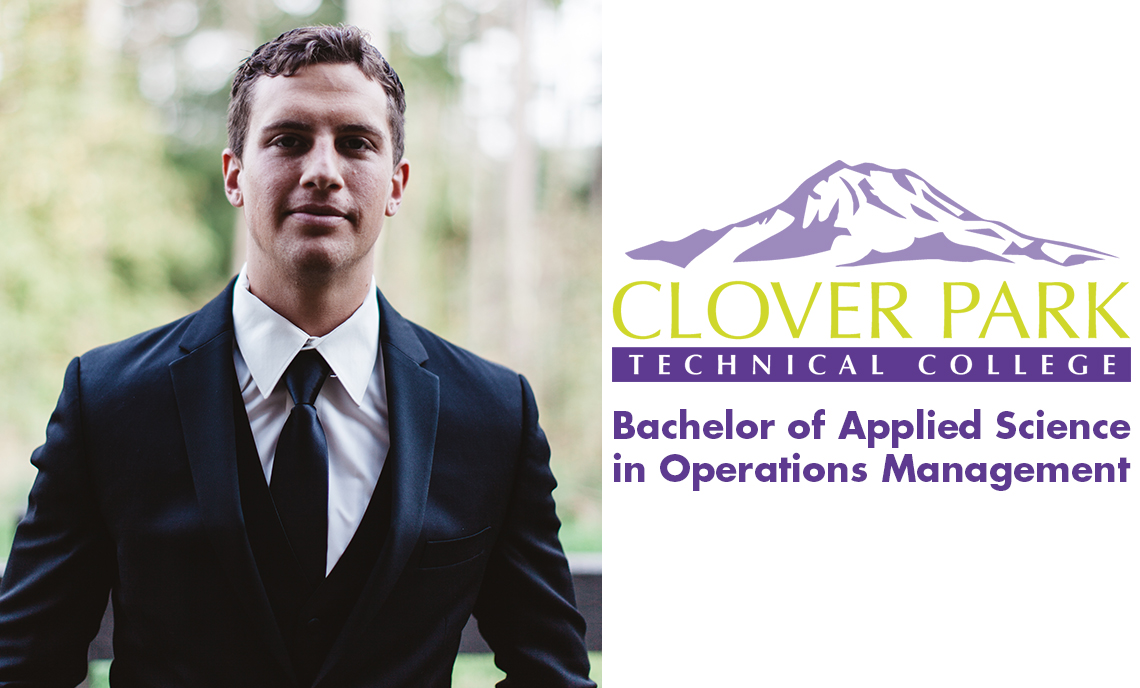 CPTC Alum Hougland Found Perfect Fit in BAS-OPM Program
July 14, 2017
One of the most important parts of choosing which college to attend is finding the right fit for you. Adam Hougland knows that from personal experience.
Hougland graduated from Clover Park Technical College's Bachelor of Applied Science in Operations Management program in 2016 as part of the new program's original cohort. But that wasn't how his college experience began. The Bonney Lake native earned his associate degree while doing Running Start at Green River Community College and moved across the state to study kinesiology at Washington State University.
"Washington State was kind of a culture shock for me: big classrooms, six hours away from home," Hougland said. "I decided I was more of a hands-on type of guy anyway and came back home. I knew I wanted to get my bachelor's degree, but I didn't think WSU was the place for me to do it."
So he joined the workforce. His dad, an aerospace welder for 20 years, taught Hougland how to weld for his senior project in high school. That led to a job at an aerospace company in Kent as a prepper helping welders. After Hougland earned his welding certificate four months later, he moved into a welding position and stayed there for nearly four years. One he took a job at Boeing, he learned of the company's education assistance program and decided it was time to find the right college and earn his bachelor's degree.
"I knew right away it would be a great fit for me because of the hybrid format," Hougland said of the CPTC BAS-OPM program. "At WSU I was sitting in a hall with 500 people learning from one instructor, and it just wasn't the best learning style for me. I wanted something more hands-on, something I could really relate back to my actual job."
Hougland attended his first program meeting about six months after starting his job at Boeing. With a mix of online coursework and periodic meetings, he was able to accommodate a busy schedule and personal life. He got married shortly before starting the program, and six quarters later as he prepared to graduate his son was born.
"The faculty was so accommodating with my work schedule if I had to work overtime and leave our meetings early or come a little late," Hougland said.
But really it was those meetings that made the difference for Hougland. Whereas his brief college experience at WSU featured hundreds of students listening to a lecture, the BAS-OPM program was far more collaborative. A cohort of around 10 students worked with the instructors to share their own experiences in various fields of employment.
"People could bring their own skills and experiences to the program," Hougland said. "Like me, I was brought up in the welding realm, so I could bring that to the table and share different examples at our meetings. We had some people from real estate bring more of a business aspect, and all these different backgrounds led to sharing real-life experiences in a form of abstract learning where we learn from each other instead of just one instructor."
That cooperative style and spread-out meeting schedule also allowed for more field study/experimentation with the concepts he was learning.
"Since it was a hybrid style, we only met a few times per quarter," Hougland said. "We could take the things we learned on a Saturday and put them into practice in our actual jobs, incorporating them into different projects, and then we came back together and talked about what worked well and what didn't."
The program scheduled blended well into the needs of his personal and work schedule. And beyond that, even joining the program proved to be more seamless than he expected.
"It was really nice because after I achieved my associate degree from Green River, I became a direct transfer student to the BAS-OPS program," Hougland said. "That was one of the only bachelor programs I could find where I didn't need a bunch of extra prerequisites."
As Hougland prepared to graduate in spring 2016, he had the opportunity to apply for a promotion at Boeing. His interview provided the perfect chance to put his course work and new knowledge to work.
"A lot of the managers knew I was getting that bachelor's degree at the time, so that visibility helped me, and also at the interview I was able to apply a lot of what I was learning in my classes," Hougland said. "I brought in the class outline to the interview and explained some of the classes and projects I'd done, and the leadership group was very impressed with the work I'd done and the program itself."
Needless to say, he got the promotion, and he credits "80 or 90 percent of that to the BAS-OPM program." He moved up from being a general mechanic to the automotive welding specialist for commercial airlines, where he oversees close to 20 people. But he hopes this is just one step, as he's currently working towards earning a Master of Business Administration through an online program at Texas A&M.
"After taking the BAS-OPM program, I feel pretty prepared," Hougland said. "I've been doing great in the program, and I have about one quarter left after this one."
Just over one year after graduating with the program's original cohort, Hougland says he still stays in contact with his fellow students. And he encourages anyone looking to gain the skills necessary to be a manager to consider joining the program. After all, one of the most important parts of choosing a college program is finding the right fit.
"It's a great opportunity for any facet of operations," Hougland said. "It's flexible and applicable to various forms of management. It helps with people, processes and just in making you a better leader."
For more information about the CPTC Bachelor of Applied Science in Operations Management, click here.