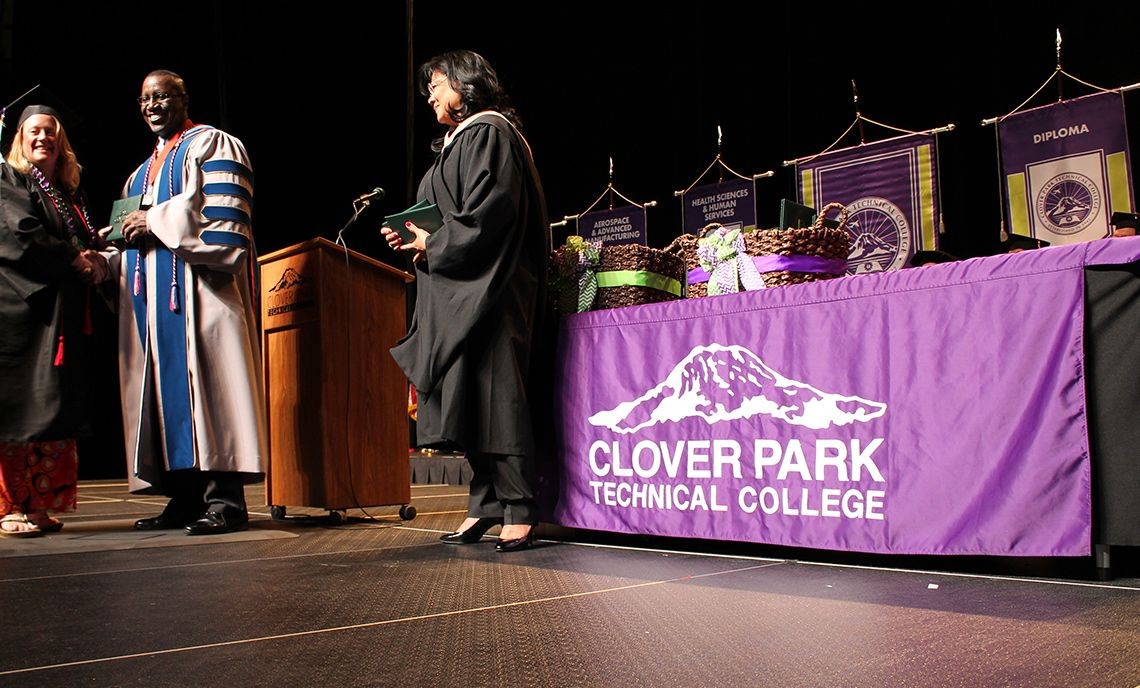 CPTC Celebrates Class of 2015
June 22, 2015
More than 400 students received their degree, certificate or diploma for the 2014-2015 academic year at the 19th Annual Clover Park Technical College Commencement Ceremony at the Tacoma Dome June 19.
Jenettte Ramos, vice president for fabrication and general manager at The Boeing Company, delivered the ceremony's commencement address.
"All of your programs are necessary for building a strong community, whether in health care, auto services, computing, culinary, personal services and human services," Ramos said. "Your leadership is absolutely necessary to ensure a positive future for generations to come."
Ramos joined CPTC President Dr. Lonnie L. Howard in awarding nearly 450 students with their degree, certificate or diploma. Of the attending graduates, nearly 100 are student veterans.
"The fact that you have almost 100 veterans here is a testament to Clover Park's mission of helping people make career transitions," Ramos said.
CPTC's Chief of Staff Tawny Dotson provided the ceremony's welcome and introductions, followed by Dr. Howard's opening remarks. Board of Trustees Chair Mary Moss provided congratulations from the Board, and Faculty and Department Chair John Moyer delivered faculty insights.
Associated Student Government President Katie Stock was the student voice of the evening. Nursing student Linda Rick and Erina McGann, program assistant for student programs, performed the National Anthem.
During her address, Ramos referenced CPTC's core themes: Workforce Preparation, Student Success and Institutional Excellence. She explained the importance of workforce preparation at The Boeing Company as the largest employer in Washington state with more than 80,000 employees. The company hires more than 80 percent of CPTC's composites graduates.
"As I've found in my career, it's not enough to be satisfied at graduation," Ramos said. "Think big. Make a difference in our community."