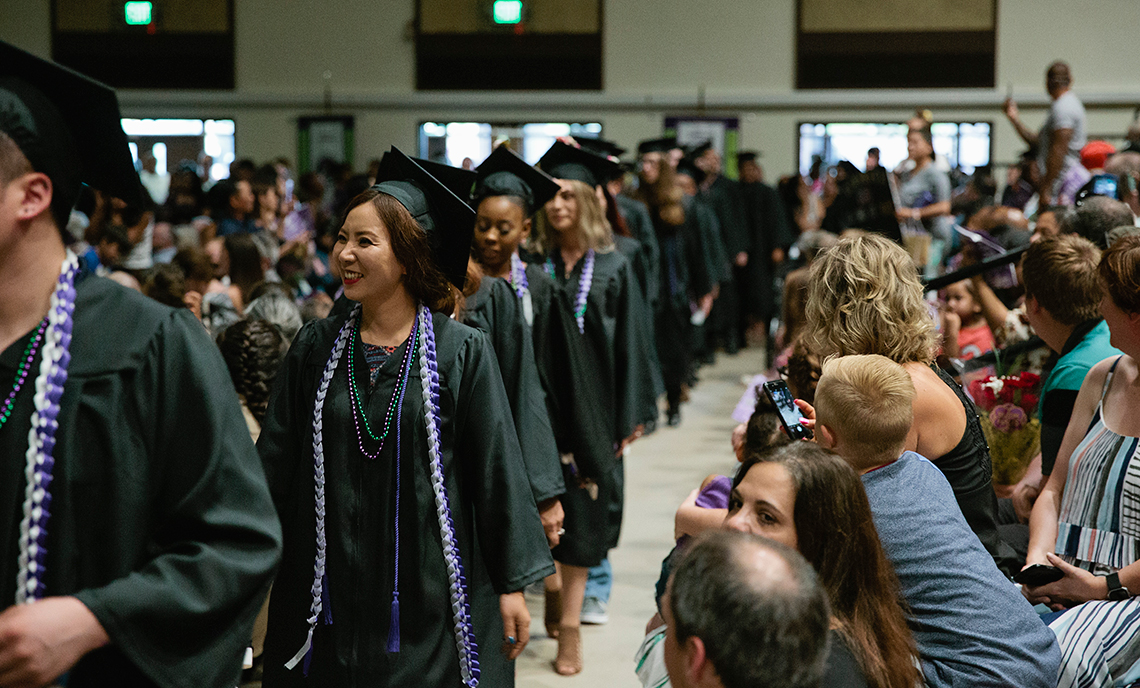 CPTC Celebrates Graduates at 22nd Commencement
June 22, 2018
It was a night attendees will long remember, as Clover Park Technical College celebrated its graduating Class of 2018 with nearly 450 graduates in attendance Tuesday, June 19, at Pacific Lutheran University's Olson Auditorium.
Ninety-degree temperatures and a standing-room-only crowd of more than 2,000 made for hot conditions both on stage and in the audience. But that temporary discomfort was well worth it to the students receiving their degrees, certificates, and diplomas, as well as their family, friends, and instructors in the attendance.
"This evening, we're celebrating the completion of the requirements for a degree, certificate or diploma," CPTC President Dr. Joyce Loveday said. "This is something that no one can ever take away from you, and something that will impact you for the rest of your life. We're very proud of you, and we're glad for this opportunity to celebrate with you today.
Loveday provided some highlights about CPTC's Class of 2018. Graduates ranged in age from 16 to 69, with 57 percent of the class female and 36 percent students of color. The program with the most graduates was Computer Networking & Information Systems Security, and seven students received both their high school diploma and associate degree at the same time. The total graduating class of 1,296 students pushed CPTC's cumulative graduate total since 1993 to more than 28,000.
Michael Clarke, Jr., was the student speaker for the evening. A 2018 graduate of the Human Services program, Clarke served as the Associated Student Government Legislative Officer during the 2016-17 Academic Year and is working as a Chemical Dependency Professional at Thurston County Superior Court.
"It is times like this, momentous occasions and milestones, that give me pause to reflect on the past, acknowledge the present, and look forward to the future," Clarke said. "This was my opportunity to make the most of my life. It was my education and experience at Clover Park that transformed my life and helped me find that purpose."
Clarke shared his story of overcoming drugs and serving prison time before attending CPTC. He is now pursuing a bachelor's degree in counseling and plans to earn a master's degree, with the eventual goal of returning to CPTC as an instructor. He credited CPTC with helping him "develop the ability to advocate for myself and others on issues that affect our community."
Mark Martinez provided the commencement address. Martinez is the President of Washington Building & Construction Trades Council and has served on the CPTC Board of Trustees since 2009.
"Clover Park Technical College exists for one reason, and that's need – the need to have a skilled and dedicated workforce that can work with both their hands and their heads," Martinez said. "Our graduates bring dreams into reality. They take theory and they make it tangible. The careers our graduates enter into make our community safer and richer and enhance the quality of life for all of us."
Acknowledging that he felt "like a fraud" because he did not graduate from college, Martinez removed his traditional graduation cap and replaced it with a construction hard hat complete with a tassel attached. He spoke about working in the construction industry throughout his life and the importance of being a reliable worker and pursuing positive working relationships through networking opportunities. His advice for the graduates was simple: "Wake up; be on time, every day, five days a week."
At the conclusion of the ceremony, the graduates had the opportunity to meet with family and friends outside and celebrate their achievements. The final words of Clarke's speech served as a strong reminder for the graduates to reflect on their past as they move toward their new future.
"Graduates, you have your own story that has led you here today," Clarke said. "I want to challenge not only myself, but all of you, to use your experience to influence your future decisions and give a voice to those who don't have their own. We all came to Clover Park Technical College wanting to take our lives in a new direction. We've come this far. Where will we go from here?"