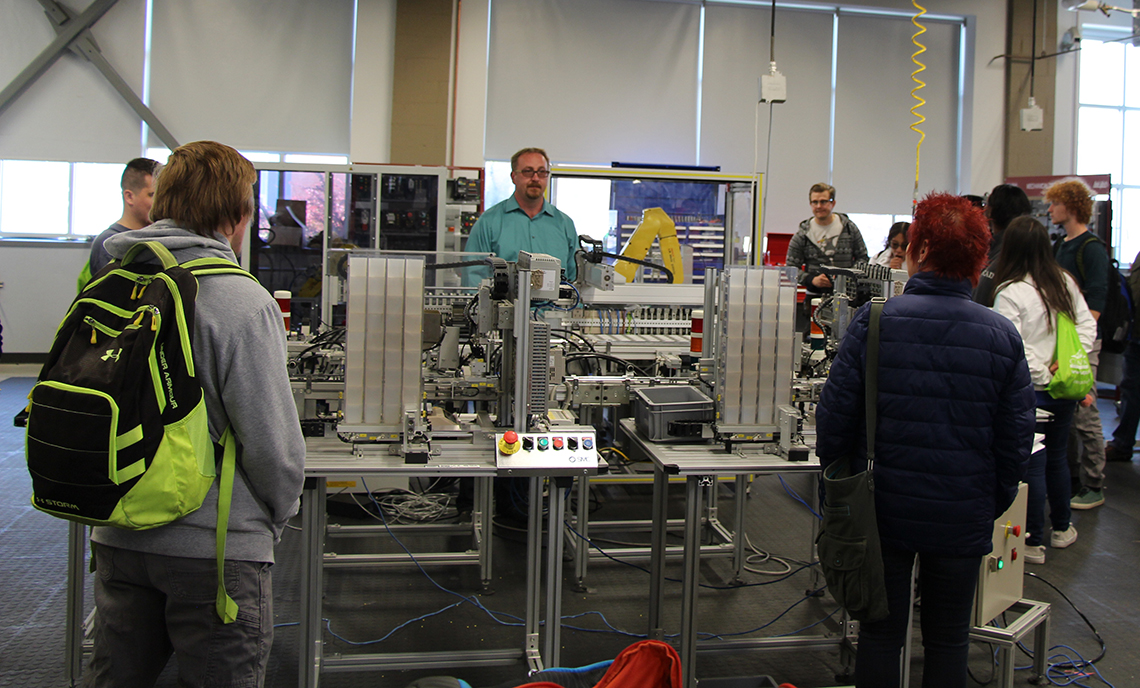 CPTC Celebrates Manufacturing Day's Cool Tech & Hot Careers
October 17, 2017
Clover Park Technical College welcomed 200 local high school students and several local businesses to campus Friday for Manufacturing Day 2017: Cool Tech & Hot Careers.
The event brought students from Clover Park, Tacoma, Franklin Pierce and White River School Districts to the McGavick Conference Center for the opportunity to learn about careers in manufacturing and the programs CPTC offers to help attain them. A Boeing Company presentation offered a glowing outlook on the manufacturing industry before a "Women Leaders in Manufacturing" guest panel offered insight into the industry experience.
"Manufacturing Day was a great opportunity for us to connect with high school students and for them to see the impact that they can have with a career in manufacturing," Western Integrated Technologies Vice President Northern Region Meagan Santo said. "We look forward to being a part of next year's Manufacturing Day event."
Santos teamed up with Allison Budvarson, Vice President and co-owner of Out of the Box Manufacturing, on the panel, which was hosted by a CPTC student. Topics ranged from their professional journeys to the experience of working in manufacturing as a woman and the hard work and dedication it takes to succeed.
"Out of the Box Manufacturing was honored to have been invited to participate in CPTC's National Manufacturing Day event," Budvarson said. "The students were highly engaged and asked some very thoughtful questions. It's exciting to share our passion for Advanced Manufacturing with tomorrow's leaders."
The day began with an open expo featuring booths from CPTC programs and local employers. Some of the local business in attendance included Blue Origin, Boeing, Exotic Metals Forming Company, Wilcox Family Farms, Western Container Corporation, Western Integrated Technologies and Out of the Box Manufacturing. Attendees were treated to lunch courtesy of The Boeing Company and also heard from a panel of CPTC Mechatronics students, who shared their experiences learning about a field that allows them to use their passion for creating things. The three-hour event concluded with tours of CPTC's Building 25 and the program labs for Mechatronics, Heating & Air Conditioning/Refrigeration Service Technician, and Welding.
Manufacturing Day is an annual nationwide event designed to celebrate modern manufacturing and inspire the next generation of manufacturers. There are nearly 3,000 events scheduled to celebrate Manufacturing Day 2017 nationwide.
Share This Story