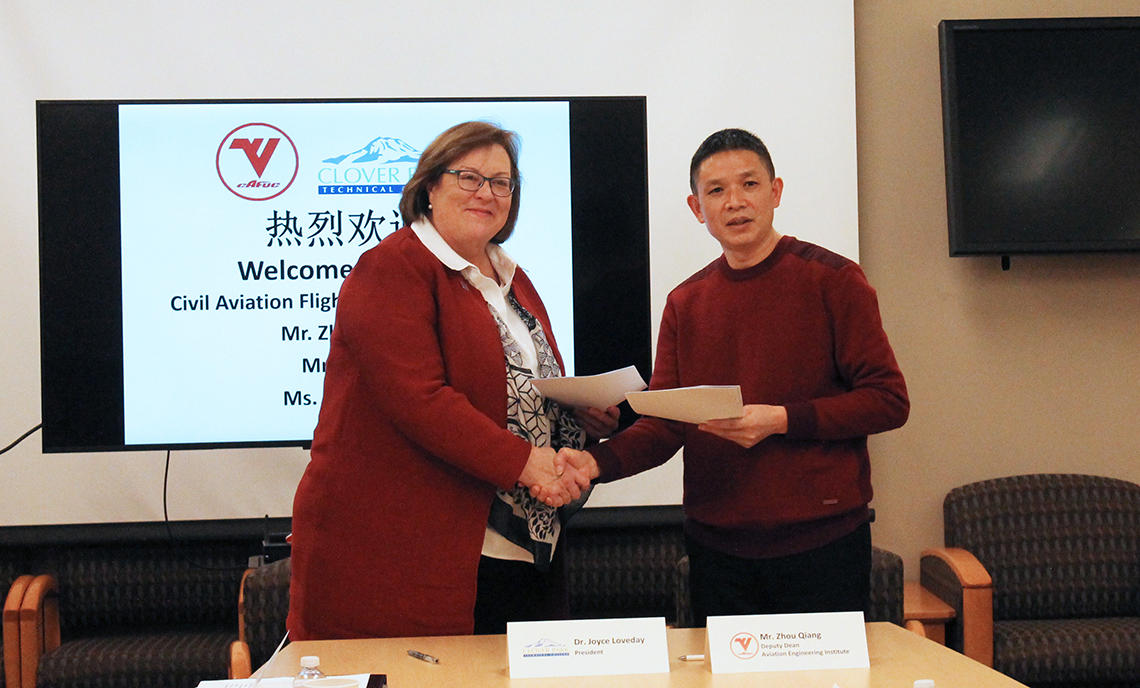 CPTC Continues Aviation Partnership with Chinese University
January 17, 2019
Clover Park Technical College welcomed a delegation from Civil Aviation Flight University of China this week as the two colleges commemorated the 10th anniversary of an international partnership and signed a memorandum of understanding to continue working together.
The largest civil aviation university in Asia and the world's largest flight training institution, CAFUC was established in 1956 and enrolls a student population of 16,000. Its Aviation Engineering Institute first partnered with Clover Park 10 years ago, sending the first group of CAFUC students to CPTC in spring 2009. Since that time, 19 groups totaling 91 students have come to CPTC through CAFUC, with 71 already graduated and 18 currently attending the college's Aviation Maintenance Technician program.
"Almost all graduates get hired by major airlines or companies immediately after returning to China," CPTC Manager of International Education Programs Yuko Chartraw said. "This is why CPTC has a great reputation in the Chinese aviation industry as a high-quality AMT training institution."
CAFUC's delegation included the Aviation Engineering Institute's Deputy Dean Mr. Zou Qiang and Office Director Mr. Wu Bin, as well as Foreign Affairs Office Director Ms. Liao Xiaoqi. The three met with CPTC leadership Monday morning to discuss the two colleges and their work together. Ms. Liao emphasized how pleased she has been to witness the tremendous growth in students when they return to China after spending two years at CPTC.
The meeting concluded with Mr. Zou and CPTC President Dr. Joyce Loveday signing the MOU, and CPTC presented CAFUC with a plaque commemorating the first 10 years of the partnership. Following the meeting, the delegation visited CPTC's South Hill Campus for a tour and to meet the AMT faculty and the current CAFUC students in the program. On Tuesday, Chartraw took the delegation to the Boeing Renton Factory for a tour of the 737 final assembly facility.
Share This Story