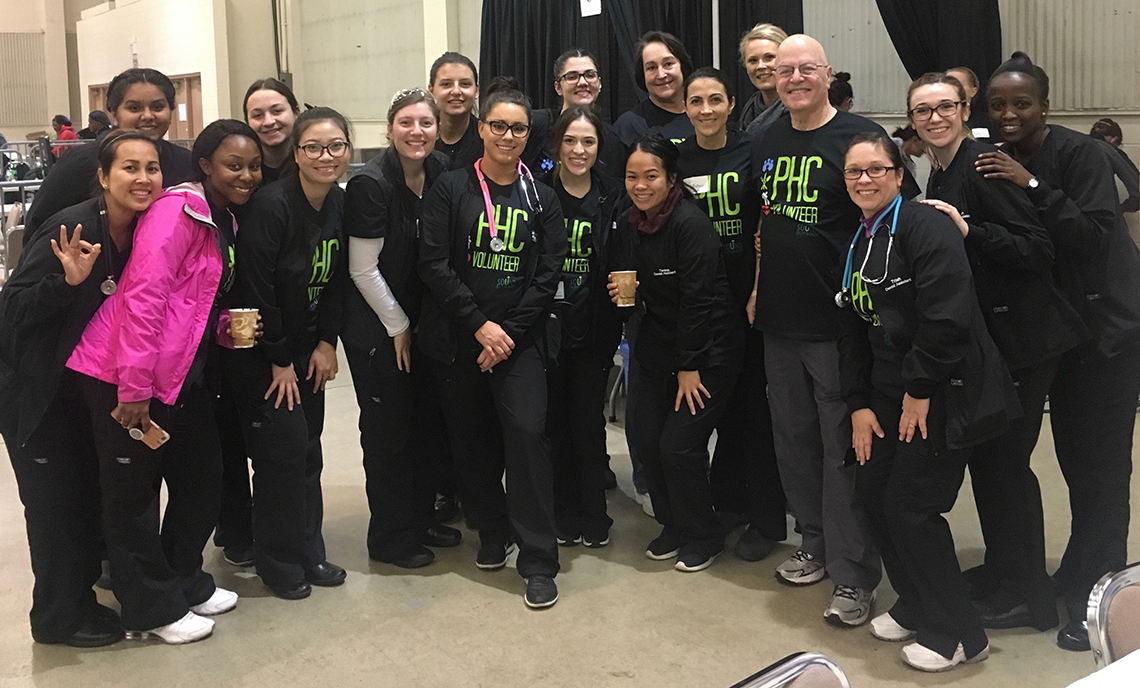 CPTC Dental Students Serve at Project Homeless Connect
December 12, 2017
Students in Clover Park Technical College's Dental Assistant program recently had the opportunity to put some of their training to use while serving in the community, as the program's third-quarter students volunteered at Project Homeless Connect.
According to its website, Project Homeless Connect "provides a starting place on the journey back to safety, stability, health and hope." The annual event provided Pierce County's homeless population with basic medical, dental and clothing needs while also connecting them to local resources.
CPTC has partnered with Pierce County Dental Society to help run a dental clinic at the event for close to a decade. Students assist the attendees with filling out forms, obtaining blood pressure, and assisting doctors in dental screenings. The opportunity provides students a chance to serve the community while also growing their own learning.
"It gets them out of their comfort zone, working with people they're not familiar with," CPTC Dental Assistant instructor Hannah Precour said. "It takes them out of the classroom for their first patient contact with people they don't know. They also get experience working with doctors they didn't know."
Students arrived prior to the 9 a.m. event start time to assist with setup, and after it concluded at 2 p.m. they remained to help with the breakdown. A total of 18 students participated in the 2017 event, which took place at the Tacoma Dome on Oct. 25.
"It was impactful hearing the feedback from the people there thanking us over and over for being there to help them," CPTC student Patricia Andrus said. "Being supportive of the community in that way was inspiring."
Andrus assisted with taking blood pressure prior to attendees seeing the dentist. Some of the other resources offered at the event included a denture clinic, community health for medical assistance, eye exams and a pet clinic. CPTC student Desiree Figueroa highlighted the value of working with a dentist she didn't know.
"I was working with one doctor, and he kept asking me questions that made me think about what I was doing and how to diagnose things," Figueroa said. "It was really a learning experience."
Figueroa also echoed Andrus' comments about the importance of giving back to the community.
"It's always great to see the reaction people have when they see you help the community. A lot of the people we saw that day were very grateful, and to me that's the best thing we can do."
Share This Story
Ready to learn more? Visit the Dental program page on the Clover Park Technical College website.