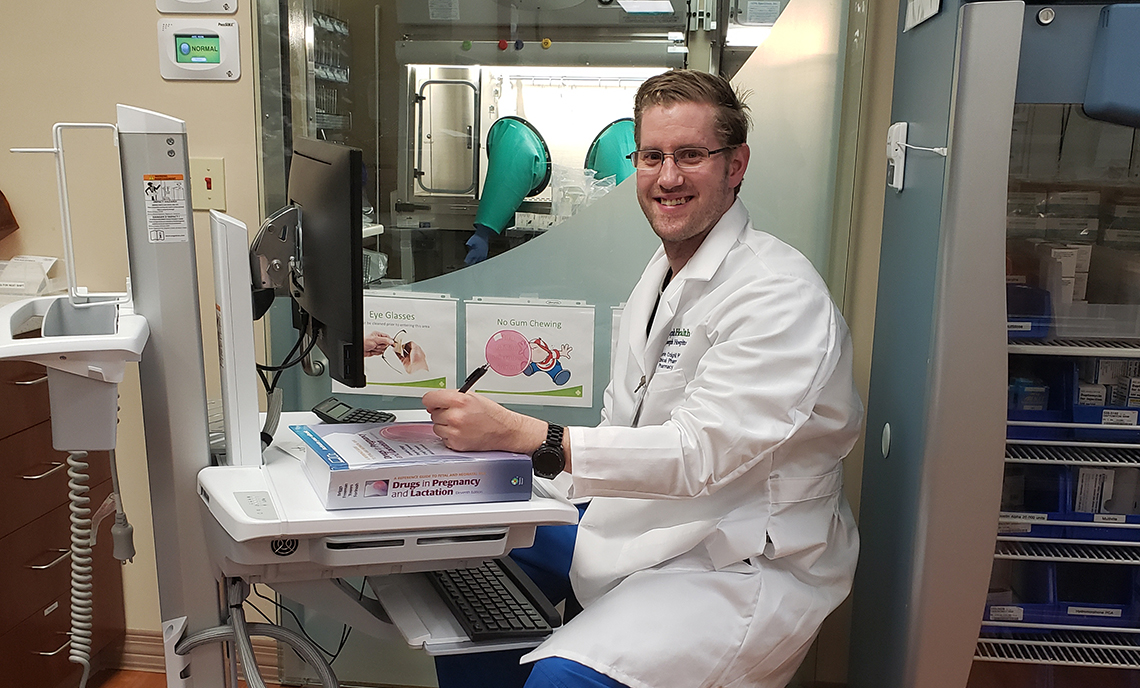 CPTC Helped Prepare Alum for Doctorate Success
January 22, 2019
Ten years ago this month, Benjamin Craighill started Clover Park Technical College's Pharmacy Technician program unsure if he had what it takes to succeed in college.
School had never been a strength for Craighill, who left high school and earned his GED and hadn't considered going back to school for five years. After he was in a serious car accident that required several days in the intensive care unit and months of physical therapy rehab, he decided it was time to go for it.
"I was very unsure of myself that I would be able to achieve what I was setting out to do," Craighill said.
After looking into several colleges and pharmacy technician programs in the area, he chose CPTC and enrolled. His first day back at school was his 22nd birthday.
"I liked what a pharmacist does, teaming with doctors to provide health care," Craighill said. "I wanted to continue on to be a pharmacist, but before going to CPTC I wasn't sure if I was going to be smart enough to succeed in pharmacy school. I needed to prove that I could make it, starting at the ground level and working my way up."
At the beginning, he struggled. He had essentially forgotten how to study in his time away from school. However, his instructors helped retrain him for academic success.
"I met instructors there that I still go back and talk to," Craighill said. "They're there to really, truly help you learn, and they want to see you succeed. The feeling at Clover Park was very much that the instructors were your teammate to help you learn so you could achieve the career you were pursuing."
Craighill earned his Pharmacy Tech License by that summer and was immediately hired by Walgreens. After working on some of his general education courses at South Puget Sound Community College, he transferred to Central Washington University to take the courses needed to enroll in pharmacy school. During that time, he worked as a pharmacy technician at a hospital in Ellensburg to help cover his tuition expenses and give him workplace experience.
"Being a technician before pharmacy school allowed me to observe pharmacists working in the field that I was working next to," Craighill said. "I had the chance to talk to them about how they do their job day-to-day and the things I needed to do to improve my resume so I would be considered when applying to pharmacy schools. That opportunity came as a result of the program at Clover Park."
After one year working at Seattle Children's Hospital, Craighill enrolled in the University of Washington's Doctor of Pharmacy program in fall 2013. He finished the program and earned his doctorate in March 2017, three months ahead of the majority of his classmates. While at UW, he met his now-fiancée, and after graduating they were both hired on as in-patient pharmacists at a hospital in Eureka, California.
As Craighill reflects on his educational journey, he emphasizes the vital role the technical college experience played. He highlights the approach to training and the expense as selling points.
"I would definitely recommend starting off at a technical college for someone who is unclear which path they want to pursue," Craighill said. "Going to a technical college gives you practical skills, support as a student who might be returning to school after time away, and the confidence to continue on in the field you want to pursue after you finish the program. Beyond all that, it's the most cost-effective route. The tuition at Clover Park beat all other colleges I considered, hands down."
Ten years have passed since Craighill entered CPTC's Pharmacy Technician program. In that time, he's achieved his educational and career goals. When he thinks back on his academic struggles and doubts, he remembers the instructors at CPTC who made all the difference.
"I'm so thankful to Clover Park for taking the chance on me and giving me the skills and knowledge that allowed me to go on and succeed."
Share This Story