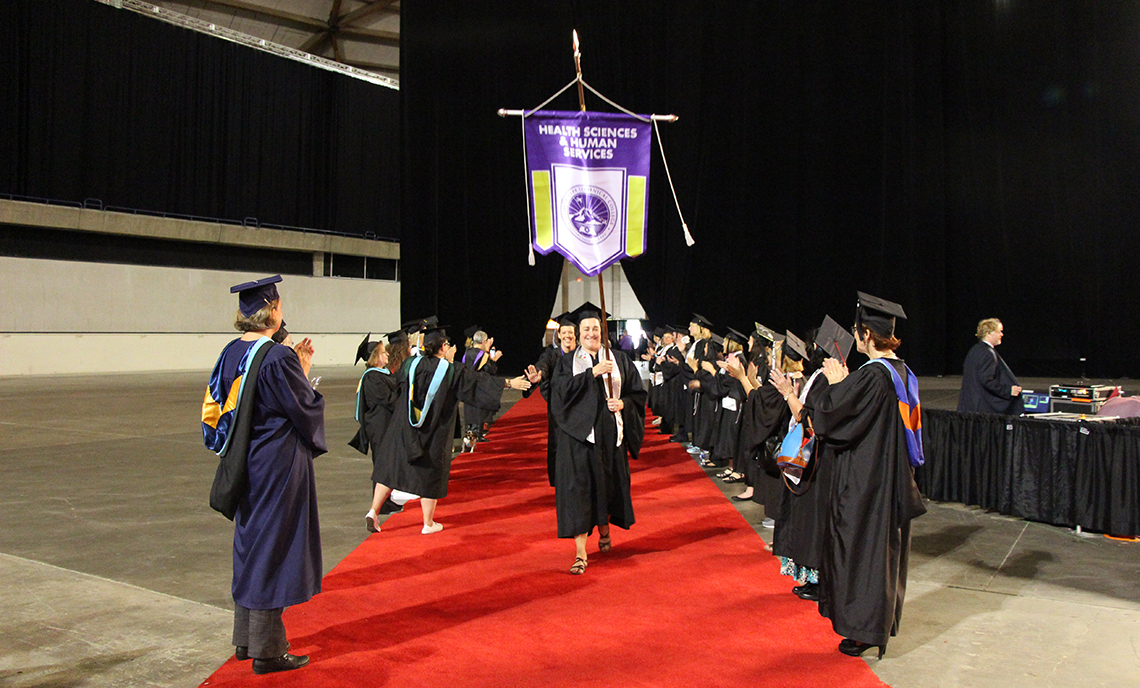 CPTC Honors Graduating Class at 21st Commencement
June 23, 2017
Tuesday evening was a time of celebration for Clover Park Technical College, as a total of 355 graduates attended the college's 21st Commencement Ceremony at the Tacoma Dome.
"Ladies and gentlemen in the stands, the family, friends and supporters of these graduates, tonight is your opportunity to acknowledge this milestone in their journey," CPTC vice president of strategic development Tawny Dotson said as a welcome. "More importantly, graduates in your seats, tonight is your opportunity to pause, to reflect and, I hope, yell, hoot and holler, because tonight is for you. Welcome to your graduation ceremony."
The ceremony recognized a graduating class from the 2016-17 academic year of 1,010, with the class holding a cumulative grade point average of 3.43. Nearly 27,000 students have graduated from CPTC in the 24 classes since 1993.
"This is a special occasion that represents for our graduates many months of dedication, hard work and study," CPTC President Dr. Joyce Loveday said. "Graduates, the awards conferred on you today symbolize not only the knowledge and skills you've gained, they also reveal the commitment, initiative and determination you possess."
Student speaker Jennifer Petersen shared some of her experiences that led to her going back to school to make a career change. She earned her degree in Computer Networking and Information Systems Security and also served as a math tutor and the vice president of student council at CPTC in 2016-17. She praised the faculty, staff and other students who helped her continue to look ahead and build the "skills and confidence I need to achieve my dream." She also offered helpful advice to her fellow graduates.
"Don't spend too much time staring back at the doors that have closed behind you; keep walking forward and see what happens," Petersen said. "Be okay with being a little uncomfortable and awkward; it means that you're challenging yourself just the right amount to keep growing and learning. Find a mentor; seek out and surround yourself with those you aspire to be. Don't be afraid to stop, pivot and change if it means pursuing something you're more passionate about."
Pierce County Prosecutor Mark Lindquist offered the Commencement Address. A lawyer and author of four books, Lindquist has served in his government role since 2009 and is also involved in the local community. His message to students revolved around five short tidbits of advice.
"Make friends with great people; follow your bliss; live with gratitude; have fun and be great; and, no matter what your occupation is, think like an artist," Lindquist said.
Tuesday's graduating class ranged in age from 17 years to 69, with an average age of 30. The class consisted of 61 percent female students and 34 percent students of color. Fourteen of the graduates began their coursework at CPTC in the 1990s, earning acknowledgement from Loveday for their "tremendous persistence."
The ceremony concluded with staff members tossing a dozen large beach balls to kick off the celebration. Afterward, graduates gathered with their faculty and family members who were there to offer their support.
"In addition to today's ceremony being a time of celebration for you, it's also a celebration for the faculty and staff at Clover Park," Loveday said. "Graduation is a culminating experience that represents the accomplishment of our college mission to educate tomorrow's workforce. Your success is also the success of our faculty and staff. You represent CPTC as you take on new responsibilities and become an effective practitioner within your industry. You are our graduates, and we're very proud of you."