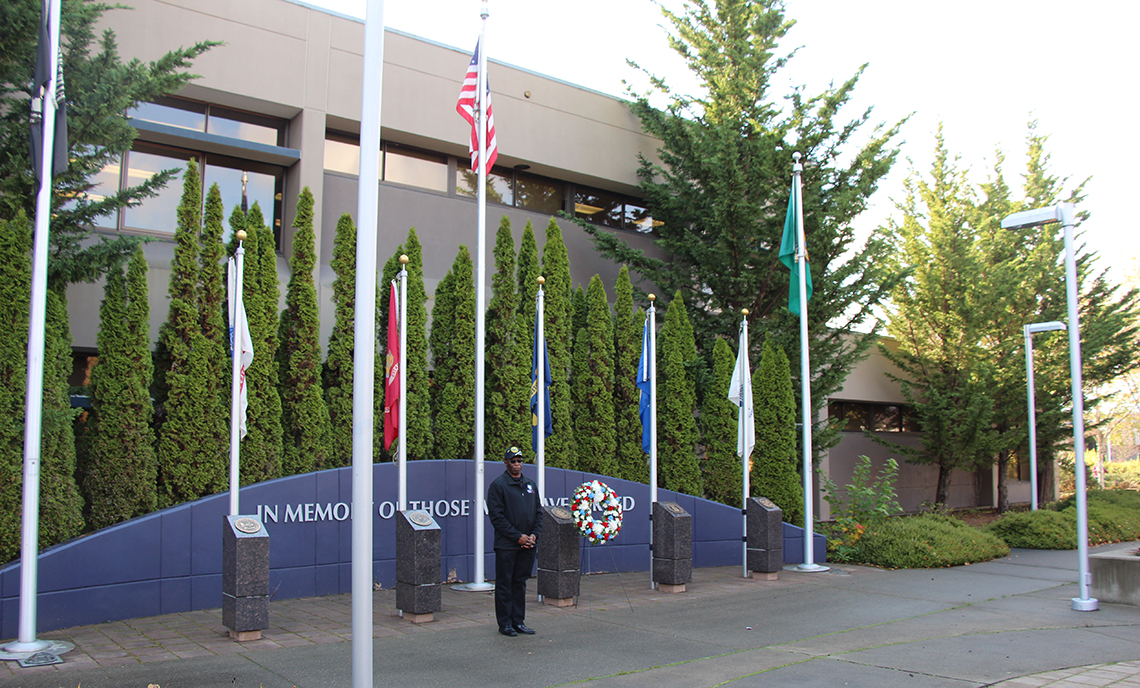 CPTC Honors Veterans at Annual Veterans Day Ceremony
November 8, 2018
Between its location down the street from Joint Base Lewis-McChord and its origins teaching industry skills to help the World War II effort, Clover Park Technical College has always had a close relationship with the United States Armed Forces. That continued on Wednesday, Nov. 8, as the college hosted its annual Veterans Day Ceremony at the McGavick Conference Center, sponsored by CPTC's Associated Student Government.
"The brave men and women who serve and protect the US come from all walks of life," CPTC Vice President for Student Success Scott Latiolais said during his welcome message. "They are parents, children, and grandparents; they are friends, neighbors, and coworkers, and an important part of our community here at Clover Park. Today, Clover Park Technical College reaffirms their commitment to veterans past, present, and future."
CPTC Vice President for Strategic Development and Washington Air National Guard Lt Col Tawny Dotson provided some information about the college's veteran population and briefly shared stories about some of the veterans on campus. There are more than 360 student veterans currently attending CPTC and 17 faculty and staff members. Student veterans at CPTC average 35 years of age, five years above the college average, and every quarter they take on average 15.5 credits, exceeding college average by three per quarter.
"Going above and beyond is something we learned serving in the military, and it's something our students deliver here every day," Dotson said.
The event's student speaker was MSgt Teresa Faulconer, who is a student in CPTC's Interior Design program. Faulconer served almost 30 years in the Air Force and told her story of overcoming challenges to achieve her career goals through her military career. She also spoke of the challenges of returning to college and the experience of connecting with fellow students and her instructors as she pursues her next career.
Washington Army National Guard COL Kevin McMahan provided the keynote address and began by offering praise and gratitude to both veterans and the family members who support them. He then shared his own personal story of academic perseverance through the challenge of dyslexia. He explained that ROTC helped push him to achieve his goals and provided a support system while he was in college.
"Nothing comes in life easy or free, but everything worth achieving takes hard work, determination, and a warrior's spirit," McMahan said. "Find that spirit; seek out support from family, friends, and fellow student. Whatever you do, find those mechanisms that will help you get through school. Whatever you do, do not give up."
He continued to offer encouragement to the students to continue persevering in their education. Further, he spoke of the importance of education to a strong nation and pushed those in attendance to remember those they know who could benefit from a college education.
"If you really want to thank a veteran, then you need to do one simple thing: seek out and recruit others to get their education," McMahan said. "Why? Because an education makes you an informed individual, a critical thinker. It makes you look at things from a completely different perspective. All of these attributes make you a great citizen, which in turn makes our community, our state, and our nation stronger. Every veteran wants a strong nation, and that cannot be achieved by might alone."
Following McMahan's keynote, a roll call processional recognized veterans of each branch of the United States Armed Forces with a pin and a medley of each branch's anthem. At the conclusion of the ceremony, Army SFC and CPTC Veteran Navigator Notrip Ticey III led a procession to the Veterans Memorial on CPTC's Lakewood Campus, concluding with a presentation of a wreath in honor of all who served.
Event attendees also enjoyed a light breakfast provided by Panera Bread, ceremony music provided by Vicki Cox and a National Anthem performance by CPTC alum Erina McLaren. The Washington Army National Guard Honor Guard conducted the Posting and Retiring of the Colors.