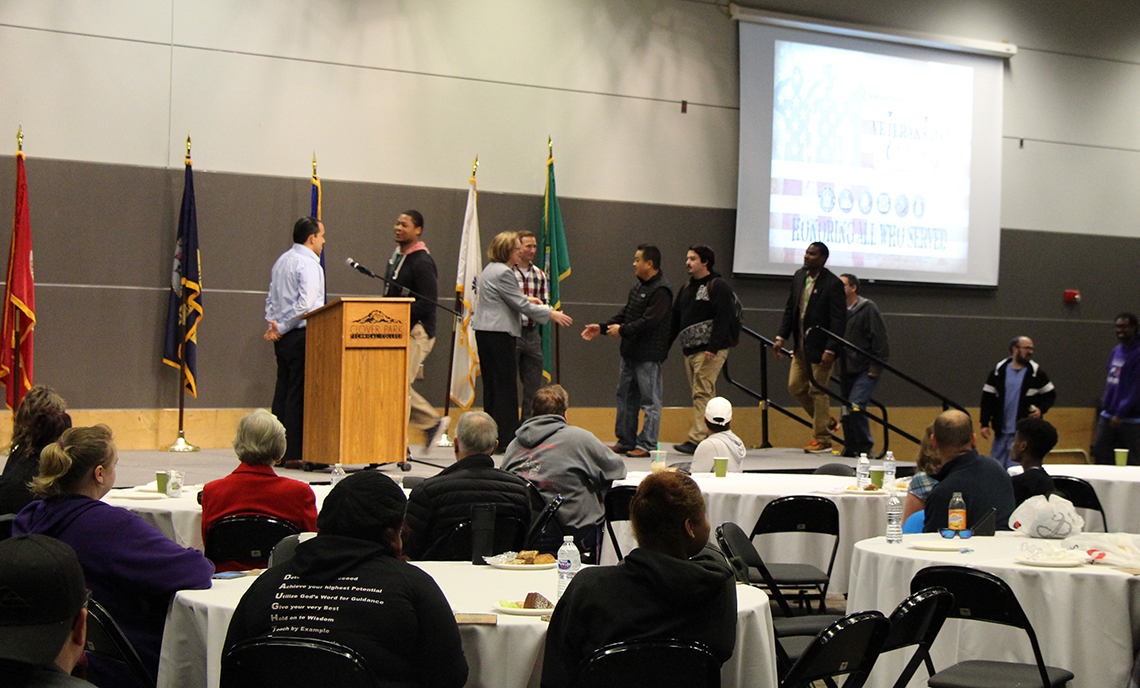 CPTC Hosts Annual Veterans Day Ceremony
November 9, 2017
Clover Park Technical College began 75 years ago with programs designed to aid in the World War II effort, and on Wednesday the college and Associated Student Government continued its close relationship with the United States Armed Forces with its annual Veterans Day Ceremony at the McGavick Conference Center.
Featuring CPTC students, staff and alumni who have served, the ceremony offered all in attendance a reminder of the importance of remembering and honoring veterans.
"You have our respect and gratitude," CPTC President Dr. Joyce Loveday said to all veterans at the ceremony. "You make a difference on our campus, and I thank you for that."
CPTC student and Army SGT Adrian Navarrette spoke about his experiences in the military and the impact they've had in helping him pursue his academic goals. He also emceed an Armed Forces Roll Call that offered pins to all veterans at the ceremony, and he hosted a Prisoner of War/Missing in Action remembrance.
The Alumni Guest of Honor was Airman First Class Richard Magoon, who attended Clover Park in the 1950s and is once again attending the college in the Heating & Air Conditioning/Refrigeration Service Technician program. Washington Air National Guard Col. Kenneth A. Borchers served as the keynote speaker and highlighted the impact service members have every day in our local communities.
"As current and former service members, we understand very clearly that when our fellow service members answer the call of duty, the sacrifices are often high," Borchers said. "Thank you. Thank you for joining the race, for taking the oath, for making sacrifices so the rest of us can live in a safe and more secure nation."
Event attendees also enjoyed a light breakfast provided by Panera Bread, ceremony music provided by Vicki Cox and a National Anthem performance by Erina McGann. The JBLM Honor Guard conducted the Presentation and Posting of the Colors.
Following the ceremony, Army SFC Notrip Ticey III led a procession to the Veterans Memorial on CPTC's Lakewood Campus, concluding with a presentation of a wreath in honor of all who served.