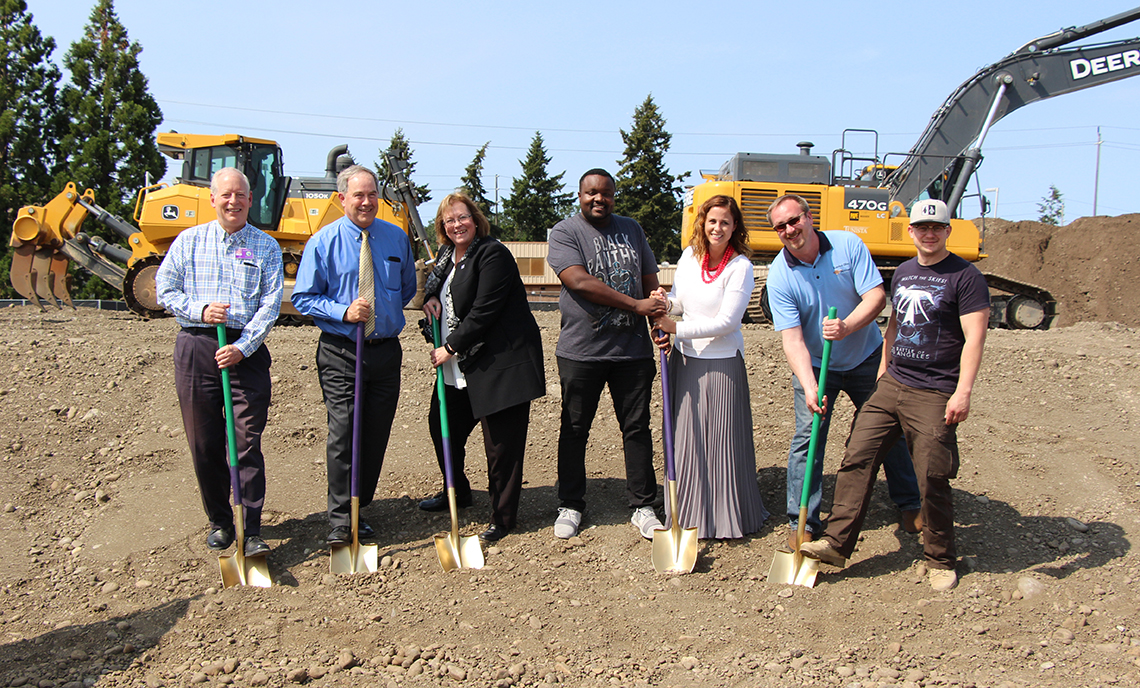 CPTC Hosts Groundbreaking for Center for Advanced Manufacturing Technology
June 8, 2018
Leaders of Clover Park Technical College, Mortenson, and Schacht Aslani gathered with faculty and students Wednesday afternoon for a ceremonial groundbreaking on the new John W. Walstrum Center for Advanced Manufacturing Technology.
CPTC President Dr. Joyce Loveday spoke briefly to welcome everyone and highlight the importance of the new building, which will be built on the grounds where the former warehouse Building 22 stood. That building, which had stood since the 1940s, was demolished last month to make way for the new state-of-the-art facility.
"This building is going to have an impact on our institution," Loveday said. "First of all, it's going to be the front door for our college for a long time. Not only that, but it's going to house some really important programs for the college and for our community. Our intent and our goal is for this to be not only a place where students are going to school and learning, but also a place where we can interact with industry in a way that raises the level of education for our students and engages us with leading-edge activities within industry."
The John W. Walstrum Center for Advanced Manufacturing Technology will host many of the college's manufacturing programs and will be designed to replicate best industrial practices to provide students with a fully immersive experience to make them work-ready as quickly as possible. The 62,000-square-foot building is scheduled to be completed in 2019.
"Thank you for being here and for your work and contribution so far," Loveday said. "We're excited about what's going to be happening in the coming months and really looking forward to the end product."
Following Loveday's remarks, attendees had the opportunity to participate in the ceremonial groundbreaking, complete with shovels bearing CPTC's colors and logo.