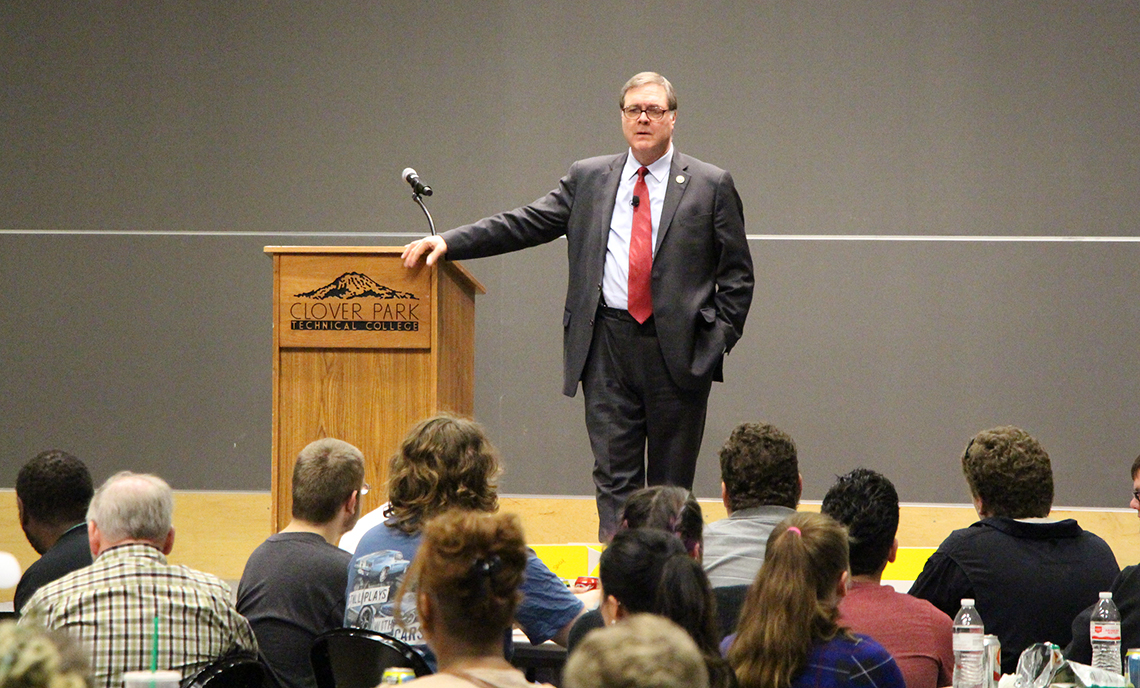 CPTC Hosts Congressman Heck for Leadership Luncheon
May 12, 2017
Nearly 100 Clover Park Technical College students, staff and faculty gathered Wednesday in the McGavick Conference Center to hear from and ask questions of Congressman Denny Heck at the latest CPTC Leadership Luncheon.
The CPTC Campus Activities Boards hosts several Leadership Luncheons each quarter, providing lunch to student attendees to go with a brief guest presentation followed by a question-and-answer session. With a visit from a Congressional representative, many students came prepared to ask questions and participate in the political process.
"We appreciate this opportunity to bring Congressman Heck on campus, where students can benefit from his insight," CPTC Associated Student Government President Annie Mafi said in introducing the congressman. "The Associated Student Government hopes that we can continue this relationship and help engage and empower students."
Heck's presentation began with a brief rundown of his career to this point. He highlighted his educational journey, which included time at a Washington State Community College – Clark College in Vancouver – and Evergreen. He also mentioned several failed enterprises and election losses he experienced on his way to becoming a congressman.
"The two things I would say about mine or anyone's career paths above and beyond we all need support: getting an education is vital, and be willing to take risks," Heck said. "I have learned 10 times more from my failures than I have my successes. You don't grow much from success; you grow a lot from failure; you can't have failure if you don't take risks."
Following his initial presentation, Heck spent about 30 minutes answering questions from attendees. Numerous hot-button political topics were presented, with students asking questions about Russia, the Electoral College, climate change, student loans, North Korea, Veteran's benefits and more.
When time ran out, several attendees lined up to briefly talk and take photos with Congressman Heck. For more information about upcoming events sponsored by the Office of Student Involvement visit the CPTC Campus Activities page.