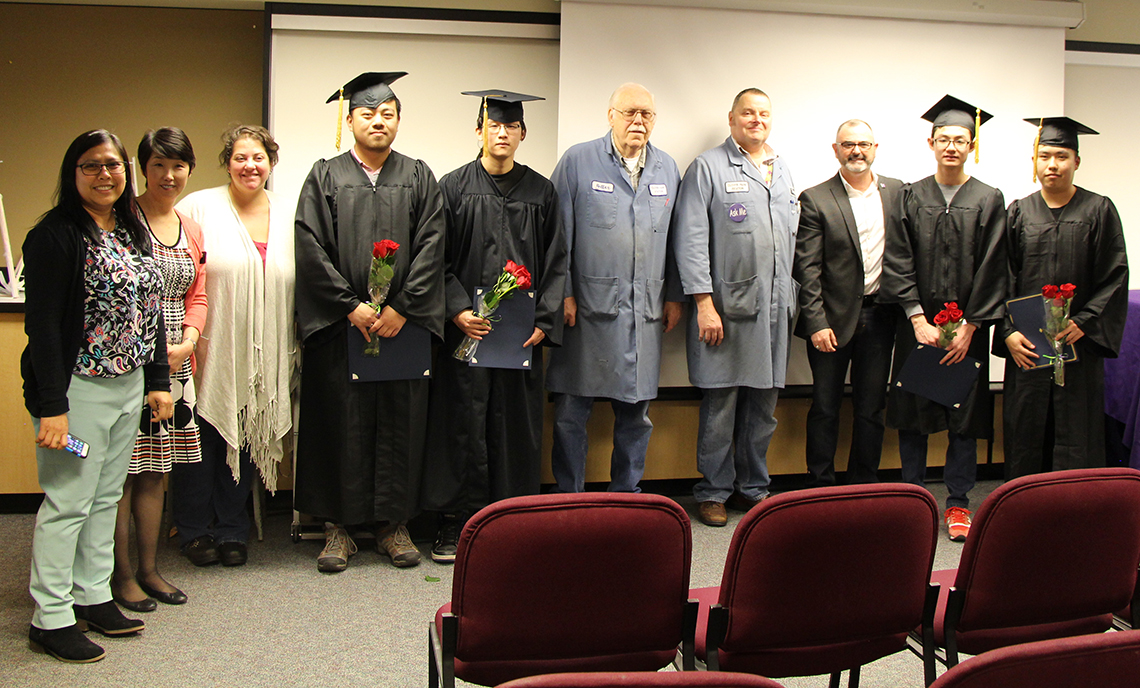 CPTC Hosts International Student Graduation Ceremony
March 15, 2018
While Clover Park Technical College holds a full commencement ceremony in June each year, a group of about 30 students, staff, faculty and host families gathered at the South Hill Campus on Friday, March 9, to recognize the international student graduates who are completing their program this winter quarter.
Four Aviation Maintenance Technician students came to the program from China two years ago and will finish the program at the conclusion of the quarter next week. Those students had the opportunity to be recognized for their achievements and share some of their own experiences at the open mic event.
"Students, your journey began in spring of 2016. That journey took many of you halfway around the world here to the beautiful Pacific Northwest," CPTC Vice President of Student Success Scott Latiolais said. "While you have all come here from different backgrounds, you came together with the same purpose of fulfilling your educational mission. This part of your journey is coming to a close, but your pathway continues."
The CPTC International Programs department hosts the smaller graduation celebrations twice each year – once in winter quarter and once in summer. They are not only for AMT students, but since the majority of the school's international students are in the AMT program, the event is held at South Hill Campus.
The International Programs department began hosting the graduation ceremony during summer 2011 with the intent of recognizing the graduating international students and celebrating the success of a completed academic year. All international students from both campuses, instructors and host families are all invited for a big outdoor even on the lawn area at South Hill Campus. The winter graduation was added beginning in 2014 since many of the Chinese AMT students who graduate in winter return to China shortly after the quarter ends and cannot take part in the college's commencement ceremony in June.
Each event typically recognizes a small number of international students, providing an intimate atmosphere that allows anyone to share their memories and experiences from the program. All four of the graduating students took a turn at the mic, as did several of their host parents. At the conclusion of the event, everyone enjoyed celebratory cake and snacks and continued sharing laughs and stories with each other.
"Commencement is not about endings but about beginnings," Latiolais said. "Your training is almost complete, and now you have the opportunity to embark on the next part of your journey. On behalf of myself, the Division of Student Success and Clover Park, I wish you success and happiness in all your future endeavors."
Share This Story