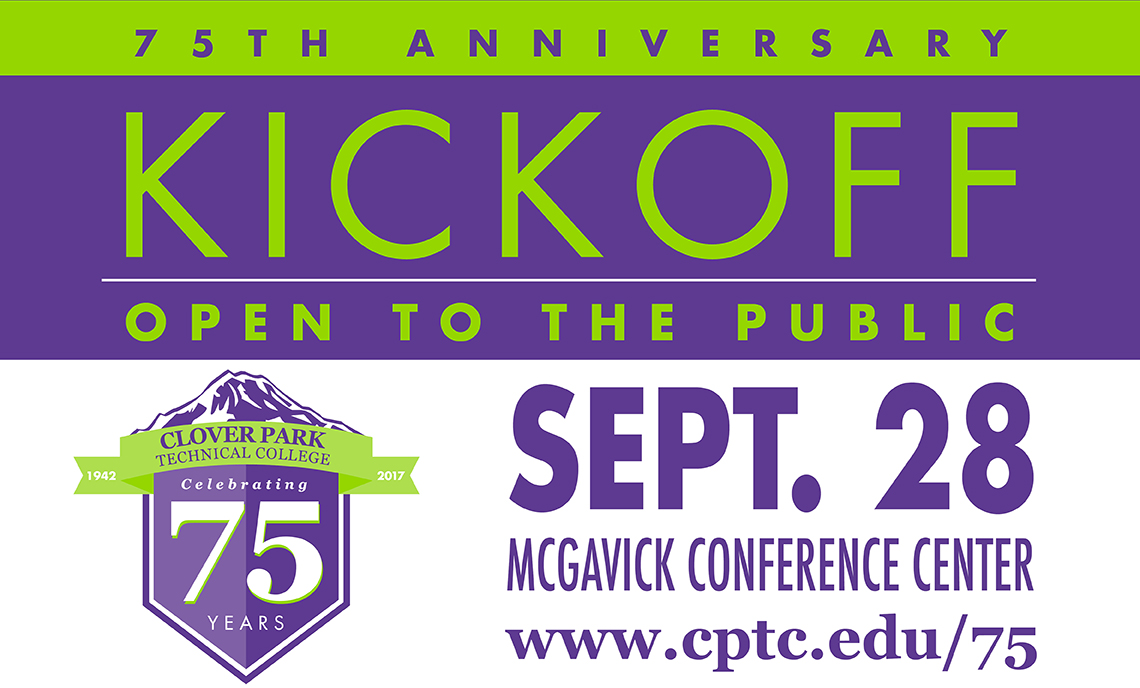 CPTC to Open 75th Anniversary Year with Kickoff Ceremony
September 8, 2017
The upcoming 2017-18 Academic Year marks a historic milestone for Clover Park Technical College, as the school will be celebrating its 75th Anniversary. To commemorate the milestone, the college will host a Kickoff ceremony Sept. 28 at the McGavick Conference Center on its Lakewood Campus.
As CPTC honors its long history of workforce education, the Kickoff ceremony will feature archived equipment, documents and images from the school's 75 years, along with the opening of the 50th Anniversary Time Capsule, which has been buried outside Building 17 for the past 25 years. The ceremony will be open to the public, and anyone is invited to attend as we celebrate CPTC and the importance of workforce education.
The CPTC Automotive Club will host a barbecue beginning at 11 a.m. and running until 1:45 p.m. outside Building 23. Attendees can purchase a hamburger or hot dog with a pack of chips and soda for $6, with proceeds supporting the Automotive Club. From there, attendees can venture inside the McGavick Conference Center to explore some of the college's history on display and make use of a photo booth sponsored by the CPTC Associated Student Government.
The official ceremony is set for 2 p.m. and will feature commemorations of CPTC's 75 years from the college's leadership and local government, along with the opening of the time capsule to reveal what was placed inside 25 years ago. The capsule will be replaced later in the 2017-18 Academic Year with artifacts to be opened at the 100th Anniversary.
Following the conclusion of the ceremony, attendees will enjoy a free cake and ice cream reception, courtesy of the CPTC Foundation and ASG. Attendees can also win CPTC Alumni gear door prizes, also courtesy of the Foundation.
The Sept. 28 Kickoff ceremony will begin the 2017-18 Academic Year in style for CPTC as the college embarks on a year-long celebration of its long history. Throughout the year, the college website and social media pages will feature historical details from the past 75 years, and the anniversary year will culminate with the 75th Anniversary Gala on May 19, with more details to come in the future.
To stay up-to-date on information about CPTC, follow the CPTC Facebook page. For more information on the 75th Anniversary and to download an invitation to the kickoff ceremony, click here.