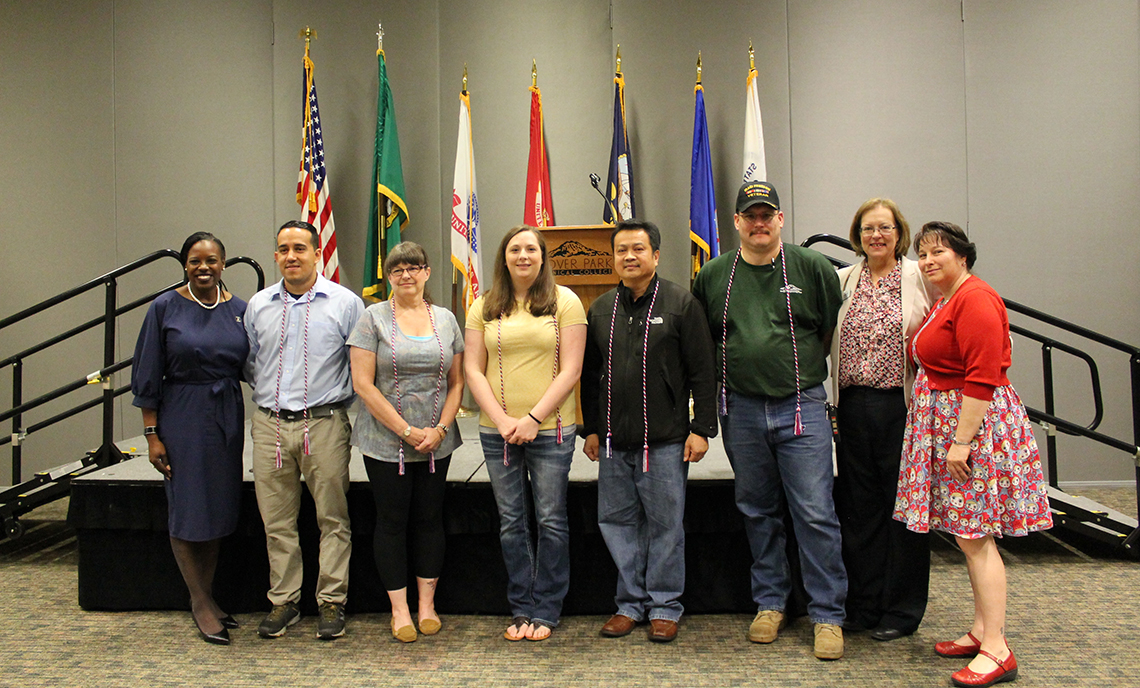 CPTC Recognizes Graduating Veterans at Honor Cord Ceremony
June 9, 2017
In the midst of the final push toward graduation, Clover Park Technical College hosted its fourth annual Veteran Honor Cord Ceremony Monday, June 6, to recognize the students who have served in the Armed Forces and will be finishing their time at CPTC in a few weeks.
"Today we're presenting your honor cords," CPTC President Dr. Joyce Loveday said in her opening remarks. "I hope that you will wear them proudly today and at the graduation ceremony. This honor cord symbolizes not only who you are and your past experiences, but also the traits you demonstrate and the important contribution you've made to this institution, and some of the values you hold that will make you exceptional employees."
The ceremony began with an hors d'oeuvres reception and included posting of the colors, a student address from CPTC Veterans Club member Christina Febles and a keynote address from Shellie Willis, Founder and CEO of Redefining Your Future. Willis addressed the difficulties of the transition process from military service into civilian life. She used the metaphor of a beach to describe the need to find something that brings you joy and allows you to take a moment to relax.
"My challenge and charge to everyone in this room, no matter where you are in your life, no matter what you do: take time to go to your beach," Willis said.
Willis went on to encourage the students to continue persevering and growing throughout their lives, taking responsibility and building excellence out of any failures and challenges they face. She also reminded them to laugh often, and dance too, "because it is healing for the soul."
CPTC Vice President of Strategic Development Tawny Dotson praised the students' bond and teamwork and said the cords will serve as a reminder that "we are a group who knows sacrifice and grit lead to excellence and accomplishment."
"Today we are honoring you because you and the people to the left and the right of you found a way to set aside personal challenges, to overcome the stress of balancing life and school, and instead forged forward," Dotson said. "You were united in one purpose – your education. This day is about honoring the effort you made to forge forward – no matter the circumstances. Wear these cords proudly; you've earned them, no doubt."
Following a moment of silence to honor the fallen soldiers, the students were presented with their honor cords. Since students are still two weeks away from graduation, several had to leave prior to the conclusion of the ceremony to attend class. However, five were able to receive their cords, and all other graduating veteran students are invited to pick up their honor cord prior to graduation in the Veterans Resource Center in Building 2.