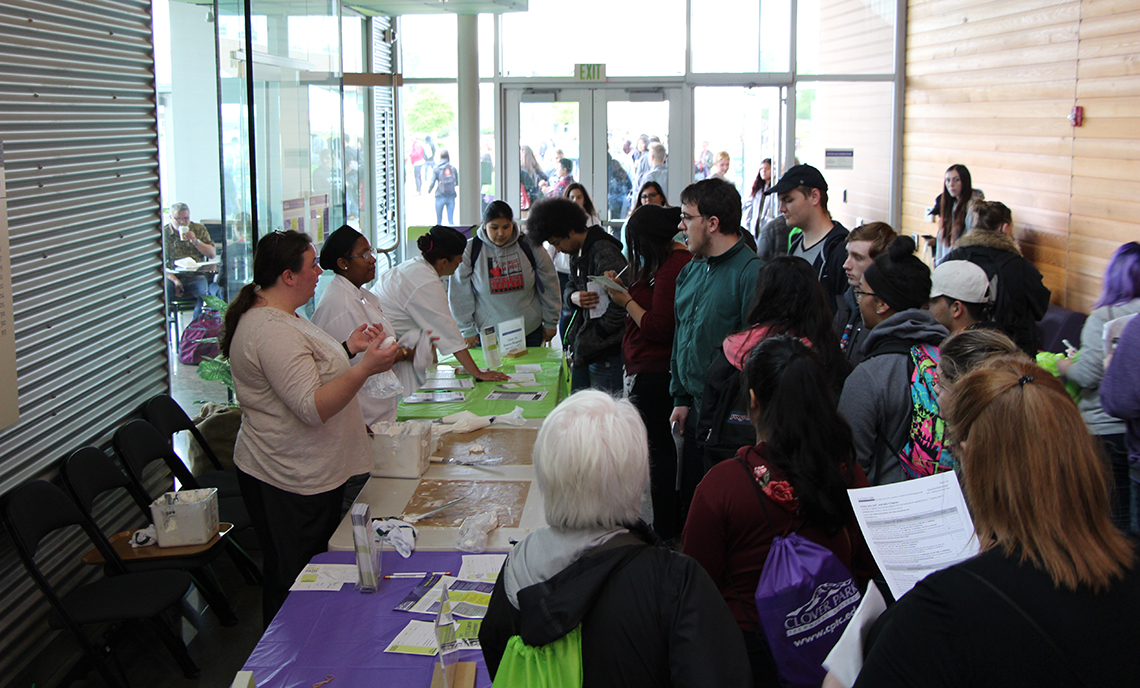 CPTC Shows Off Cool Tech & Hot Careers at Career Conference
May 16, 2017
The Clover Park Technical College Lakewood Campus crowded with people on a rainy May 11 as 4,000 local middle school, high school and prospective students visited for the college's annual Career Conference.
CPTC showcased its more than 40 programs for prospective students and offered demonstrations, activities and workshops throughout the day under the theme "Cool Tech & Hot Careers." Visitors to campus had the opportunity to learn about all their possible program options, and some took their first step toward attending in the future.
"We had one girl who took the opportunity to register and then went to meet her future instructor in the Health Unit Coordinator program," Eatonville High School counselor Cathy Kerr said. "We especially enjoyed the hands-on activities in the Hemodialysis and Pharmacy Technician programs. Personally, I always look forward to making connections with the industry contacts who represent the college, outside organizations and agencies. They provide valuable information for us to share with our students."
Several food trucks lined up outside Building 23 to provide different dining options, and CPTC students got the chance to show off their programs.
"My students loved it being busy and felt like it was a realistic practice for when they go out to the health care field," CPTC Medical Assistant instructor Michele Jones said. The Medical Assistant program hosted a "Vital Signs Station" where CPTC students took visitors' pulse, blood pressure, height, weight and temperature measurements.
Students from 87 schools visited campus for the Career Conference, while the Automotive programs also hosted their 25th annual People's Choice Car & Bike Show. Despite the dreary weather, an impressive array of cars and motorcycles ranging from restored classics to new sports cars lined the East side of campus between Buildings 3 and 8. Visitors had the opportunity to vote for their favorite cars and visit with Lance Lambert, host of The Vintage Vehicle Show.
For anyone interested in visiting one of CPTC's programs who couldn't make it to the May 11 Career Conference, the college hosts Program Information Sessions every second and fourth Wednesday of the month at 3 p.m. Also, CPTC will host its next Evening Open House on June 14, 3-7 p.m., with all programs open to visit at CPTC's two campuses. For more information about the Open House, click here.