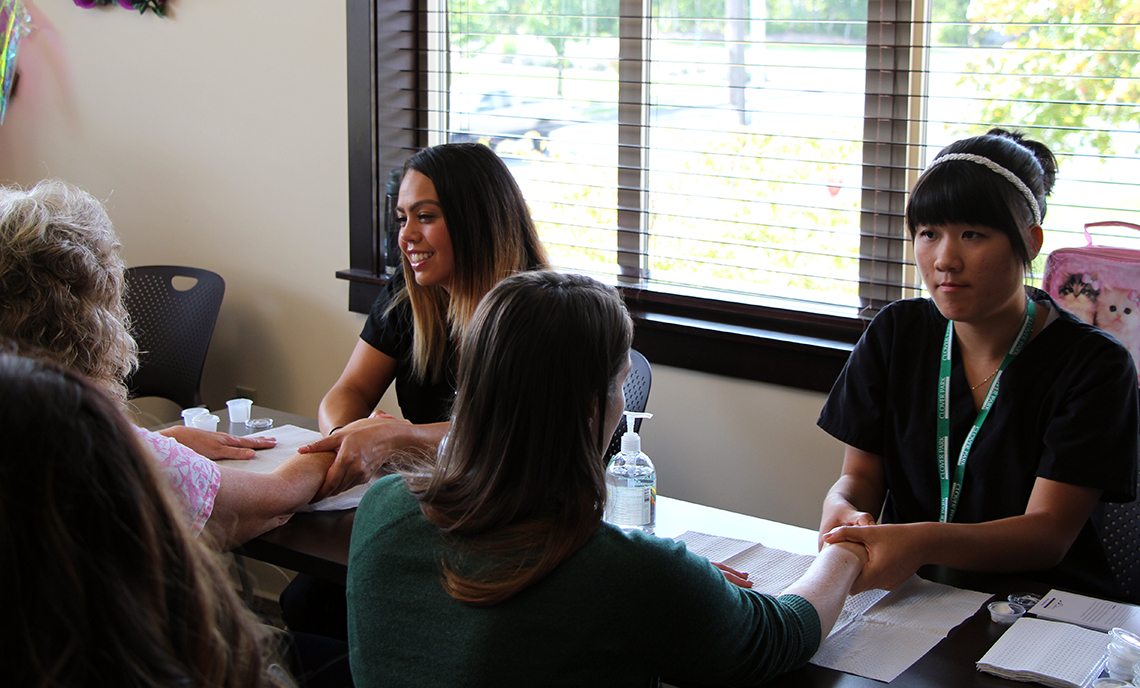 CPTC Students Share Massage Skills with Screening Patients
October 5, 2016
October is Breast Cancer Awareness Month, and a group of Clover Park Technical College esthetic sciences students got a head start on assisting with prevention and treatment last week when they volunteered their skills to mammogram screening patients at Carol Milgard Breast Center in Tacoma.
In the midst of the first week of fall quarter classes, 16 students spent Thursday afternoon offering hand massages to clinic patients. The massages were part of an event hosted by Carol Milgard Breast Center in conjunction with Coordinated Care. It also continued a tradition of CPTC students serving at these events stretching back several years.
"It's a great partnership," CMBC executive assistant Barbara Fox said. "It helps the students out and it helps the ladies out as well. They get to come in and be pampered and feel good. This always goes well."
A total of 58 women had appointments Thursday, Sept. 29, between 12 and 5:30 p.m. The appointment included a mammogram screening and meeting with a care team, a few gift items, some snacks and hand massages. But it wasn't just the patients taking advantage. Some of the Carol Milgard staff jumped at the opportunity to receive a soothing hand massage during their breaks.
Coordinated Care organized the event, sent out mailers and scheduled appointments for its customers. However, Carol Milgard hosts numerous similar events throughout the year for other health care and community organizations. And in recent years, CPTC students have always been present to offer massage services.
"Events like this create opportunities for groups of women to come in at once," Fox said. "With the massages and other women coming in at the same time for appointments it helps put the patients at ease and lessen their anxiety."
The event gives CPTC students an opportunity to get out of the classroom and put their training to use early in the quarter. Meanwhile they get real-world experience while helping create a positive experience for community members. Altogether, it makes for a positive way to start the quarter and lead into Breast Cancer Awareness Month.
Share This Story