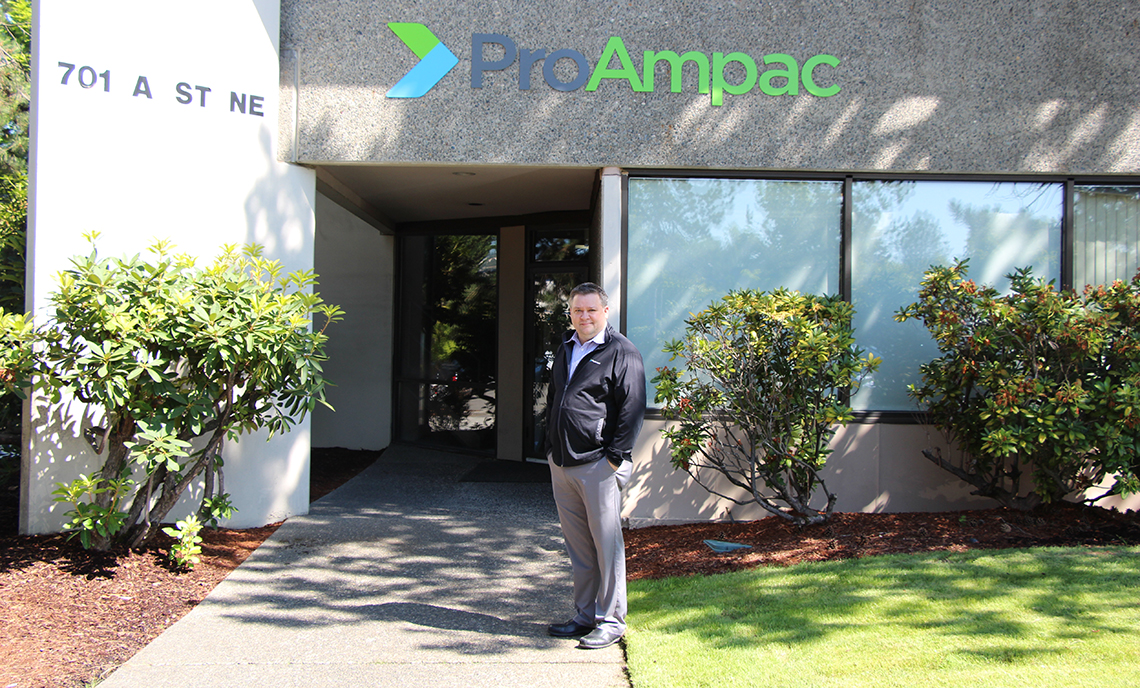 CPTC Training Prepared Alum for Packaging Success
September 12, 2018
Whenever you go the store, it's almost guaranteed you see a package that has been influenced by Joe Lydic.
A Clover Park Technical College alum, Lydic is the art director at ProAmpac in Auburn. With 33 facilities worldwide, ProAmpac helps create flexible packaging for virtually every industry. And Lydic helps organize the art, graphics and branding.
"I've been in ideation sessions with companies like Proctor & Gamble, Clorox, and Schwan's, where we work with a group of creatives for a couple days and come out with a product design that's ready to be branded and tested with focus groups," Lydic said. "We come up with some crazy ideas to put in front of people for market testing to see what approach works best on the shelf."
Lydic oversees graphics and helps co-manage the printing process in Auburn while also managing graphics for several other ProAmpac facilities across the nation. He travels several times per year to some of those facilities to help train and equip teams, and he also attends a company academy event twice per year where he teaches employees and customers some of the key parts of the industry that they may not understand.
Lydic's career is rooted in the vocational training he received in high school and continued at Clover Park. He grew up in Oak Harbor, and his high school had a partnership with a Skagit Valley vocational school that provided special training opportunities. After starting with photography classes, Lydic shifted to the graphics and visual communications program and found his niche.
"I started looking for schools up and down the west coast, and the one that really caught my eye was Clover Park and its offset reprographics program," Lydic said. "It was probably the best out of anything I saw, so I signed up and came down to Lakewood for the program."
That was the start of the computer era, right during the transition in the industry, which meant that Lydic had an opportunity to train with both the previous methods and the newer approach. He spent about 10 months at the school and then worked in a local quick print shop to finish the program. It was the perfect follow-up to his high school experience.
"Clover Park put the finishing touches on what my high school started," Lydic said. "I'd already learned a lot about the industry. What Clover Park did was put me into the production part of the process. We had design layout, camera stripping, final press, printing and binding and finishing. It prepared me for that environment."
That preparation was all Lydic needed, and it's the only formal education he's received in his career. From there, it's been all about his desire to find ways to improve the process and continue to grow.
"Clover Park introduced me to industry and people," Lydic said. "There's something to be said when you read about something versus when you actually do it. You can go read about how Sir Isaac Newton theorized color and Guttenberg created the press, and you can theorize about it and read about it. But when you actually turn a press on and put ink in it or create that layout on the computer or make the plate digitally, there's something more that you retain than when you just read it."
While he's continued to promote Clover Park throughout his career, he hopes to provide more direct support in the future. He recently joined the Board of Directors for the CPTC Foundation and is looking forward to working on fundraising events to help students.
"I've always been proud of Clover Park, so I've always tried to keep up on what's going on there," Lydic said. "When I heard about the opportunity to join the board at the foundation, I reached out. When I was appointed to the board, I got really excited about helping the school."
In his career, he continues to look for people with a similar hands-on style of training and experience.
"I can sum it up in just a few words: doing is better than reading. Clover Park is all about doing," Lydic said. "When you can get your hands dirty, would you rather read a textbook or touch and feel and get the experience? As an employer, I would rather have someone who's done the work rather than someone who has only read about it.
And despite the vast portfolio he's established that includes some of the items you see on the shelves of any store today, Lydic's Clover Park work still holds a special place for him.
"I still have my binder with all my labs and my portfolio from my classes at Clover Park," Lydic said. "They put me where I am today."