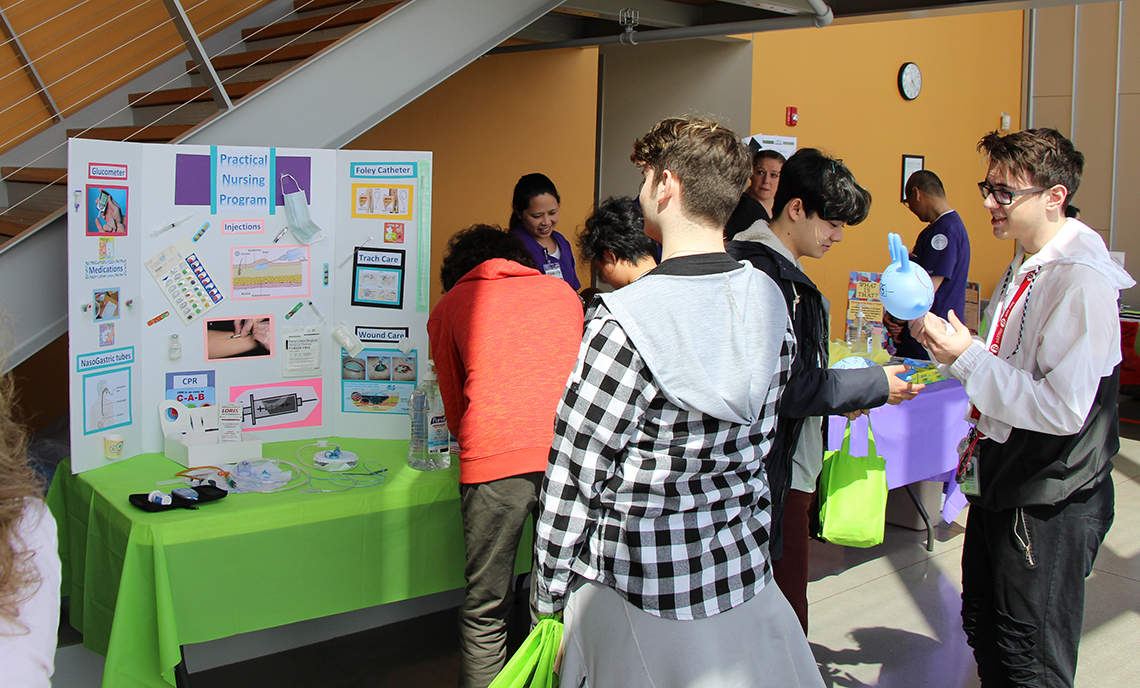 CPTC Welcomes High Schoolers for Annual Career Conference
May 16, 2018
Clover Park Technical College welcomed more than 2,000 high school students to its Lakewood Campus for the college's annual Career Conference on May 10.
The event spanned the campus, with the college's 44 programs opening the doors to their labs and classrooms and putting together interactive displays to offer attendees insight into the learning experience. A digital scavenger hunt prompted the high school students to explore campus and visit several different programs and post their progress on social media to win prizes.
Meanwhile on the east side of campus between Buildings 3 and 8, the Automotive programs hosted their 26th Annual People's Choice Car & Bike Show. The vehicles on display ranged from restored classics to newer sports cars and everything in between, and visitors had the chance to vote for their favorites.
Food options also proved plentiful for attendees, as several food trucks lined up outside Building 23 and the car show featured barbecue hamburgers and hot dogs. Richard Mitchell, the career counselor at Rogers High School, spoke highly of the event and what it offered for students.
"This was my first time attending this program," Mitchell said. "Wow. What a great program. Our students loved it and were talking about Clover Park all the way home on the bus."
In previous years the event included both middle school and high school students, with the total attendance surpassing 4,000 last year. In an effort to make the event more beneficial to the students closest to finishing high school and planning for the future, only high school students participated in this year's conference. More than 60 high schools sent students to the event.
"We really focused on the quality of the event rather than the quantity of attendees this year," CPTC Development Manager Janet Holm said. "We wanted students to have a positive experience and a chance to have engaging conversations with faculty and staff."
That experience paid off for both the attendees and CPTC's instructors and students. With fewer people on campus, attendees could more easily engage with the programs.
"The flow this year was much more manageable, and students seemed to really enjoy being able to speak with our students in the program," CPTC Computer Networking & Information Systems Security instructor Catherine Morris said.
Meanwhile, CPTC's Entry Services team spent the day getting to know the prospective students and answering any questions in the Welcome Center.
"We were thrilled to be a part of a fantastic event," CPTC Manager of Outreach & Entry Services Micalah Pieper said. "The Welcome Center provided students with on-the-spot information regarding entry into our programs, and we were able to help more than 20 students apply that day."
Anyone interested in learning about one of CPTC's programs can stop by the Welcome Center during regular business hours or attend a Program Information Session every second and fourth Wednesday of the month at 3 p.m.