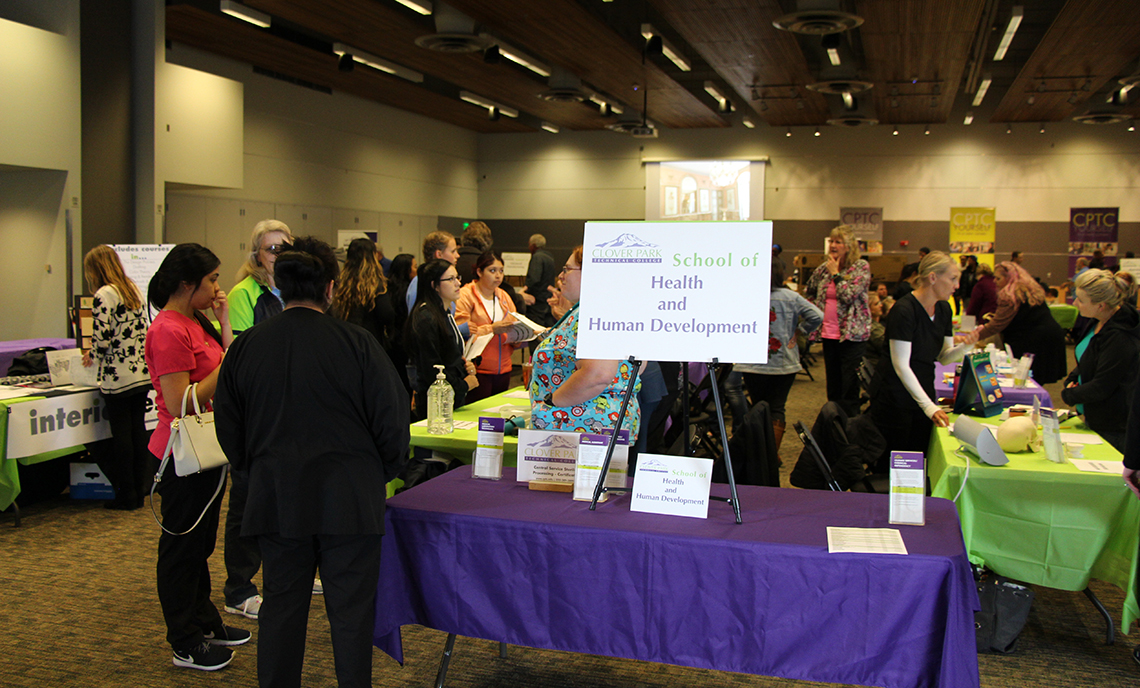 CPTC's Open House Welcomes Potential Students to Campus
October 12, 2017
Clover Park Technical College hosted its Fall Open House Wednesday evening, welcoming more than 200 visitors to the McGavick Conference Center to learn about the college's 44 programs and the enrollment process.
Running from 3 p.m. – 7 p.m., the Open House featured fair-style displays for each program, along with workshops to answer questions about financial aid, enrolling and workforce development opportunities.
"Our goal for the Open House is to give potential students a chance to come to campus and grow familiar with the program and the college," CPTC development manager Janet Holm said. "We want to let them meet the instructors, ask questions and get a bit of a feel for CPTC. We also host the Financial Aid and Get Started workshops to answer questions they have about attending and help them through the enrollment process."
Previous Open House events at CPTC featured opening the individual classrooms and labs to show to potential students. While this allowed visitors to see the actual tools and resources available in their program, it spread attendees across campus and limited their opportunity to visit multiple programs.
"We've been doing the Open Houses for the past few years, and we're always looking for ways to make them more accessible and valuable to potential students," Holm said. "One of the key pieces of feedback we received was that it would be helpful to have all the programs represented in one place so visitors can more easily learn about multiple programs. We made that change for this Open House, and the immediate response from attendees was very positive."
One of those attendees who responded positively to the change was Piety Clark. A Lakewood resident, Clark came to the Open House with her son to learn more about the program options at CPTC.
"Coming here tonight, I was able to talk to the instructor for the program I'm interested and see other programs and talk to other instructors as I have a 16-year-old son I'm encouraging to check out Clover Park and a 27-year-old daughter who is looking to change careers," Clark said. "I was able to get information for both of them as well as myself, and I got to learn more about so many of the other programs as well."
Clark highlighted the display elements used by the programs to help show their focus of study. She took time to visit many of the programs, talk to the instructors and discover the wide variety of options. Her primary focus is the Surgical Technology program, and she was impressed by how well the instructors were able to answer all her questions.
"I know they know their stuff, and that means a lot to me. We talked about certificates versus degrees, and I was able to ask all kinds of questions about how well the program will fit with me," Clark said.
CPTC hosts Open House events twice per year – one in the fall and one in the spring – and also hosts Program Information Sessions at 3 p.m. on the second and fourth Wednesdays of the month. Anyone who missed Wednesday's Open House and wants to learn more about CPTC can attend a Program Information Session or meet with an Entry Services Specialist.