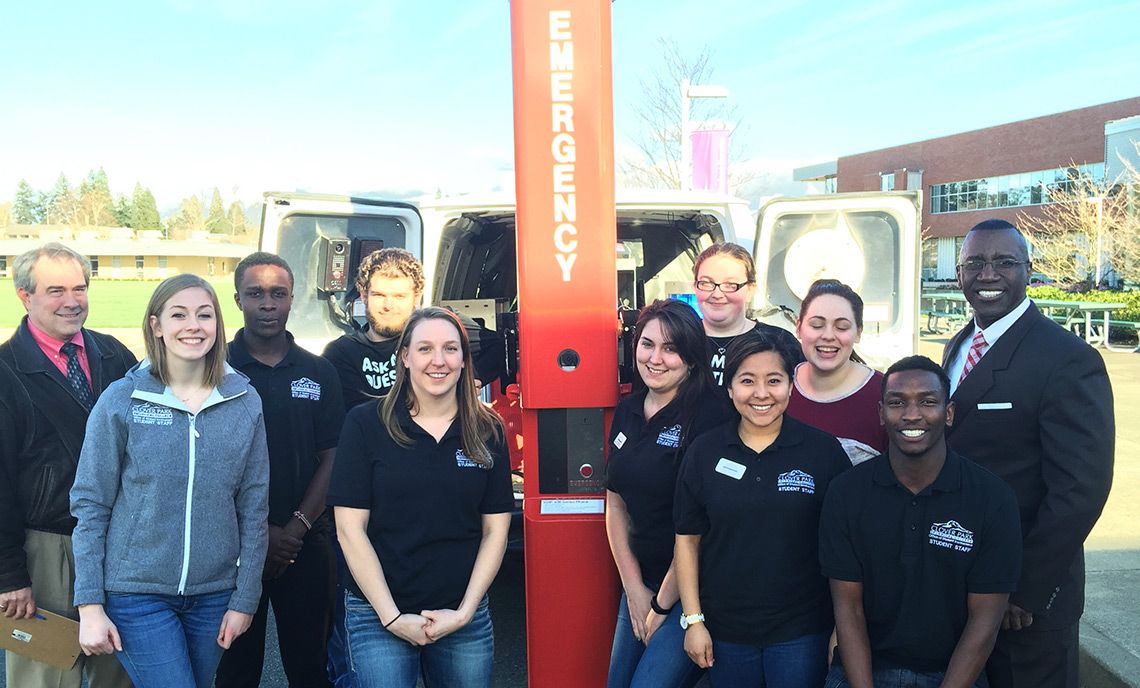 Emergency Phone Towers Coming Soon
April 6, 2016
Clover Park Technical College partnered with the college's Associated Student Government to add another layer of security on campus with the purchase of emergency phone towers.
Seven safety blue light phone towers will be installed throughout the main campus by the end of June. An emergency wall-mounted phone with a camera and 911 call button will be installed at the South Hill Campus. The visibility and reliability of the phone towers enhance campus safety.
"When you're doing emergency management, you build as many layers as you can," said CPTC's Budget and Compliance Officer Lisa Beach.
The light towers serve multiple purposes. An emergency light atop the tower flashes when activated to provide high visibility. Two call buttons on the tower connects callers directly to the Lakewood Police Department or campus security. Cameras will also be installed on or near all of the towers, and will allow security to view the majority of the parking lots, campus entrances and the towers.
The college's Emergency Notification System will integrate with the towers, and any time an emergency message is deployed by text, email or phone, it will also broadcast through four-way speakers on top of the towers. In the event of an evacuation, the light towers can serve as evacuation assembly points.
"It's exciting for the ASG to be collaborating," said Cal Erwin-Svoboda, director of Student Involvement and Event Services. "It's so much more than a tower. It's a substantial and significant increase to security needs."
The ASG developed a Student Priorities Paper this year to outline issues identified as their highest priorities for advocacy during the 2015-2016 academic year. One of the listed priorities is to ensure student safety by  making sure "campus lighting infrastructure is sufficient for the dark winter months."
Contractors have located the ideal locations for the seven towers based on traffic and electricity. There should be no impact to parking or foot traffic during installation.
The emergency phone towers are ADA compliant.
For more information about emergency management on campus, visit http://www.cptc.edu/risk/safety/emergency-management.