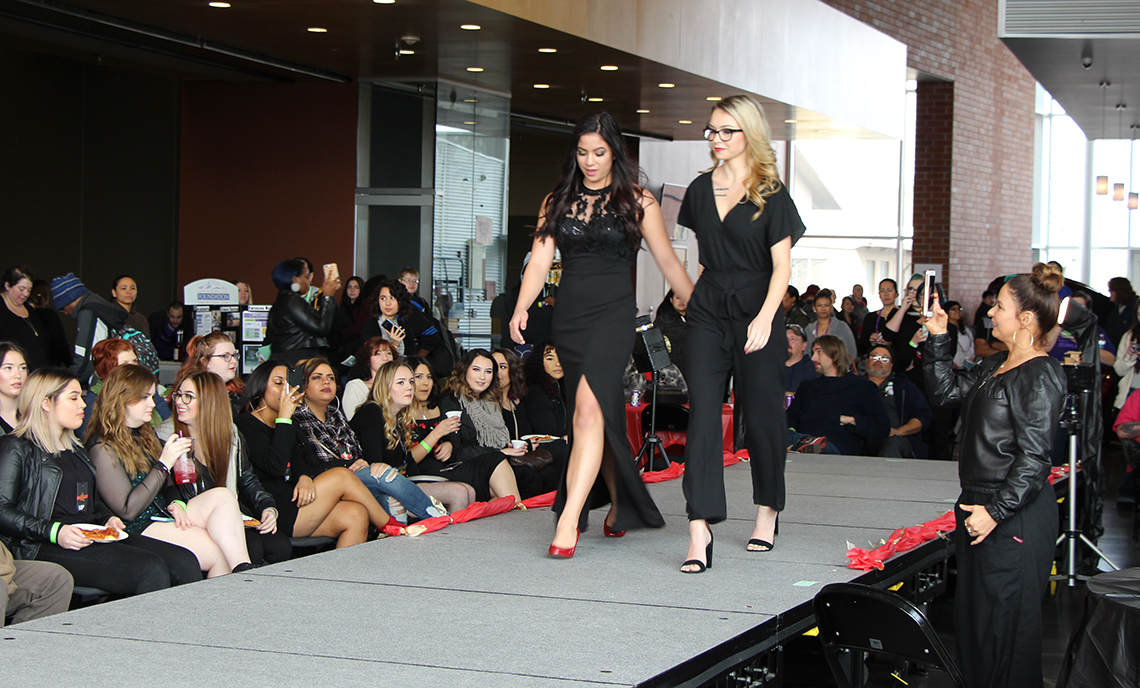 Fashion Show and Food Sculptures Make for Successful Winter Fest
February 21, 2018
Clover Park Technical College's Associated Student Government hosted its annual Winter Fest last week, packing McGavick Conference Center with activities, booths and shows for students.
More than 300 students attended the event, which ran from 11 a.m. through 2 p.m. on Thursday, Feb. 15. Those students discovered a wide range of club and resource tables, a photo booth, stilt walker and baton twirler, pizza and Sno-Cones, and even a room for snowball fights.
"The primary goal of our quarterly festivals is to hold a club and involvement fair, but we also seek to provide an opportunity for students to socialize." CPTC Student Leadership and Involvement coordinator Dominic Viola said. "We aim to provide a substantial amount of entertainment that includes a photo booth, an inflatable or other interactive game, henna tattoos or similar and food options including something based on the theme of the event."
That theming carried out with the Sno-Cones for Winter Fest, along with the snowball fight activity, which included barriers to hide behind and plush snowballs to throw at each other while artificial snow fell from above. A total of 15 different clubs and organizations hosted tables at the event, providing students with information about different involvement opportunities and upcoming events and even giving them the chance to check out a brand new Ford Mustang.
One of the highlights of Winter Fest each year is the Canned Food Sculpture Contest, which gives teams the opportunity to build elaborate sculptures out of non-perishable food items that are then donated to the student food pantry. This year, the winning sculpture came from the Dental Assistants Club, with Mechatronics taking second and Design & Engineering placing third. The contest finished with nearly 550 pounds of food collected, an increase of nearly 150 pounds from last year. In fact, attendance was up across the board over previous years, including the number of event participants and club and resource tables.
"I'd say one of the major highlights of this year's event was the fashion show by Cosmetology," Viola said.
The Cosmetology and Esthetics programs worked with ASG to put together a runway surrounded by seats for viewers and lights to show off their skills in a "Red Carpet Celebrity Fashion Show." Cosmetology student Holly Williams emceed the event, while fellow students and their friends and families served as models walking the runway.
"There is nothing like a Red Carpet Event to bring out the best in our students," Cosmetology instructor Carine DeLeon said. "It was the perfect opportunity for our students to experience a taste of doing hair and makeup preparation for a fashion/hair show. Our Esthetics department worked with our Cosmetology students and their models applying their expertise on makeup applications. We had a ball."
The next big quarterly festival event will be Spring Fest, themed this year as "The Great CPTC Get-Together." Scheduled for May 24, 11 a.m.-2 p.m., Spring Fest is always ASG's biggest event and is expected to attract nearly 600 participants.
Share This Story