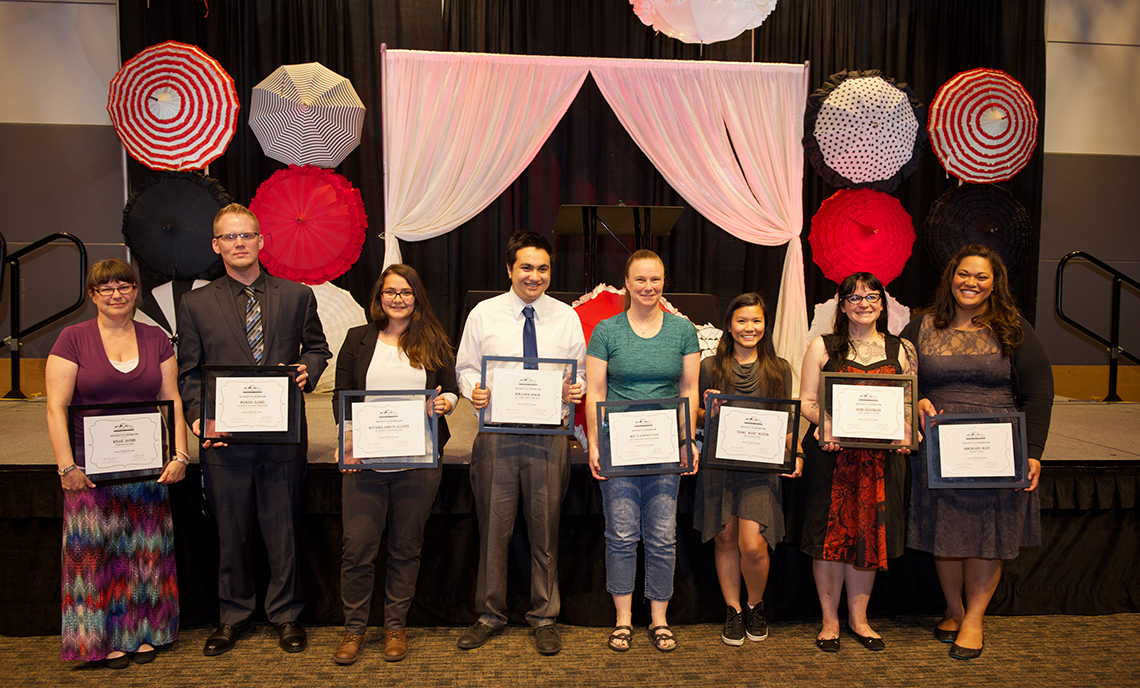 Fifth Annual Student Awards Ceremony Recognizes Excellence
June 15, 2017
Clover Park Technical College recognized some of its most exceptional students and staff members June 7 as the Fifth Annual Student Awards Ceremony featured a festive carnival theme.
Attendees enjoyed appetizers and entertainment, including a photo booth, balloon animals, giant bubbles and an entertainer on stilts, prior to the 6 p.m. beginning of the event, which took place in a McGavick Conference Center decked out with decorative umbrellas and a red carpet.
"Tonight is all about celebrating those exemplifying academic and community leadership at CPTC," CPTC Student Involvement and Leadership Coordinator Alison Pau said at the beginning of the ceremony. "Whether it's because a student is a great leader, an awesome parent, or just an all-around awesome human being, this ceremony will honor all types of excellence."
A total of 10 awards were handed out, ranging from students to staff members, faculty members and one club. The ceremony kicked off with some more entertainment, including a brief juggling act and an impressive dance featuring lighted hoops.
The Club of the Year Award went to the Non-Destructive Testing & Composite Club, while Human Services instructor Irene Hauzinger was named Faculty of the Year. Disability Services Coordinator Hope Stout received the June Stacey-Clemons Advocate of the Year.
Each award was introduced with a description of its qualifications. Then speakers proceeded to share all the ways the recipient satisfied – or in most cases vastly exceeded – those qualifications. Michael Clarke, who served as the Associated Student Government Legislative Officer this year, helped introduce the Faculty of the Year before being surprised by his announcement as the Vice President of Student Success Award recipient.
"Michael came from a background of crime and incarceration, and he has not only maintained a positive attitude and work ethic in his education, he's become heavily involved in the campus and student body as a whole," CPTC Interim Vice President for Student Success Juanita Ricks shared. "He's always going above and beyond what is asked of him, and all the while doing his various tasks he always has a smile on his face."
Each award recognized key contributions on campus. Kellie Jacobs received the Transformation Award, while Ben Donan was named Outstanding Student Leader and Mary Nguyen received the CPTC Excellence Award. Sharie Crowell received the Service to Community Award, while Natasha Lobato-Aljader received the Vice President of Instruction Award.
"It truly is an honor to be here this evening recognizing the wonderful students on our campus and the tremendous faculty and staff we have here," CPTC President Dr. Joyce Loveday said.
The final award of the night was the Presidential Award, which is given to a student who has not only shown excellence but is a leader in defining excellence at CPTC. The award is presented to a student who has made outstanding contributions to the college community through academic excellence, extracurricular leadership and student advocacy. For 2016-17, the award went to ASG President Annie Mafi.
"I would like to say thank you to my advisors for just always being so nurturing and guiding and to my coworkers for putting up with me," Mafi said. "And thank you to the staff and faculty; I felt incredibly supported here on campus, and I just wanted to be part of that to ensure that it's there and continues for future students."
The evening concluded with a reminder of the role everyone plays in student success.
"This is my favorite day of the year, when we get to celebrate so many wonderful people," Director of Student Involvement Cal Erwin-Svoboda said. "Let's take a moment to thank all family and friends of students, neighbors of students, staff, faculty, support structure who are part of that support and sacrifice. We all would not be here without you today."