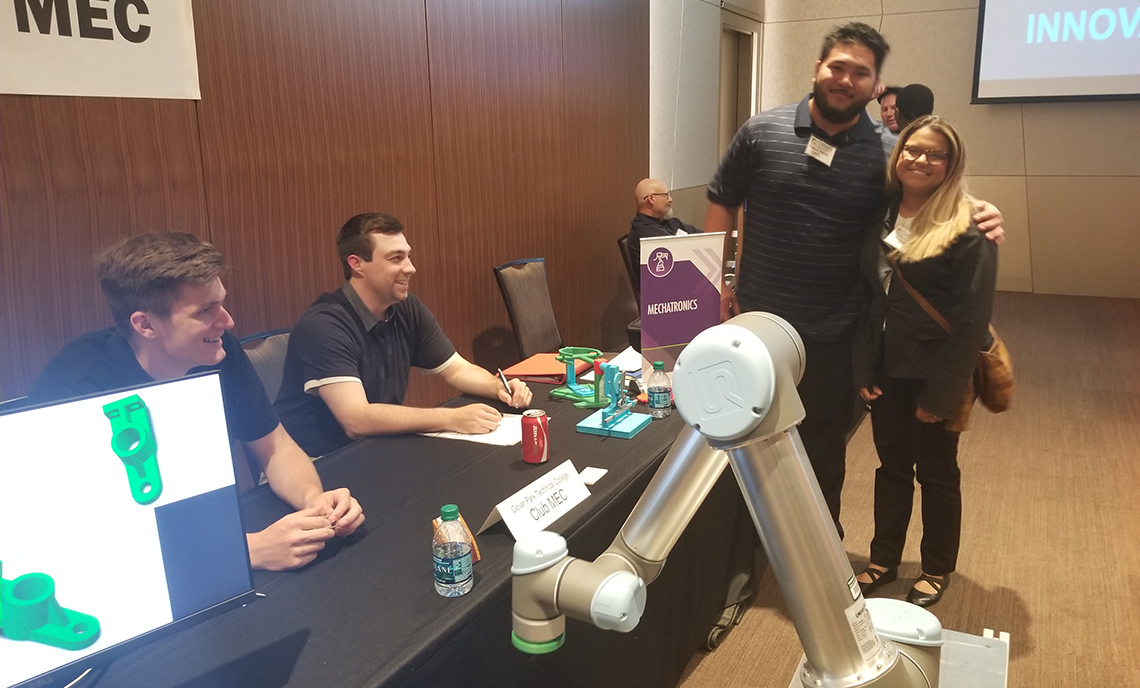 Glimpsing the Future of American Manufacturing
June 28, 2018
Clover Park Technical College's Mechatronics program was highlighted at the 2018 Center for Advanced Manufacturing Puget Sound Conference earlier this month. The college sent nearly 20 representatives of the program to the event, and C2E Instructional Designer & Data Specialist Richard Hines came away with some thoughts and three takeaways about the future of manufacturing and the role CPTC and other technical colleges can play:
Bringing Good Jobs Back to the U.S.: Several presenters commented on how firms are creating jobs in the States again to meet their production needs, often even pulling out of other countries where labor costs are much lower. The reasons include the cost savings that automation makes possible, the need to access skilled talent produced by the American educational system, increasing consumer demand for customization of products that were formerly standardized and uniform, the advent of new robots that are cheaper and easier to integrate into production lines, and a growing need to keep closer watch over quality at every stage of the manufacturing process.
What does it mean for technical colleges? Beginning several decades ago, the public education system stopped steering students toward careers in manufacturing. Jobs in industry were considered "dead end," and there was a perception that American manufacturing was shrinking as production moved offshore. However, U.S. firms will have two million more jobs than available workers in the next decades, according to a report by Deloitte and The Manufacturing Institute. Today's manufacturing industry offers skilled workers some of the most meaningful, intellectually challenging, and well-paid jobs available today.
This is a pathway for kids who like to make stuff and see immediate results; often these are not the same kids who score highly on standardized tests. The most innovative K-12 school districts are shifting their practices to intentionally prepare one-third (33 percent) of all high school graduates for careers in Advanced Manufacturing and other applied STEM (Science, Technology, Engineering, and Mathematics) fields. In turn, technical colleges need to prepare for a tidal wave of diverse students who are "digital natives"—immersed in technology from birth—and highly inventive. This means students will bring varying levels of prior training in skills fundamental to success in the workforce, and they tend to want to "co-invent" their educational experience with instructors and fellow students. The result is a need for even greater collaboration and hands-on work between students and instructors.
Humans vs. Robots? – Not the Dichotomy It Used to Be: The term "co-bot," short for "collaborative robot," was coined to reflect a growing recognition that, when it comes to manufacturing, "either-or" thinking needs to give way to "both-and" thinking. The question is how humans and robots can work together to make and build things more effectively and efficiently than ever. A co-bot is a human-scale robot (like the Universal Robot UR5 that students work with in CPTC's Mechatronics program) designed to automate dangerous and repetitive tasks.
In their keynote talk, UR's Craig Tomita and Ben Courtright demonstrated how one of their co-bots is so easy to deploy and program that the production worker whose job formerly entailed the "grunt work" now handled by the machine is typically the best person on the shop floor to set up the robot to manage those tasks. The introduction of a co-bot frees up workers to focus on tasks that require higher-order thinking. Firms frequently beef up their workforce in conjunction with an automation push—but they only retain and hire workers who have the right skills and who are willing to learn new ones.
What does it mean for technical colleges? Carl Wenngren and Jason Sawatzki, CPTC Mechatronics instructors, agree with the UR speakers' assessment that automation can lead to greater opportunities for workers. Wenngren and Sawatzki recently attended the 2018 Automation Conference in Chicago, where they heard first-hand from business owners who have multiplied the size of their workforces after integrating automated processes. Workforce education was a primary concern of firms at the Chicago event, which is why, the instructors said, CPTC's students got such a positive reception at the CAMPS Conference in Bellevue.
But new entrants to industrial careers are not the only ones CPTC's program is designed to serve. Mechatronics just launched a new "co-op" certificate option so that incumbent industrial workers can take select courses in the program with their employer's support. This accelerated program allows workers to gain essential new skills they can apply immediately on the job, while contributing their real-world experience and perspective to enrich the experience of other Mechatronics students in the program.
From Supply Chains to Supply Networks: In a simpler time, it was common to conceptualize manufacturing linearly—as a sequence of resources to be gathered and steps to be followed until a product was completed. This was the supply chain. But today, companies think in terms of "supply networks." Companies that manage production processes are looking for deeper partnerships with all the suppliers who contribute any raw material or component to a process and with the contractors who are responsible for some part of assembly or transport.
We're finding that seemingly mundane data points from players throughout the supply network can yield insights that support brands in better serving their customers and maximizing the value of the whole network. The "Internet of Things (IoT)"—where every device is interconnected and constantly records data—is here to stay. Not counting smartphones, there are now more than 11 billion connected devices, and more than 300 million new devices are coming online every month. Individual firms are realizing the benefits of collecting and analyzing data on their own internal processes, and supply networks are realizing the benefits of strategically sharing mission-critical data with partners to optimize what everyone can do together. 
What does it mean for technical colleges? Even in slow-moving industries, the wall that once separated Information Technology (IT) from Operational Technology (OT) has come crashing down. Realizing that IT and OT are now merged, industrial employers are expressing a huge demand for workers who can move easily between the world of computers and the world of machines—and who are adept at navigating lightning-fast technological changes.
Technical colleges that respond to the demands of this new environment are preparing their students to become star players in the next industrial revolution. Such colleges are intentionally blending educational experiences of students across programs that have, until now, been taught as standalone pathways with little need for intersection. These include offerings in the advanced manufacturing disciplines, automotive, computer networking and security, computer programming, and the trades. Through inter-program collaboration, both IT and OT students are presented with real-world problems and applications of what they are learning, which make them more competitive in today's job market. They also gain valuable access to the subject matter expertise of faculty and students in a variety of programs outside their primary path of study.