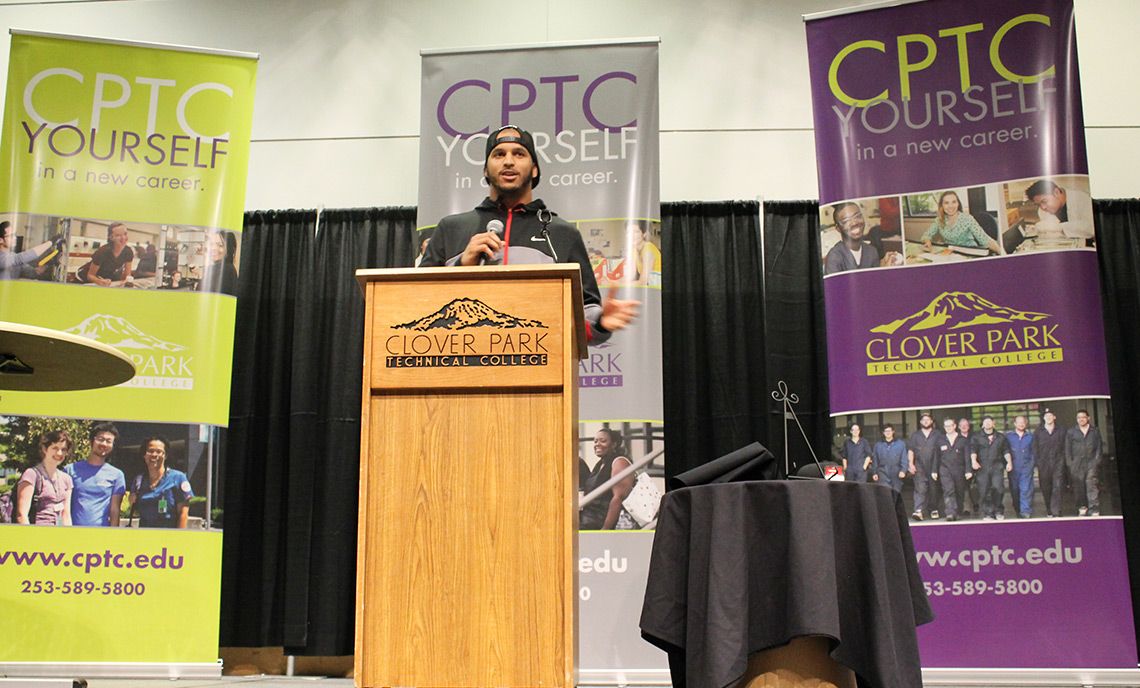 Hometown Hero Jermaine Kearse Visits CPTC
February 18, 2016
Lakewood native and professional football player Jermaine Kearse visited Clover Park Technical College for a special campus event Feb. 16.
"All In: A Champion's Mindset with Hometown Hero Jermaine Kearse" included a keynote presentation to about 400 people, including local high school students, community dignitaries, and CPTC students, staff and faculty.
"A champion's mindset is about maximizing your potential," Kearse said. "It's a mindset that our organization has instilled in all of our players."
Kearse represented his 15 to 1 Jermaine Kearse Foundation, which supports military communities and provides military youth optimism and empowerment to succeed. Through his foundation, Kearse established three core pillars: Believe, Work Hard and Persevere.
"Those three things had a huge impact throughout my life," Kearse said.
The professional football player out of Lakes High School spoke on the importance of goal setting, and how to react when faced with adversity.
"When you set goals you create energy," he said. "When you have something you want to take steps to, you find energy to do it."
In the audience were 63 local high school students from Lakes, Clover Park High School and Northwest Career & Technical High School. The students arrived before the keynote to tour the campus and learn about the college's programs.
Kearse met with CPTC President Dr. Lonnie L. Howard, Lakewood Mayor Don Anderson and CPTC Board of Trustees member Mary Moss when he arrived to campus. Kearse spent time in the Student Leadership & Service Center with a small group of CPTC student leaders and volunteers for a game of ping pong, where he also learned about CPTC and shared information about his Foundation. Kearse also had his photo taken for the SLSC's "My History is Our History" photo wall.
The atrium of the McGavick Event Center was decorated in posters designed by CPTC's Graphic Technologies Program.
Dr. Howard presented Kearse with a proclamation and CPTC hat, while Kearse presented Dr. Howard and WorkFirst Navigator Les Sessoms an autographed Seattle Seahawks flag. Dr. Howard also received an autographed football, which the president threw to Kearse for a successful reception.